In this article we have featured BuddyBoss App Review, There is a big surprise for all the BuddyBoss lovers. Recently, the company launched its mobile application for its users.
Nowadays, everyone owns a mobile for better communication. But with the evolution of technology, your mobile can be used for many tasks like you do on a desktop or a laptop.
There is a massive role of mobile in the business sector. It is easy to organize and do things on time. One can reach anyone quickly with ease.
Is it possible to promote your business with mobile?
Yes, it is possible through mobile marketing.
The best thing is that you need only an application to do such a thing.
According to research, it is found that 53% of traffic comes from mobile devices instead of laptops or desktops.
The BuddyBoss application is one such innovative mobile solution for organizations, entrepreneurs, etc. It is easy to launch your branded mobile apps for both iOS and Android users.
Today, In the following BuddyBoss App Review, we will discuss how BuddyBoss apps can help you to launch your branded Mobile Application
If you want to grow your online community, it is crucial to engage your customers. It brings traffic to your website and hence, helps you to grow your business online.
One of the biggest challenges in building and growing an online community is keeping users engaged. In the past, social networks used email considerably to drive traffic back to their website and keep users engaged.
In a world of email overload and where companies are constantly fighting for their audience's attention, email is becoming far less effective.
Emails also don't trigger an immediate response from the user which is key to keeping engagement high in a social network.
Here comes the role of Push Notification, which helps in engaging customers with your product.
In recent years, social media websites have put a huge focus on using push notifications to keep users engaged. And this method is working extremely well.
Push notifications opening rate is 55% higher than that of email marketing
The click rate is 7 times higher than that of email marketing
72% of users feel that push notifications are useful
55% to 60% of app users agree to receive push notifications
40% interact with push notifications within 1 hour of receiving them
Source: e-goi.com
With mobile push notifications, you can re-engage and stimulate user engagement, you can substantially increase user retention and increase conversion rates.
And with segmented push notifications, you can target the right users allowing you to personalize even more the experience for your users.
With the help of the BuddyBoss App, you can launch your own branded native mobile application in the Apple App Store and Google Play Store.
The application developed will be available at both stores conveniently.
Let us explore more about the BuddyBoss app with detailed features and other crucial information.
What BuddyBoss App Is All About
BuddyBoss is a perfect WordPress theme to build online communities, sell online courses, corporate training, online school classes, and programs, run non-profit organizations, etc.
You can connect with your customers by increasing engagement and taking feedback from them.
If you want to increase your brand value, the BuddyBoss platform can be your go-to platform.
Now, BuddyBoss has come up with an effective app for branding various businesses by customizing applications for brands and businesses. Your applications will be available on Google Play Store and Apple App Stores for both android and iOS users.
Yes, It is possible to customize the entire look and feel of the app as per your brand. It is easy for your customers to connect with the brand and grow your community at a higher level.
Here is what you get with your BuddyBoss App:
Your iOS Mobile and Tablet App on the Apple App Store
Your Android Mobile and Tablet App on the Google Play Store
They will Publish your App for you in the Apple App Store and Google Play Store
Native support for the BuddyBoss Platform
Native support for your favorite membership plugin
Native support for all major LearnDash LMS features
And so much more…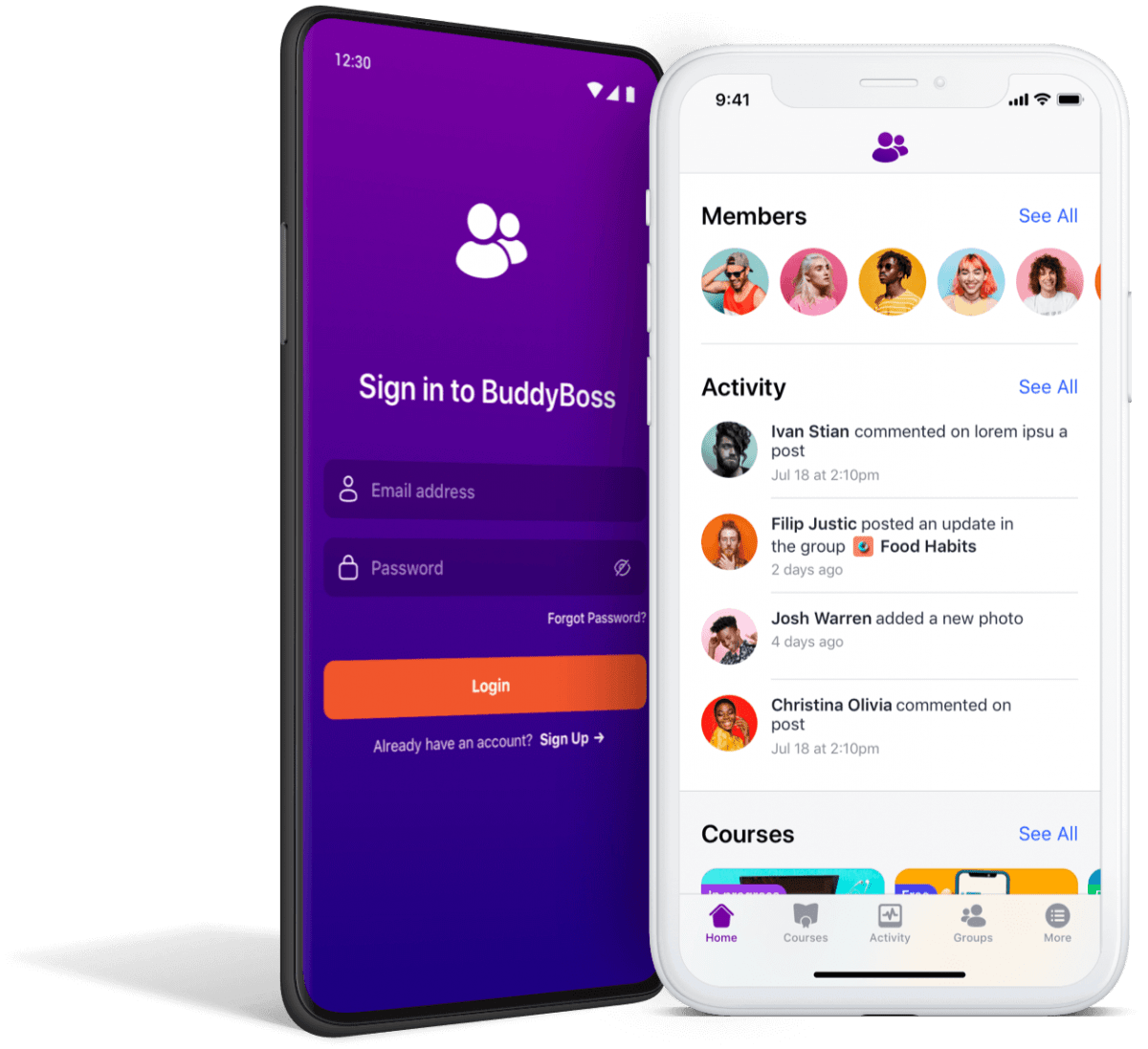 It is a great native mobile solution that can help various organizations and entrepreneurs to develop their brand app with or without any web portal.
It supports all the features of the BuddyBoss platform and adds membership plugins like WooCommerce, Restrict Content Pro, etc.
BuddyBoss App Features Review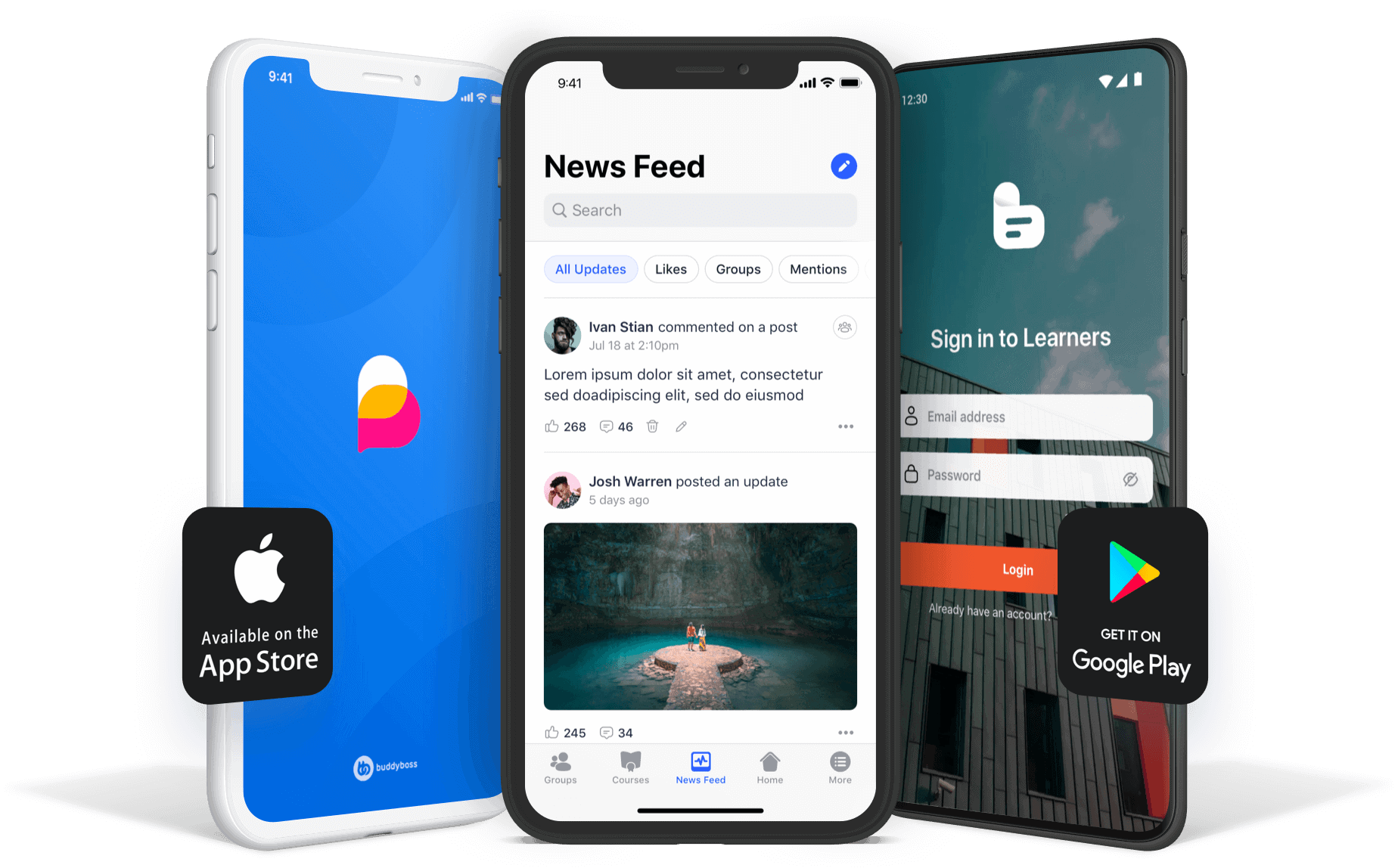 The application supports various online communities, membership sites, online courses, and other businesses. It supports various features for different companies. Let us check out some crucial features:
Online Community Features
If you have an online community, you may need to manage groups, user profiles, feeds, discussion threads, etc. There are many things to handle for improving user engagement. The application supports the listed feature :
Group and Private Messaging
Notifications
User Profiles
Activity Feeds
Network Search
Forum Discussions
User Invites
Member Connections
Social Groups
Learning on Mobile & Tablet App
Students can enroll in various online courses with the help of the BuddyBoss app. It will be easy for them to access any class at any location.
Anyone can attend the classes in both online and offline mode. If you are selling online courses through this application, then you can get various benefits.
It can be student satisfaction, course completion rates, lifetime value, community engagement, consumer retention, etc. It supports many features like:
Push Notifications
User Reports
Drip Feed Content
Multi-tier Courses
Culture Points
Lesson Timer
Assignment Management
Quizzing at an Advanced Level
Badges and Certifications
Easy Business Monetization through App
There is a strong possibility of growing the business revenue by selling your products & services using a mobile application.
It can include push notifications and all in-app purchases. Your customer can pay one time for the subscription, in which they will get access to the community, online lessons, feed, etc.
The users can update, subscribe and purchase anything from your brand. It is possible to send push notifications that are personalized according to users.
You can promote your new products, services, and introduce special events through this native mobile application
Membership Plugins
You can get access to various membership plugins with synchronized access levels, transactions, and WordPress backend.
Users can request more plugins, and they will be soon added to the list. All the supported requests are:
WooCommerce
LearnDash
Wishlist Member
RestrictContentPro
MemberPress
Memberium
PaidMembershipsPro
Gamification
The React-Native technology is used to design the BuddyBoss platform to create other brand-based mobile applications.
This technology is already used by many platforms like Facebook, SoundCloud, Airbnb, etc. As it's a Cross-Platform technology, It works like a charm for both the platforms ( Android/iOS) and also for Mobile and Tablet Users.
Your brand will appear like a well-known organization. It supports many gamification tools for creating an engaging brand campaign.
Your members will work with dedication to achieve rewards like certifications, badges, points, etc.
Flexibility for Customization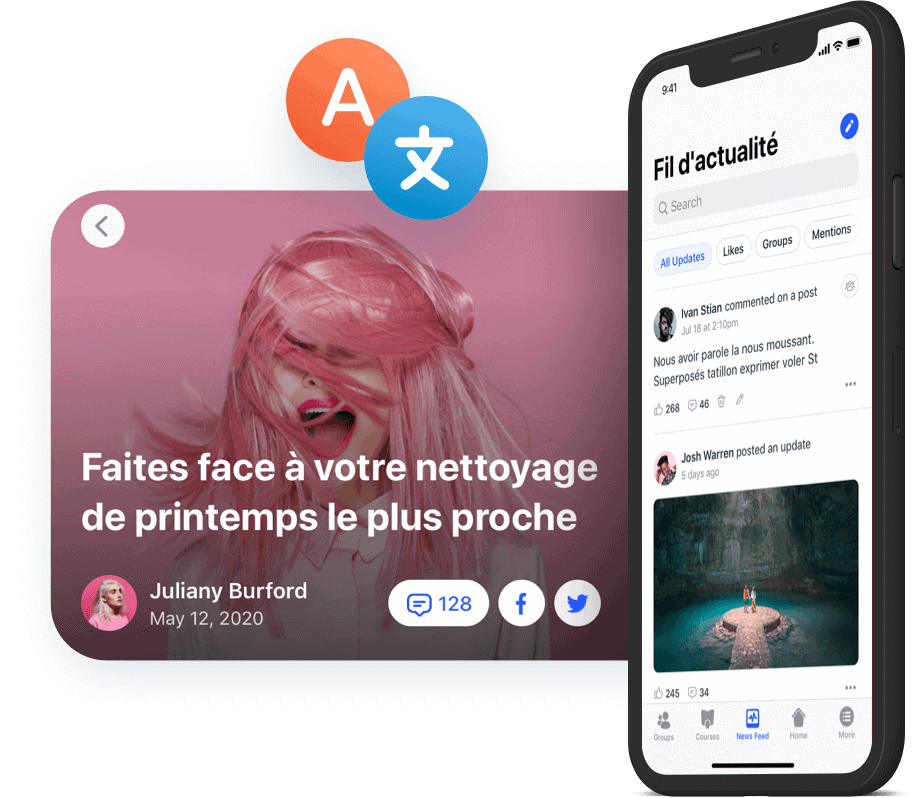 There is complete flexibility while customizing your mobile application. You can create the desired look and feel of the app according to your brand needs. It supports various features like:
RTL Support
Branding
Language Translations
Customized Menus
Google Analytics
Developer Friendly
Native Blog
Multisite Support
Open Access to Home
In-search functionality
Website is not Mandatory to Use BuddyBoss App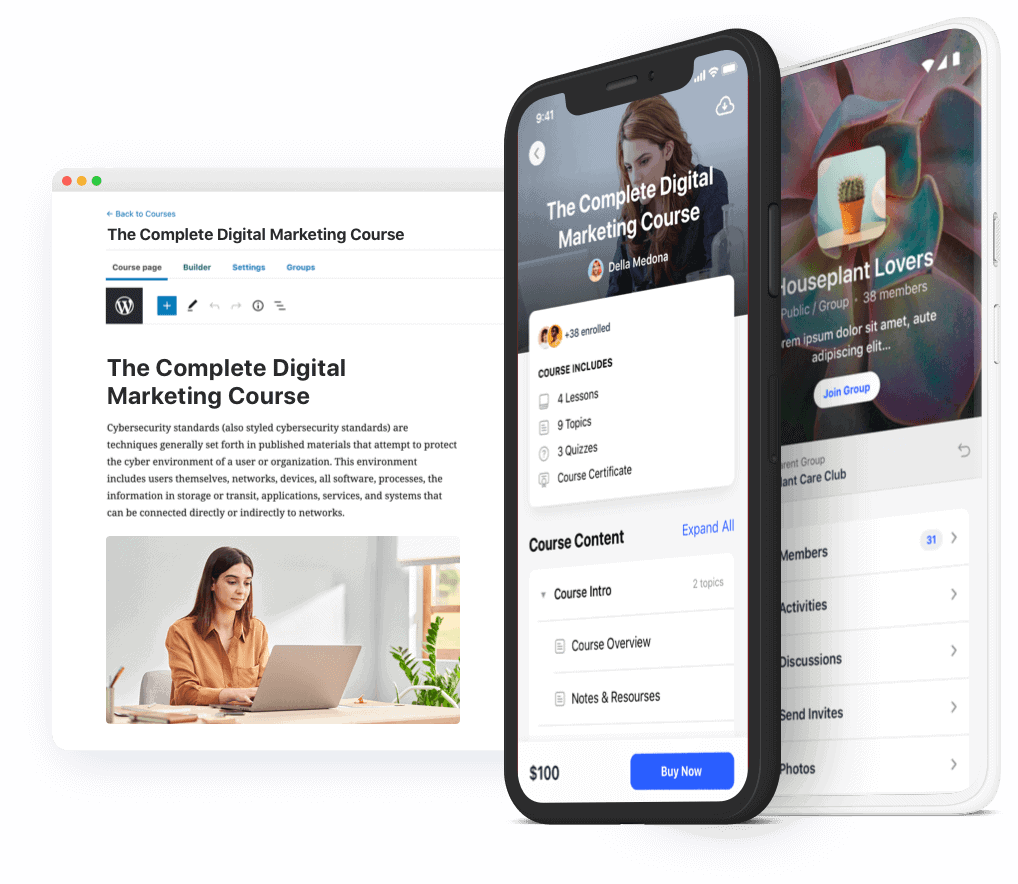 There is no need to have an official website or home page to create a desired mobile app using BuddyBoss.
The app will run on various mobile devices that represent your brand along with offered products.
It is easy to connect with the backend of WordPress.
The entire data will upload from your WordPress-based website.
You can use powerful plugins to run your application.
It is easy to launch the app on mobile or on your tablet, even if you do not have any front-end website.
If you want to attract an audience without any web interface, you can do it this way.
Custom Themes
You can set up any of the desired themes on your application.
You can either choose the theme from WordPress, LearnDash, or other plugins.
One can get the desired theme of your choice without doing much.
These themes are useful to make your brand app presentable and attract more customers.
Biometrics
Many people are concerned about security and privacy. It is a significant aspect to choose any application.
But BuddyBoss provides security due to Face ID and fingerprint, and you can unlock your account by login, Face ID, or fingerprint.
Sharing of Multimedia Content
The community members can share various multimedia files like documents, images, videos, etc.
You can also post multimedia on social groups and feeds. If you want to share any information with your members, it is the best way to do so.
LearnDash
The BuddyBoss application is integrated with LearnDash to create and manage online courses from the WordPress dashboard.
Any student can access various videos in an offline mode by downloading them. It is easy to customize the course pages.
Working of BuddyBoss App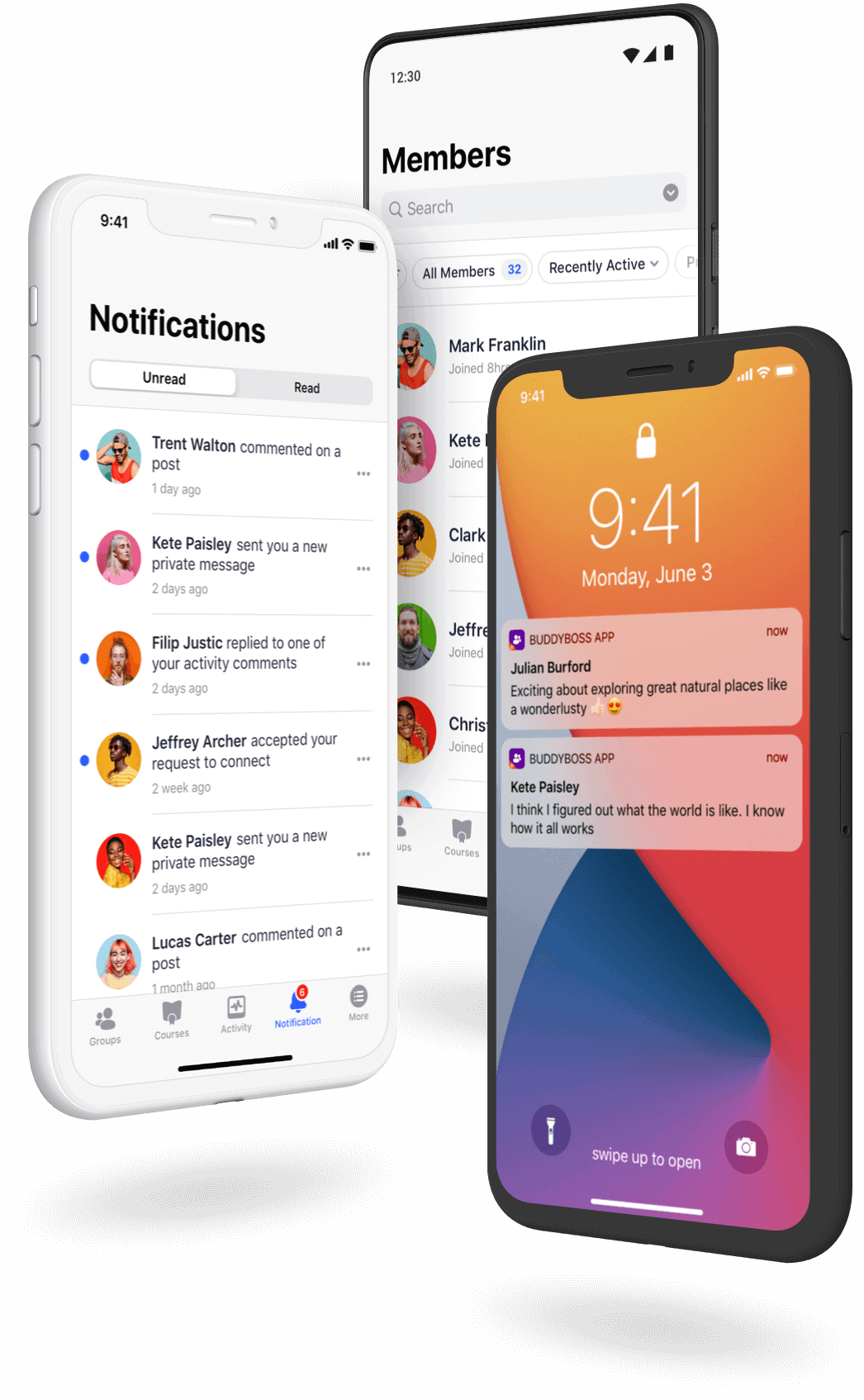 Let's understand the working for BuddyBoss App in this review.
It is easy to configure the app with the available data using the wordpress admin panel.
The synchronization is done from your website to the mobile app. Let us go through some simple steps to launch the app in PlayStore And App Store.
Installing the App Plugin: After installing the BuddyBoss app on your phone, you have to launch it.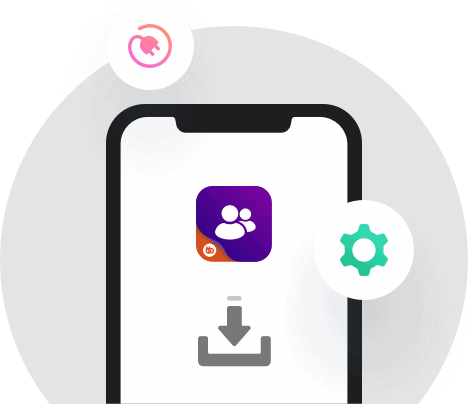 Change the Appearance: Start setting up all the icons, icons, fonts, color, themes, etc., according to your taste. You can customize the app in the way you want.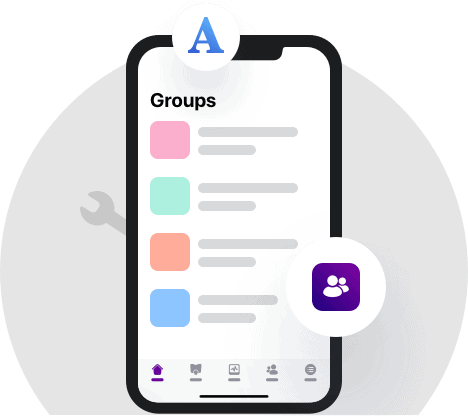 Configure All the App Settings: You can activate the features by configuring the application.
Post Your App on iOS and Android: Start preparing the app for publishing. It is easy to create the app from WordPress. Start launching it using a Developer account in either Apple App or Google Play Store.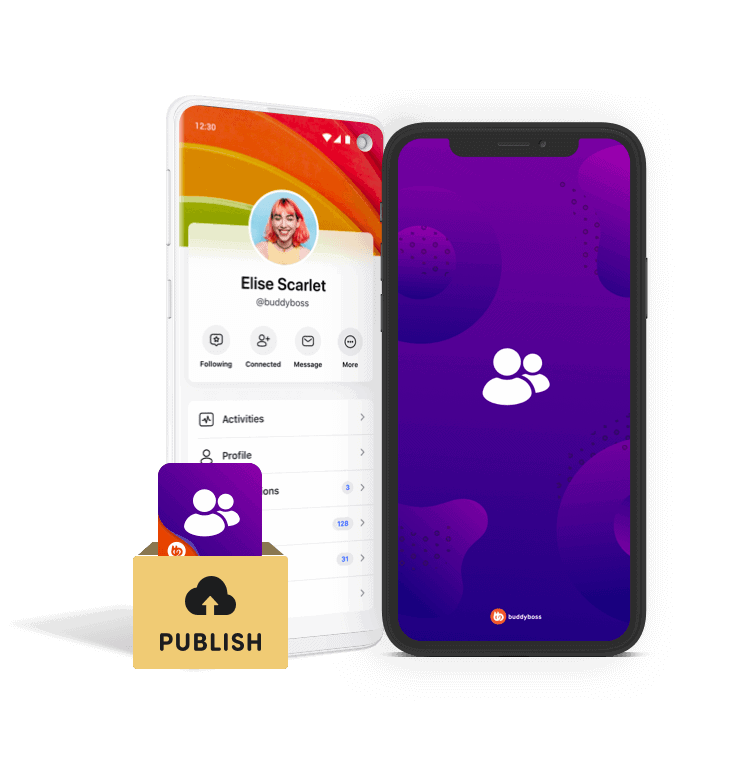 Review the App on Your Account: The BuddyBoss team publishes your application to Apple App Store and Google Play Store.
Why Should You Use BuddyBoss App?
The main aim is to build a great mobile application for your brand. By using the BuddyBoss app, you can create a good application, even if you are a technical person or not.
There are other crucial reasons due to which you must use it. There is a possibility to add more value to your business. Let us discuss how it is profitable for your company.
LearnDash
You can build a learning app with exciting courses and membership. It is integrated with LearnDash due to the access of LMS for WordPress. All the features are included to help students to take up any quizzes or courses.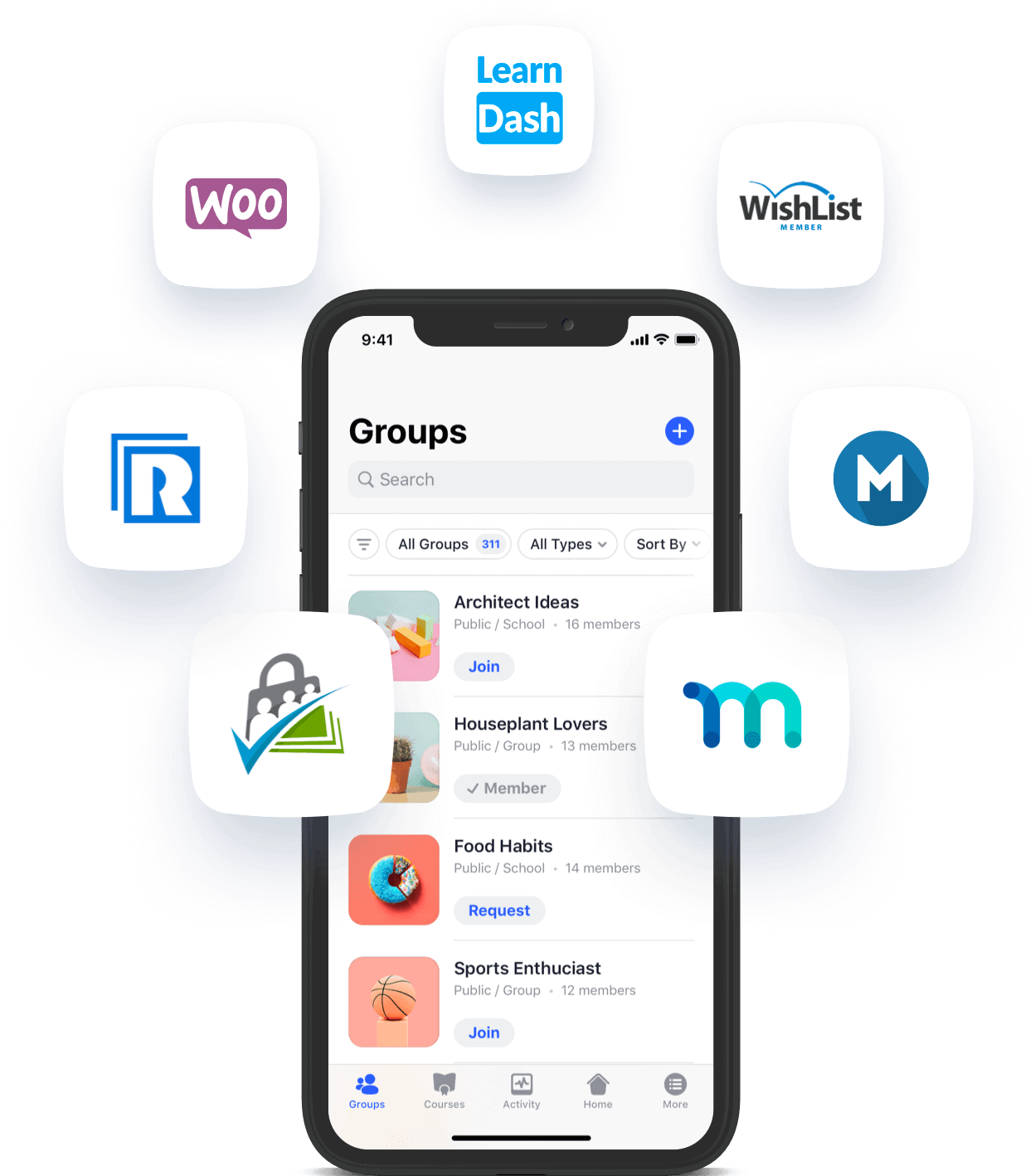 Compatible with Any WordPress Theme
The application is compatible with any theme available on WordPress. After adding the plugins, you can run your site in whatever way you want. You can have any theme of your choice.
Two-platform Codebase
React Native is a framework to build the BuddyBoss platform. It helps many business owners and entrepreneurs to create their brand apps for iOS and Android users. It is a standard technology used to build various other platforms like Facebook, SoundCloud, Airbnb, etc., with one to launch the branded app.
Perfect for Non-technical Developers
If you are a non-technical person and cannot build any app, the team of BuddyBoss can help you. It is possible to use ready-made objects to create and customize your app. The team can review the app from scratch to end and provide the necessary guidelines. After building your app, you will also know how to submit it on Google Play Store and Apple stores.
Timeline of Product Launch
The team of BuddyBoss is providing extra benefits to its early buyers. There is a limited early bird discount for few users.
It will end soon, and therefore, you have to rush to get the offer. The team is providing helpful videos and tutorials to help users while using it.
During January and February, early users will get access and all the services. If you are waiting for the Black Friday deals, do not wait because the price will increase. Get an early bird discount before it ends.
New Features Under Development
The team of BuddyBoss app is working on new features that will be released soon with time. it includes:
Instant Messaging
Tablet Support
Social Login
Zoom Support
Feedbacks
Documents
BuddyBoss App Review: Customer Support
You can trust the customer support service of the BuddyBoss app. The team will help you whenever you get stuck with dedication.
You can contact customer support whenever you want help. They provide 24×7 assistance, and they are open to discuss all types of issues and feedback.
The support consists of four crucial steps for better guidance to its users:
Guides
You can access beginner guides to understand the working of the application. You can learn how to set up online courses, membership sites, and online communities. With the help of guides, you can understand what to do and how things will be executed.
Video Tutorials
The team of BuddyBoss has created various video tutorials to help users in building their apps. You can learn all the steps through these videos and execute those steps one by one.
Documentation
There is documentation available on the WordPress dashboard for proper guidance. There is developer documentation available on this platform for all app developers.
24×7 Customer Support
The support of BuddyBoss is quite sincere about its duties. The team is highly dedicated and supports various users at the time of need. The staff has enough knowledge to understand your problem and come up with great solutions.
Pros of Using the BuddyBoss App
Google Analytics
Availability of Multiple Languages
Support of Multisite
RTL Support
Customized Menus
Translation Ready
Search Functionality
Cons of Using the BuddyBoss App
No automatic content insertion
BuddyBoss App Review: Pricing and Plans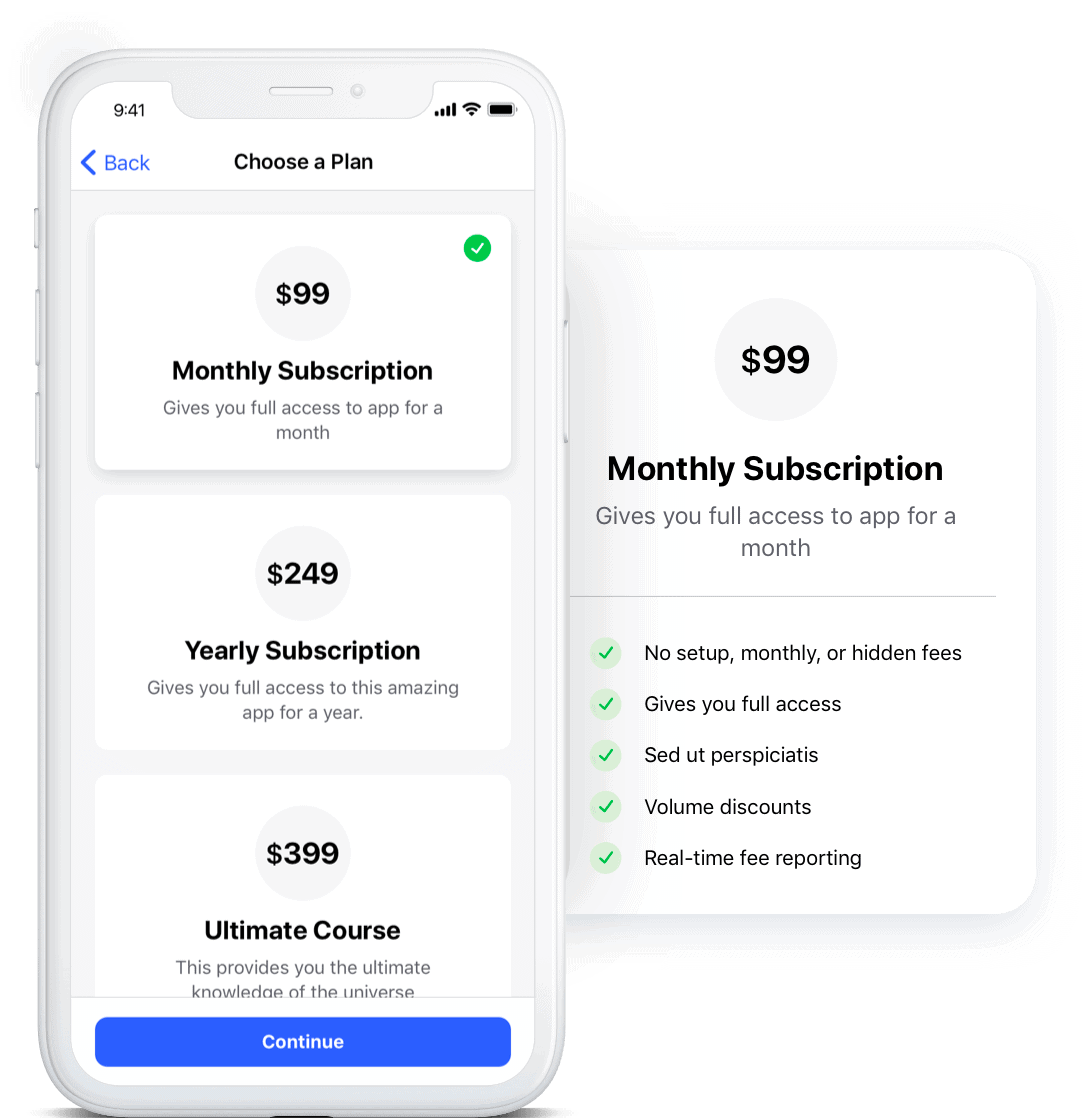 There are four different plans for every type of user at different prices. Let us check out the details of the plans:
1 APP
Price: $179
Native App for iOS and Android
License for 1 App
Priority 24/7 support
Access to product updates
On-boarding and Publishing Service
2 APPS
Price: $299
Native App for iOS and Android
License for 2 Apps
Priority 24/7 support
Access to product updates
Developer Access and support
On-boarding and Publishing Service
5 APPS
Price: $399
Native App for iOS and Android
License for 5 Apps
Priority 24/7 support
Access to product updates
Developer Access and support
On-boarding and Publishing Service
10 APPS
Price: $679
Native App for iOS and Android
License for 10 Apps
Priority 24/7 support
Access to product updates
Developer Access and support
On-boarding and Publishing Service

Demo and Money-back Guarantee
You can try the application for free by trying the demo. If you like the features of the application, then you can purchase any of the desired plans.
After buying any plan, if it does not fulfill your requirements, you can ask for a money-back guarantee. Your amount will return in 21 days. There is a complete guarantee of getting a full refund if you do not like the services.
Frequently Asked Questions About BuddyBoss App Review
Q1. What is the BuddyBoss app?
Ans - BuddyBoss app is a native mobile application for organizations, entrepreneurs, etc., to launch their branded mobile apps. You can target both Android and iOS users to engage them with your brand.
Q2. Is BuddyBoss a Theme Plugin or Application?
Ans - It is both an application and a theme plugin. You can design your app with the same theme on your WordPress site. It is easy to customize your mobile application without any technical skills. It is a mobile app to launch your branded apps and get the attention of your audience.
Q3. How Much Buddyboss Application Cost?
Ans - There are four plans for different users at different prices. You can get a license to create one application for $179 per year. You can also launch 2, 5, and 10 apps by purchasing the advanced plans.
Q4. Is It Possible to Update the BuddyBoss Application?
Ans - Yes, it is quite possible to update the application with the help of app stores. You can use the BuddyBoss app plugin to create a new app from the WordPress admin area. The servers will be used for building the new app.
Q5. Is it Necessary to Use BuddyBoss Theme for Effective App Working?
Ans - The mobile application is directly connected to your WordPress database. It uses its layout for designing the theme. If you are using any theme, it will not affect the appearance of the mobile app.
Q6. Is It Crucial to Have WordPress for Proper Working of the BuddyBoss App?
Ans - Yes, it is vital to have WordPress to work with the BuddyBoss app effectively. There is a plugin, which comes with the BuddyBoss app. It is crucial to install on your website of WordPress and mobile apps. BuddyBoss servers generate this plugin for managing and synchronizing the data in your app.
Q7. Does BuddyBoss app Need Specific Servers?
Ans - Features like scalability and performance are considered while building the app. If you are running your site on the current hosting app, you will not have any problem during the setup. It is vital not to use the BuddyBoss application on shared hosting. It recommends cloud hosting like Cloudways.
The Bottom Line: BuddyBoss App Review 2023
Getting a mobile application is relatively necessary these days to promote your business.
If you have not yet updated, it is time to change your business strategies. It is okay if you do not have any technical skills. By using the BuddyBoss app, you can launch your application to target both iOS and Android users.
Do not think much and start planning to grow your business with the BuddyBoss app. I hope this BuddyBoss app review helped you to get detailed information about this new product by the company.
Get 24×7 customer support service whenever you need any help. Purchase any plan with an early bird discount before it ends.