In this BuddyBoss review, you'll get all insights about this tool. You can transform your website into a newsfeed. In this way, you can get more users or members on your platform for open discussions.
If you want to create your websites like Facebook or Twitter, you need to install and configure some plugins. Are you searching for those plugins?
Well, BuddyBoss is an effective solution. And As we are aware of the Ongoing Deals, This is the best time to take action if you are planning to purchase this software for a Lifetime. Get it now before it goes!
It is possible to create jobs and online courses for people across the globe. There are many things that you can do on your website. But it is important to know various features of the platform in detail.
Let us check out this plugin in detail to understand how it can help you in making your website impressive and helpful for your customers. 
In this BuddyBoss review, you will go through features, importance, pros and cons, highlights, and many other things. Try to understand the platform and decide whether it is profitable to use this plugin or not.
Consider your requirements and check whether it is that useful for you or not.

BuddyBoss Review June 2023 Is It The Best Membership Site Theme?
BuddyBoss has always been the best platform for building communities on WordPress. Now, in 2023, it has some exciting new features to make user experience more enhanced than before.
BuddyBoss has been praised for its multipurpose platform for years, but some features need upgradation as technology continues to advance every day and users demand more. Therefore, BuddyBoss has come up with upgraded features, enhanced user experience, and zero bugs. Learn more about the latest changes below:
There are various plugins that one can use on WordPress to build a community or network of people. BBPress and BuddyPress are also one of them.
It is possible to turn WordPress into a social network and connect members through a single group, newsfeed, profile, etc. Despite being powerful, the BuddyBoss is considered as a fork of these two platforms. 
It is an open-source application that helps people to create their online portal and take it to another level. This community-based platform offers facilities to connect people through chats, forums, social groups, private messaging, profiles, etc. 
It works like other social media platforms that help in connecting people and let them communicate.
This platform is available for free by WordPress folks. It is available with simple styling themes along with WordPress. You can change your membership site differently. 
Brief History Of BuddyBoss
This platform is a replacement for BuddyPress, which was used as a WordPress plugin for developing a social networking website. Due to many limitations and the need to have third-party plugins, BuddyBoss was introduced.
It provides more advanced features and offers everything that you won't get in BuddyPress.
What's New This Year On The BuddyBoss Platform?
Ever since its emergence, BuddyBoss has become a favorite platform for expanding networks and building communities with the support of a WordPress plugin.
BuddyBoss offers the best themes to turn any boring website into a fully-functional one. This top-rated social networking platform has exciting new features to enhance users' experience more than ever.
Secured Member URLs For Profiles
The latest and most exciting update of BuddyBoss is the new feature that was also highly requested by users, that is, secured member URLs for profiles. This new feature makes it easier to change an identifier of a member profile. This means that now a user can use a unique identifier instead of creating a username of their choice. This new feature offers more customization flexibility and also enhanced privacy concerns. 
Automatic Follow-Up After Connecting A Profile
An additional feature that is very beneficial for users is the automatic follow-up after connecting with a profile. This makes it much easier in staying informed and connected with profiles and keep an eye on their latest activities and updates. 
Enhanced Moderation Module
The enhanced moderation module feature has made it easiest for users to deal with blocked and suspended members. This seamless feature takes away all the hassles of controlling the website and preventing it from the interruption of unwanted members. This enhanced moderation module feature helps in harmonizing the environment of the websites. 
Some of the key updates to take a look at are:
Changes in OneSignal API
Enhanced pushed notifications 
Improved functionality of searched strings
Easy to store restructured data for forum discussion favorites 
Some Additional Updates
There are a few more updates that the users need to be aware of are:
Enhanced member login status
MU Pugin or PHP File is introduced for easier login information
Improvements in the pusher integration  
What Can You Do if You Have Buddyboss? 
There are many things that you can do if you have the BuddyBoss platform:
It is possible to build a social community or network by creating groups, profiles, forums, chats, timelines, etc. You can also send invitations to all the non-members. There is no need for extra plugins.
This platform can integrate with other WooCommerce and LearnDash to sell your content. It is possible when you get the subscription or pay separate fees. 
You can develop your E-learning website, in which you can introduce and manage all sorts of courses. 
You can collaborate with other plugins in this platform to create significant job posts, events, and manage members' experience. 
Setting Up the BuddyBoss Platform
Since it is so much you can do with the Buddy Boss combo, the only downside is that it can all take a while to set up. Sparse settings and options and all that (which I'll explain later) don't help either. But so as not to get lost in the complexity of the backend user interface.
In this section, I am going to cover some of the essential things you need to do/know in order to understand how the platform works and how to use it.
Setting Up Component And Registration Pages
You must also assign the WordPress pages to the component pages that have just been activated. To do this, go to BuddyPress> Pages, and you should see two sections: Component Pages and Registration Pages.
For component pages, WordPress creates them automatically as soon as you activate the components, so you probably don't have to change anything here. For example, if you want to assign a new page to social groups, you can do so by creating a new page and selecting that new page from the drop-down menu:
For registration pages, you need to create a Terms of Use and Privacy Policy page and link it to the appropriate registration sections. If you don't know what to do right now, you can check out a neatly linked video tutorial at the end of the section: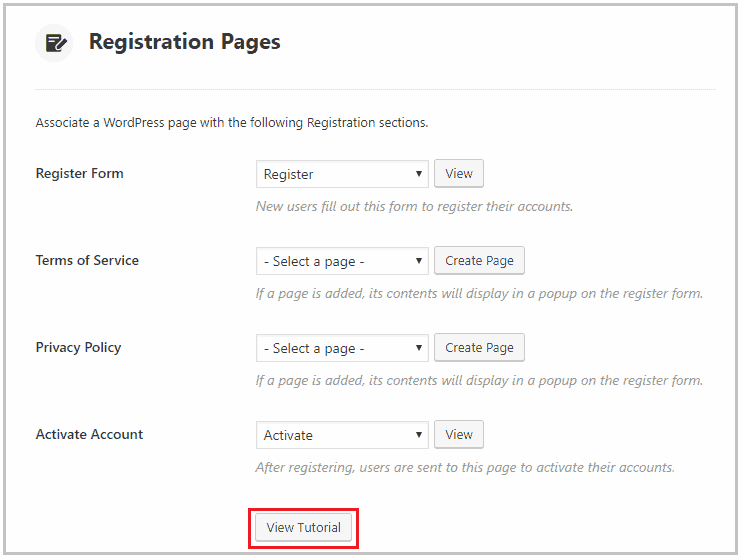 You can find these tutorial links dotted around the different areas of the platform, a really nice touch that will make things a little easier for new users.
Configuring Your Settings
In this section, I am going to show you how to configure the basic options of the BuddyBoss theme (version 3.0+). To see all of the BuddyBoss options, just read the full article for other tutorials listed on this page.
Setting up custom menus
Go to Appearance > Menus.
Create a new menu and add all the desired pages to this menu.
Drag and drop the pages to rearrange them. Click on "Save Menu".
Click on "Manage locations" and set your new menu to the desired location.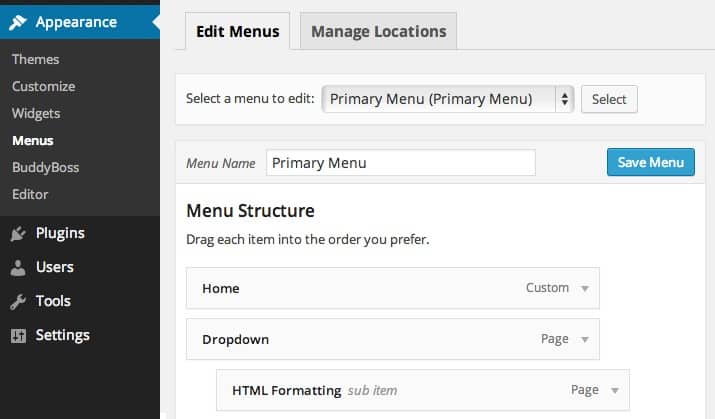 BuddyBoss comes with four menu locations:
Primary Menu — shows up in the header
Footer Menu — shows up in the footer
Profile: Extra Links — shows up in all BuddyPress user sidebars
Group: Extra Links — shows up in all BuddyPress group sidebars
You can drag and drop menus into an indented position to get dropdowns for the "Primary Menu" location.
Adding featured images to blog posts
In the WordPress Dashboard, go to Posts and select a post to edit.
Under "Featured Image" in the right column, click "Set featured image".
Upload your image into the media uploader, and then click "Set featured image".
Click to "Update" your blog post.
Now when you view your blog index, you will see your uploaded picture for this post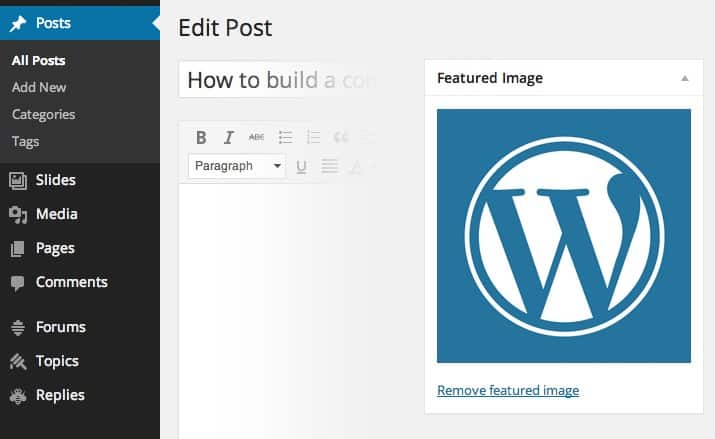 Removing comments on individual pages
By default, all new pages have a comment field. You may want to change this behavior.
From the front-end, navigate to the page you want to edit.
Click "Edit Page" in the Toolbar at the top.
Open "Screen Options" from the top and check the "Discussion" option.
Scroll down on the page to the Discussion section, and uncheck "Allow comments".
Allowing users to create accounts
This is only relevant if you are using the BuddyPress plugin.
1. Go to Settings > General. Select "Anyone can register" under Membership.

2. Go to Settings > BuddyPress > Settings. Make sure "Show the Toolbar for logged out users" is set to "Yes".

Configuring advanced member search
This is only relevant if you are using the BuddyPress plugin.
Install the "BP Profile Search" plugin.
Go to Users> Profile Search.
"Find form heading" and "Toggle form" are irrelevant. Anything you enter here will not be used as these options only apply to the hard-coded option. BuddyBoss uses the widget supplied with the plugin.
Review all of the profile fields you want to search. How to configure profile fields →
Leave "Add to Members Directory" unchecked. Instead, we'll use the widget.
Click Save Changes".
Go to Appearance> Widgets
Add the BP Profile Search widget to the desired widget area (usually Members → Directory).
Components of Social Community
Your doubt is quite clear that BuddyBoss is a fantastic platform to create an online community. Many components make your site more attractive and interactive.
It provides robust features that can create a powerful community with maximum participation of members.
1. User Profiles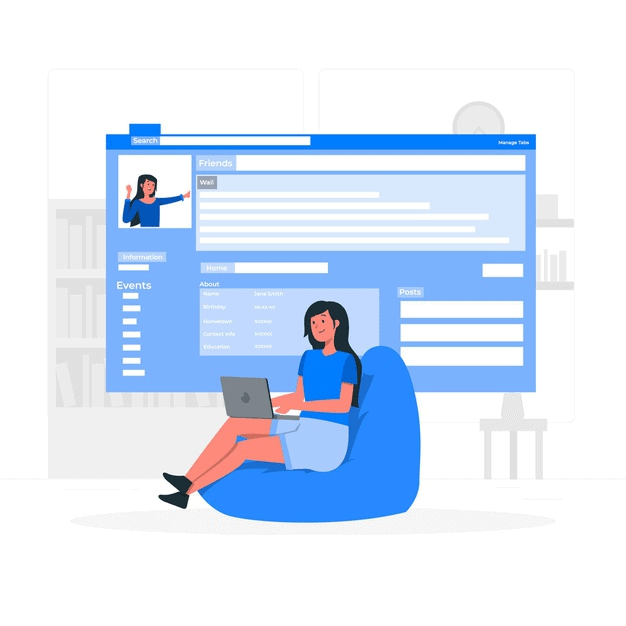 Similar to Facebook, You can also create your profiles for the members. You can also add fields such as contact number, email address, birthday, and other details.

The customization depends on your preference and what you need people to post in their profile. There is a Profile navigation feature to rearrange all the elements of the profile. 
2. Private Messaging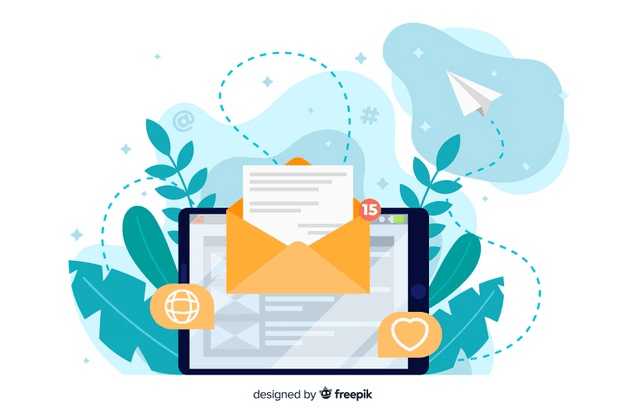 In BuddyBoss, You can also activate the private messaging feature to allow members to message to other members. There are other advanced options like one can search for any member by typing a name.
The member can send pictures, GIFs, and emojis, in private messages. A user can send multiple photos at the same time and change the appearance of emojis. One can search for any message from the chat. 
3. Social Groups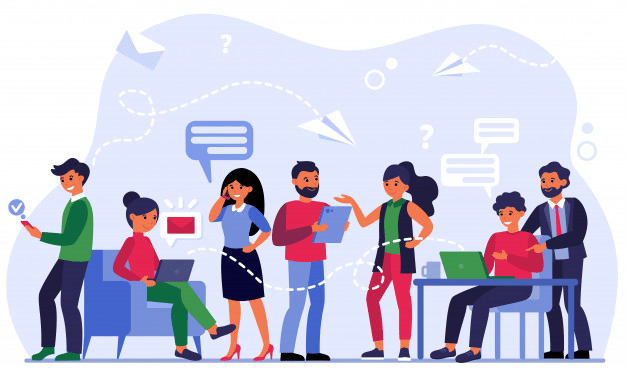 You can create many social groups according to the interests of users. The group's admin can upload group photos, enable the type of group, and much more.
Any members can be included in a single group and participate in various discussions. It is possible to edit, view, or delete social groups.
4. Forum Discussions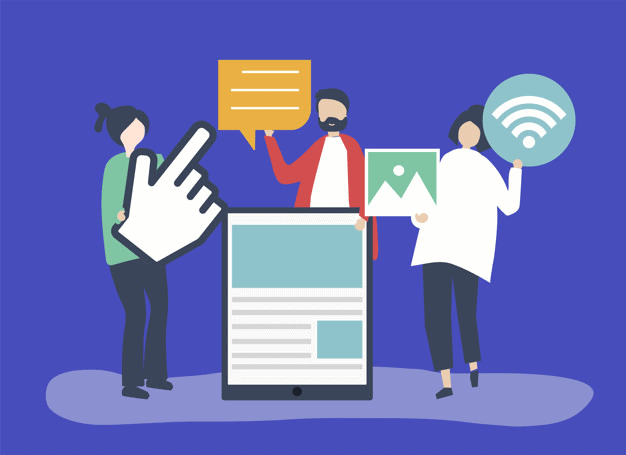 You can build forum discussions by using third-party plugins. Members can easily communicate and discuss everything on a specific topic. You can edit posts and comments in a fixed interval of time.
Guest users can also comment or participate in discussions.
Also, Members can subscribe to different forums. 
5. Member Connections
If any member wants to connect with another member, then he can send a connection request. There is a Connect button in every member's profile.
Users can click that button for the connection request. Another member can also cancel it. The site will generate notifications in the account whenever a request is sent. 
6. Network Search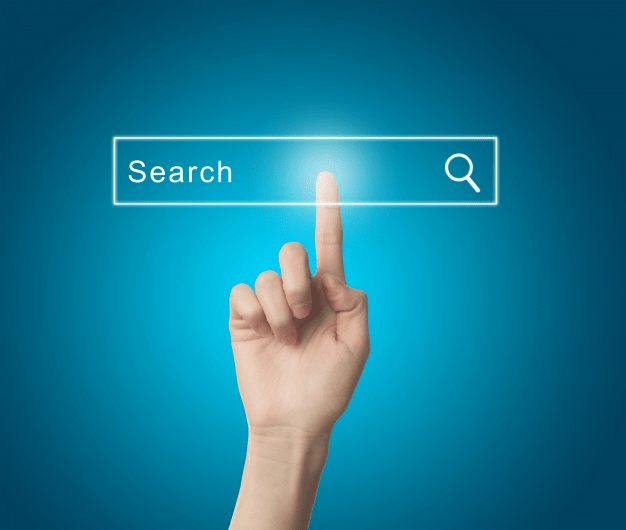 It is possible to search the network and find any post. It can be names of members, usernames, email addresses, text, discussion, replies, etc.
7. Email Invites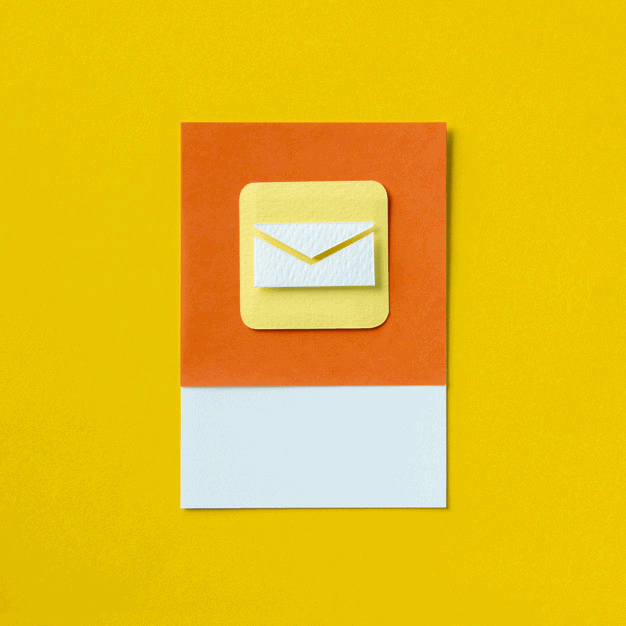 With the help of BuddyBoss, you can send email invites to any person so that he can join the network. Requests can be sent to friends, family, and co-workers. You have to enter the name and email address of the invitee. 
BuddyBoss Theme Options  Overview
There are various theme options on this platform, and you can customize them. Let us check out some options. 
1. Logo
There is a Logo Uploader option with many user-friendly options. Customization settings are limited for logos on different platforms than BuddyBoss.
It is possible to enable and disable logos for mobile and desktop. If you want to enable logos on mobile, you can upload another one with a smaller and adjustable size.
2. Header
There are three options of layout in BuddyBoss, and you can pick any one of them. You can put the logo on any side of the header. If your logo is significant and needs more space, then BuddyPanel is the perfect location for it.
There is a sticky header that you can stick to on the top of the page.
One can adjust the header's height, enabling or disabling shadow, and changing all the buttons on the header. 
3. BuddyPanel
With the help of BuddyBoss, you can enable the BuddyPanel. You can display it on any side of the screen.
4. Sidebars
It is possible to change the sidebars on pages. You can place the sidebar on any side of the page.
5. Typography
The website typography needs third-party plugins for creating many themes. With the help of BuddyBoss, you can use built-in Font typography and customize your page according to your needs.
You can change the title, heading on the page by changing the text's font, size, and style.
6. Styling
This option is for changing the style and color of things like header, footer, BuddyPanel, and other body elements. You can set the style according to your brand. 
7. Blog
There are three layouts for the blog page. There are many things to customize in the blog page like the featured image, enabling or disabling posts, limiting displayed posts, blog author box, and newsletter shortcode.
You cannot modify the space between texts.
You can also enable social links without using third-party plugins. There are other customization options for changing social shares icons.
8. Login Page
You can create and customize your register or login page to provide more security to your brand. You can place a background image to change the theme of the page.
If you want to add a heading to the image, then this is also an option. Every time, the same message will be displayed to the customers, instead of welcoming messages.
BuddyBoss Top Features Review
This platform is highly useful for creating an online community to increase brand engagement. It helps in bringing people closer and lets them talk about the brand. Some of the exciting features of BuddyBoss are:
1. Community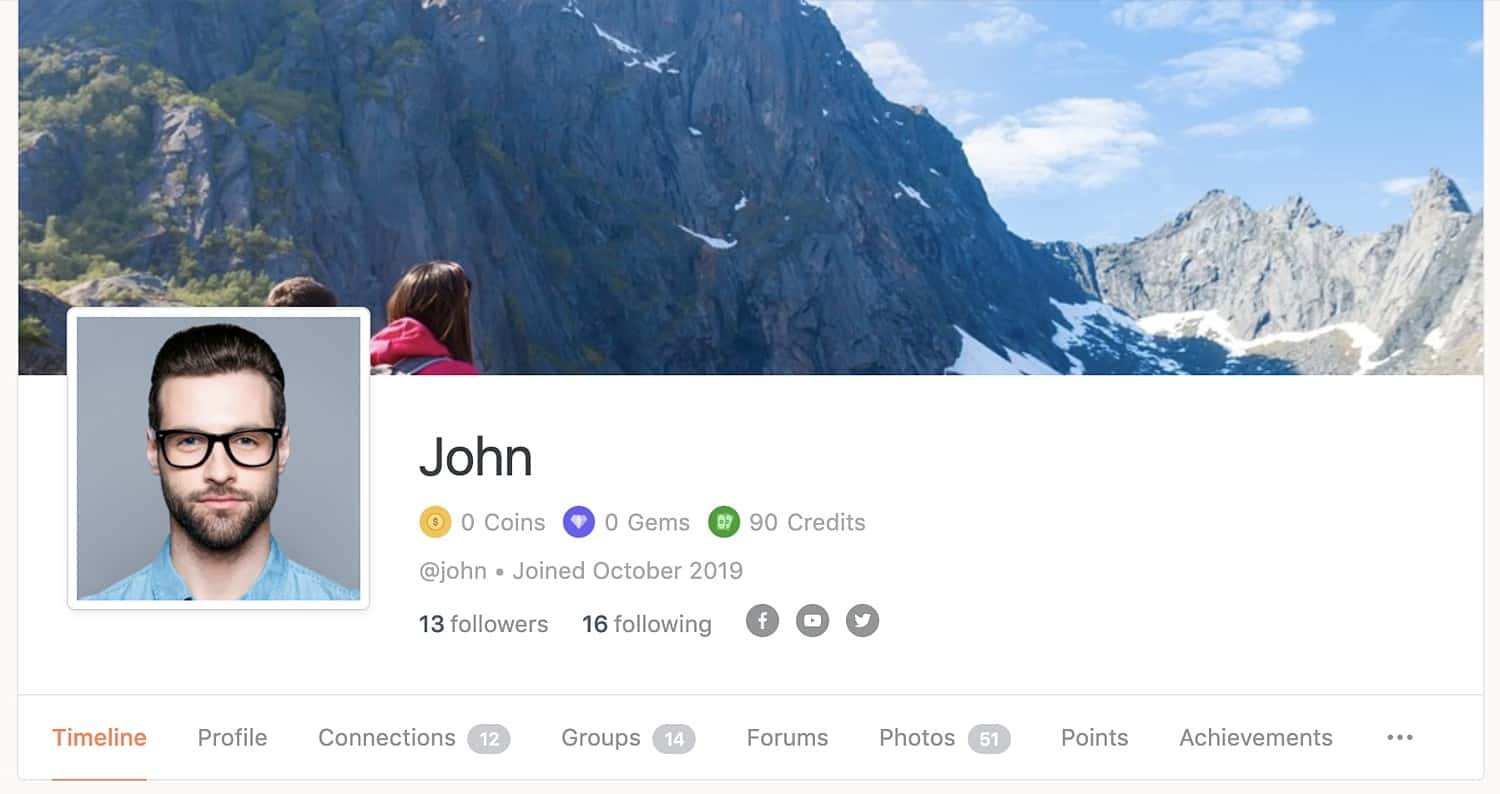 The platform revolves around people and makes them well-connected. It is possible to bolster your business by connecting and interacting with members.
In this way, you can easily understand the mindset of individuals and get their feedback. In the end, you can encourage your community to learn and grow together.
??Click Here To Activate Black Friday LifeTime Deal Now
There are editable member profiles, that allow members to provide their details.
It is possible to assign them WordPress roles to offer perks to the paying members.
Every community is different, and one can also develop private, public, or hidden groups. Within a group, it is possible to select organizers that help track the activities in the group and invite users.
There is an Activity Feed feature that helps in changing a community into an interactive platform. All the members can post and comment on each other's feeds. One can also mention other members on the community site. A notification will pop up on the side of the mentioned user.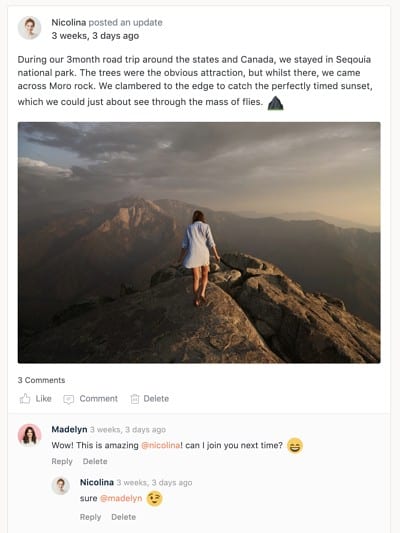 Members can also upload their photos and manage them easily by creating albums. One can also create site-wide events for all the members. 
2. Monetization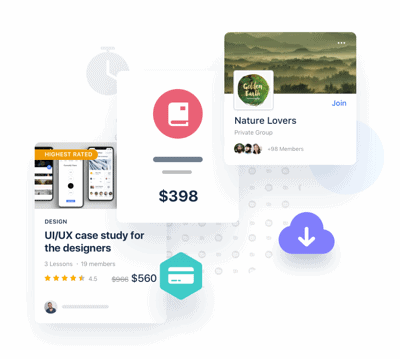 If you want to create your site as an e-commerce platform, you can easily sell your community's access. You can integrate with WooCommerce and charge a one-time fee from members and allow them to join your community.
You can generate a monthly subscription for your member and develop content for only paid users.
3. Gamification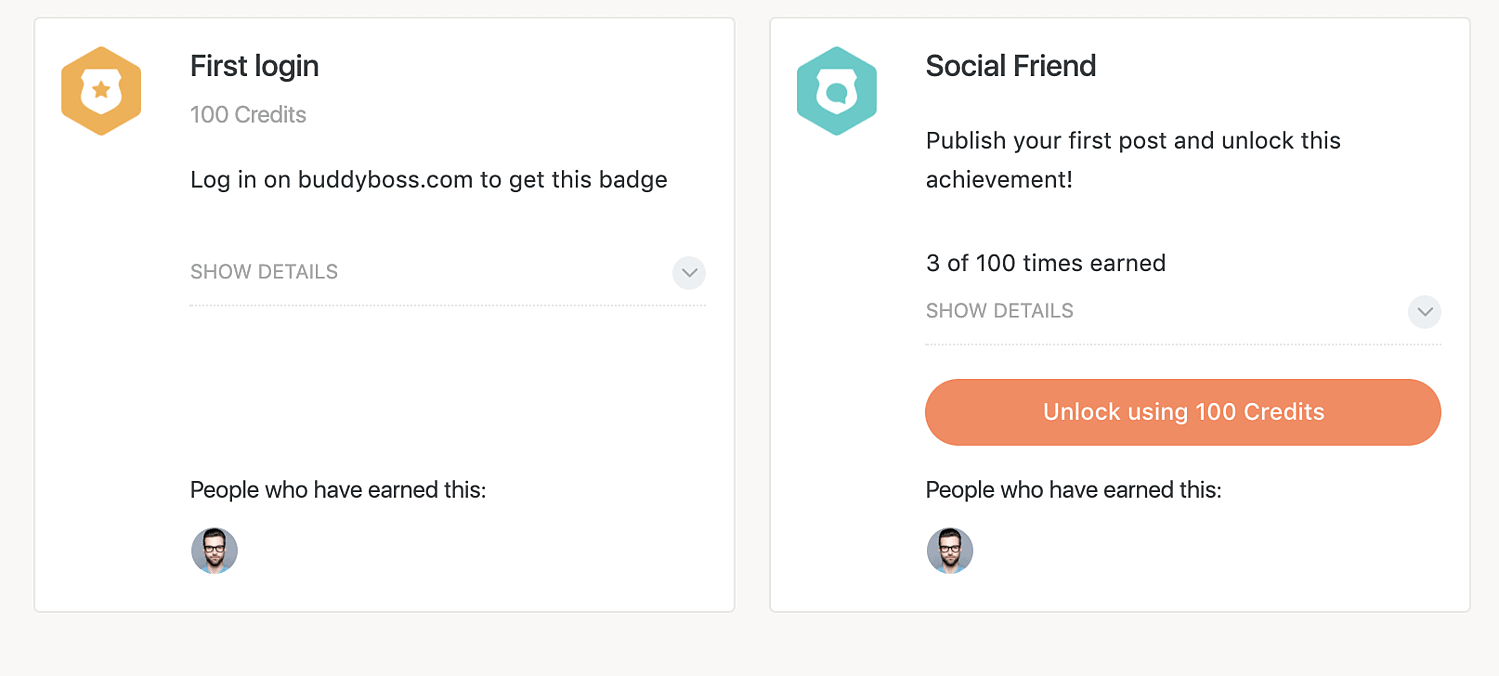 Engagement is quite essential in all types of online communities. The members participate in discussions on any topic. The platform helps in building member retention by gamification.
The users get rewards like badges, points, or other achievements. 
If you are running a membership site, you can easily count, detect, and award points to deserving members.
You can create an online space for members so that they communicate with other members of the community.
??Click Here To Activate Black Friday LifeTime Deal Now
4. Customization
Everything is possible on the BuddyBoss platform. You can create your membership site and design it with different themes. It is possible to customize everything according to your preference. It is easy to change cover photos, fonts, and colors that suit your business. 
You can apply any theme or layout to make everything on your site perfect.
It is possible to create a multilingual community that helps members to interact in any language. You can develop a launch page by integrating BuddyBose with Elementor Page Builder.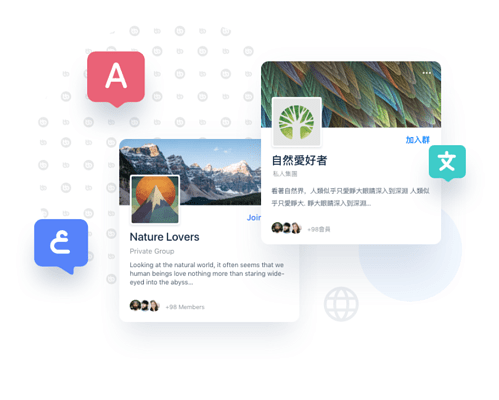 5. Mobile Application 
Many kinds of electronic devices are available for communication. Group members don't need to use a desktop or laptop to access the group every time.
Many people stick to their mobile phones and love to participate in discussions via smartphones. There is a feature of a mobile application that helps the community to interact in conversations via their mobiles. 
It is easy to come up with your mobile app by integrating the platform with AppBoss. It supports Android and iOS phones, and hence, you can post it on Apple App Store and Google Play Store.
You can sync it with WordPress, and get a fantastic experience of the website on your mobile.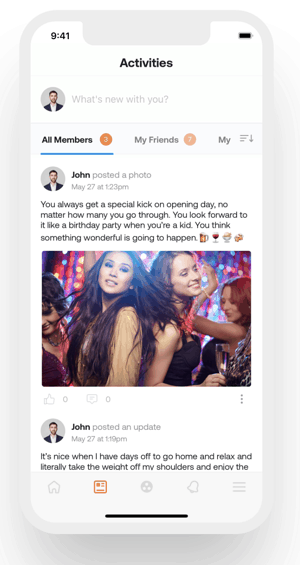 6. Event Calendars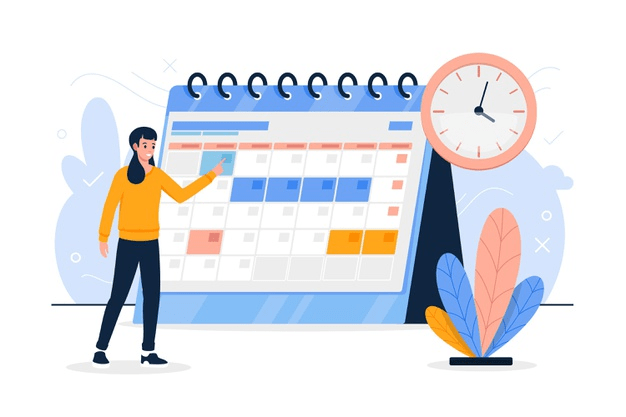 If you want to build calendars and exciting events for your community, then you have that option. All the members are connected in the network like a loop. All information will be shared and displayed to all. 
You can also make certain settings to show the events to specific people. You need to have a WordPress plugin, i.e., Events Calendar Pro.
With this plugin's help, you can create events, book reservations, sell tickets, and much more. 
7. Job Posting Section
You can create your job portal by posting jobs. If you have a community, then you can focus on a certain niche. Many users will be attracted to your page if you have such posts.
You can combine a free plugin, i.e., WP Job Manager with BuddyBoss, to create a fantastic section of job posting on your web page.
After installing the plugin, you can choose the Job listings panel on WordPress and configure them. You can easily create and customize three pages, i.e., a Dashboard, a Job Post page, and a page with jobs. 
8. Connecting Courses with Social Groups
You can combine BuddyBoss with Learndash to introduce courses on your website with Social Groups. In this classroom, students can access any course on your site.
You can easily assign teachers for every social group, and connect them with more courses at a time. 
Why Is BuddyBoss Perfect For Membership Sites?
The themes in the BuddyBoss are available for designing the membership sites. Some certain functionalities and features especially serve the only purpose. It does not support other things or web pages. 
Individually, a customer needs to do some configurations and customizations to create what they want. The themes are easy to create and integrate if you plan to create and manage any membership site.
One can integrate BuddyBoss with LearnDash to include courses on the web page. 
Other WordPress plugins can also be included. If you need to transform your website into a selling platform, then you can collaborate with WooCommerce.
For security purposes, you can put a login form for users. It is easy to modify the setting of the login screen without using the log in WordPress. 
Review Of BuddyBoss Pricing Policy
The pricing of the BuddyBoss platform depends on the number of sites. The package is available with annual fees. The starting package for one site is $228. Similarly, the package is available for 5 and 10 websites. 
You may find these packages quite expensive, but you can access all the features of BuddyBoss in every package. The big difference is that these features are limited to a specific number of sites.
It is easy to customize the theme of the membership site and make it look great. There are a lot of things you can do with the theme.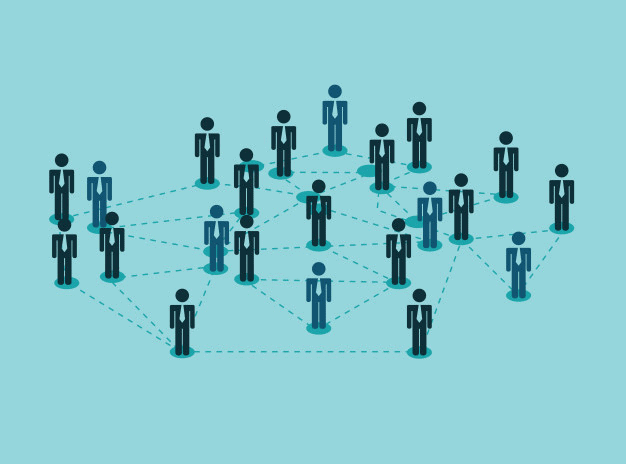 It is easy to add any functionality to make the page more responsive. If you need to build a membership site and it costs only $19 per month, it is not a big deal. You are getting features and functionalities in this amount.
If you feel that it is quite expensive, then you must check the pricing of other software. You will find that it is the most affordable application you can have. 
Customer Support Of BuddyBoss
The customer support team must be supportive enough that it can handle all the problems of customers. If we consider the support team of BuddyBoss, then it is no doubt good but not up to the mark.
The biggest drawback is that a user can access the support by a ticket from their helpdesk. 
Many people want to have a live chat and discuss their problems in detail. But, there is no facility. More channels are now being introduced to improve the quality of customer service. 
Sometimes, the support team provides solutions quickly without wasting any user's precious time. It would be great if they have a chat option so that every customer can easily contact them. Otherwise, the speed of replying to any query is fine. 
The main aim of using BuddyBoss is to create online communities so that members connect and share their thoughts. In this way, a person will learn more and understand the problems more precisely.
There are rewards in return for the engagement, and simultaneously, make money for your brand.  
What's New On The BuddyBoss App?
Not just the platform, the BuddyBoss App too, has many exciting updates for users. The BuddyBoss app was built to offer a seamless experience to mobile users, and based on the comments of the users and their demands for changes, the app has introduced many advanced features recently. The newest update on the app includes the following: 
Push Notification Support
Push Notification support was in the top demand among users, so the recent update offers support for post comments and replies. Push notifications to help users stay updated; therefore, our latest upgraded Push Notification feature makes conversations smooth. Also, with this latest update, responding quickly to feedback and comments on the posts has become easier. 
GamiPress Support In The Access Control Section
Another update that users can find in the Access Control section is the GamiPress Support. This new feature is helping users restrict access to their content based on the ranks proposed by GamiPress. The new feature was introduced to help users have more control over access to their websites. 

Google Analytics 4 Enhanced Support In Firebase
In Firebase, the Google Analytics 4 support is introduced recently to help users get better insights based on their engagements. This is also helping users explore the capability of analytics and guiding them in making informed decisions. 
Enhanced Device Tokens 
From Push Notifications to Google Analytics support, the enhanced device tokens that users get to explore in the app are helping users broaden their networks and build powerful communities. 
Who Is Suitable for Using Buddyboss?
It is vital to know that not every person can use BuddyBoss. If you do not need to build any community on your website, then you should forget about this platform.
The major thing that you can get from this platform is the social network on your membership site. It helps you to communicate with people and solve their queries as much you can.
But if you want to make a blog and simply present your information to your audience, then BuddyBoss is not for you. Indeed, it offers features to design the theme, but it is a waste if you can access this platform for only styling because you are using it completely. 
How Is BuddyBoss Beneficial for You?
There are many reasons why BuddyBoss is a tremendous and beneficial option for you. Such as:
If you want to create a free or paid social membership website, then it is an excellent platform for you. It helps in building a strong social network that allows you to connect with your customers. You can easily get feedback and directly communicate with them related to their problems. 
If you want to create forums and other social networks on WordPress, you won't get enough flexible applications. 
It is possible to design and create a membership site, which looks similar to a web app or a blog. There are several themes, and it is possible to create any of your choices. You can design it differently, like a typical blog, according to your preference. 
You can customize all the settings and make it look the way you want. It is possible to make changes to the WordPress theme. 
How Can You Customize BuddyBoss Theme?
To change the entire look and feel of your website by using the theme customization options. 
Open your WordPress dashboard and click on Appearance >> Customize to open the available options. 
It is easy to change any setting whenever you want. Update it dynamically and get a preview on your mobile device.
 Follow some simple steps to customize various things to get the desired theme.
Change the Title and Tagline of the Site 
The tagline and site title will display if you do not have updated any logo. It will be in the same position where you can place your logo.
Click on Appearance >> Customize.
Open the section of Site Title and Tagline.
Type any text that you want to display.
Click on the Save & Publish button.
Add a Logo
You can also upload a logo instead of displaying the site title and tagline. Follow the mentioned steps:
Click on the Appearance >> Customize.
Open the Logo section.
Click on No Image.
Click on Select a File under the Drop a File section.
Get the desired logo and upload it.
Click on the Save & Publish button.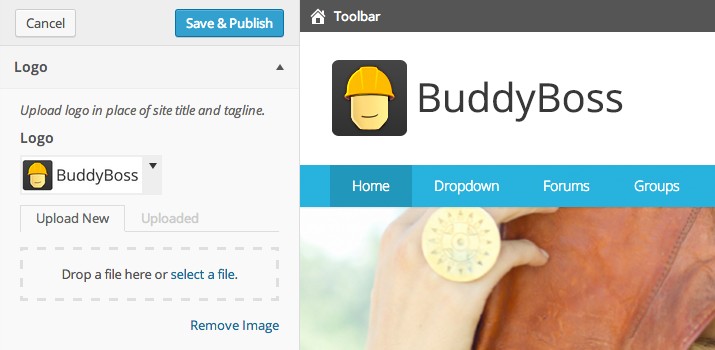 7. Now, your logo will be visible on the login of your WordPress site.

Change the Layout of WordPress Toolbar
With the help of a customizer setting, you can also change the layout of the toolbar. There are two options, i.e., Full Width, which is quite the same as the default toolbar layout. Another one is Float Right, which will shift the toolbar on the right side. 
Fluid Width
Click on Appearance >> Customize.
Open the section of the WordPress Toolbar.
Select the default option of Fluid Width.
Click on the Save & Publish button.
Float Right 
Click on Appearance >> Customize.
Open the section of the WordPress Toolbar.
Select the option of Float Right.
Click on the Save & Publish button.

Customize Colors
Change the look and feel of the site by customizing the color of the significant website elements. Follow the steps:
Click on Appearance >> Customize. 
Open the section of Colors >> Layout, or Colors >> Text.
Adjust and pick the desired color for every element. 
Click on the Save & Publish button.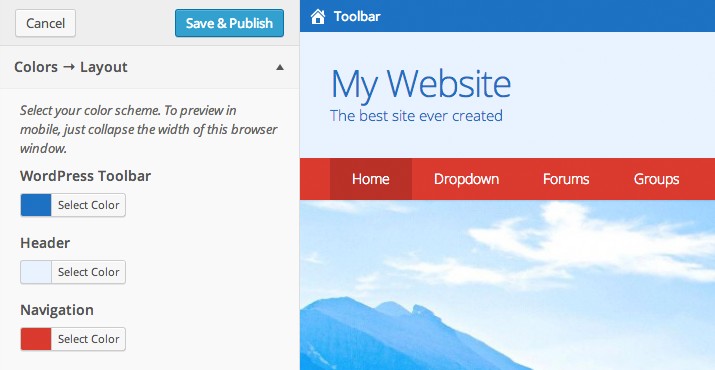 Customize Fonts
Change the font of the significant elements on the site by the following steps:
Click on Appearance >> Customize.
Open the Typography section. 
Adjust and select the desired font by using the font dropdown buttons. 
Click on the Save & Publish button.

Add Links of Social Media to Footer
Anyone can reach your social media accounts by clicking on the links on the footer. You can only see the preview update after saving it. Follow these steps:
Click on Appearance >> Customize.
Open the section of Social Media Links.
Enter the desired social account link for every icon. 
Click on the Save & Publish button.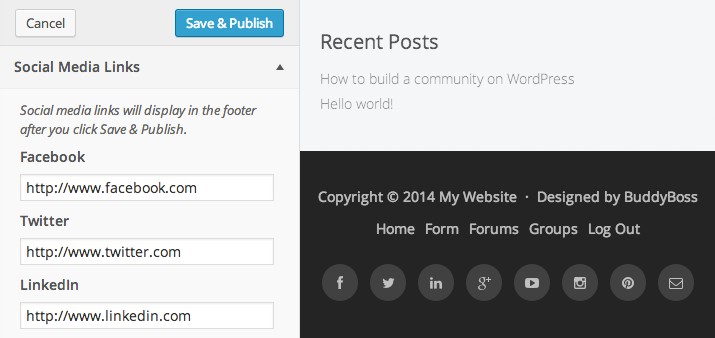 How Can You Create and Sell Content with BuddyBoss + LearnDash?
With the integration of BuddyBoss and LearnDash, you can create and sell the content. You need to install the plugin and make some settings. You can create a great learning website and sell your online courses. Follow some installation instructions to integrate the plugin. 
Installation Instructions
Buy LearnDash LMS. 
Download the available ZIP file by LearnDash.
Extract the files from the downloaded sfwd-lms.zip to your WordPress plugin folder, i.e., yourhostname/wordpress/wp-content/plugins. You can also click on WordPress Dashboard >> Plugins >> Add New. Now, click on the Upload Plugin button. You have to browse the file location of downloads and select the sfwd-lms.zip. Start installing the plugin. 
Click on the Activate Plugin for activating the LearnDash LMS plugin on your site. You can also activate the website plugin by clicking on the WordPress Dashboard >> Plugins >> Activate button.
Tip: It is crucial to add the details of the license key in License settings. You can reach that option by clicking on LearnDash LMS >> Settings >> LMS >> Licence >> Licence Settings. 
Get the correct template and use it with the BuddyBoss theme by clicking on the LearnDash LMS >> General >> Design and Content Elements >> Active Template >> LearnDash 3.0 >> Save button. 
Click on the LearnDash LMS >> Courses >> Add New for creating a new course. 
Add the featured image, course title, cover photo, and other details in the Course Page tab. 
Add lessons and other sections for the available course in the Course Builder tab. 
Click on the Publish button.
BuddyBoss 2.0: The Newest Theme And Its Features
The most ground-breaking update on the BuddyBoss platform is the 2.0 theme. Ever since the launch of the 1.0 theme, BuddyBoss has become a primary network-building platform for several users. But as the technology has begun to change rapidly, BuddyBoss, too, has come up with an upgraded theme that offers an improved user experience and a whole lot of new features. 
Newest Features To Explore
Theme 1.0 has been a success for several years, but the latest 2.0 theme has more exciting features to explore: 
Theme 2.0 has a bunch of new header styles to explore, and along with the new headers come more customization options. Apart from new header styles, the 'Full-Site Editor' option lets users explore beyond pre-built styles and explore their creativity on the WordPress platform. 
The BuddyPanel, too, has got a new makeover. There are multiple options to choose when organizing and grouping menus and sub-menus. Overall, the BuddyPanel option in the latest theme has more options than the previous theme. 
Source: BuddyBoss
Alt Text: Enhanced Options On BuddyPanel. 
Unified Experience On Website And The Application
Whether using the online platform or the mobile-friendly BuddyBoss app, the introduction of this new theme unifies the user experience on both platforms. This is great news for mobile app users. 
Not just the BuddyBoss icon, there are many more attractive, improved icons to discover in the 2.0 theme. The icons are upgraded to enhance user experience and make the platform more user-friendly. 
Upgraded Styling And UI Elements
The UI elements and styling have also gone through a change in this new theme. Users can enjoy varied options while customizing themes, and guess what? These options are more contemporary this time. From Widgets to button styles, there are many new things to explore and make the most of. 
Images, Colors, And Default Typefaces Are Refreshed
Since the 2.0 theme is the latest and the most advanced introduction for users, it obviously has a whole new set of default images, typography, colors, etc. The category tags, notification badges, or progress bars have a different look now.  
More Than 50 Widgets Got A New Makeover
The most exciting part of the upgraded theme is the addition of more than 50 widgets that will make the styling experience even better. These 50+ widgets include:
More than 20 BuddyBoss default widgets
About 20+ other widgets and LearnDash
Around 10+ GamiPress widgets
Enhanced Gutenberg Experience 
The new 2.0 theme is the gateway to a better Gutenberg experience; users can explore new sets of Gutenberg blocks. This will overall make the creating and editing experience much better and also harness more flexibility to the WordPress platform as a whole. 
How Is The 2.0 Theme Going To Be Better Overall?
This ground-breaking 2.0 theme is impressing WordPress users in the best possible way. The overall brand-new changes to expect in 2023 are: 
More Customization Options
Undoubtedly, BuddyBoss's latest 2.0 theme offers more customization options than ever. This, as a whole, is giving users a unique experience to cherish. 
Enhanced Default Styling
The older version of default styling features gets a brand-new look in the latest theme. The latest added features offer a unique web experience.  
More On-Trends Elements
Users love to go with the trend even when it comes to technology, so, keeping those trends in mind, the 2.0 theme caters to cutting-edge technology and user experience. 
Unified Experiences
The latest theme is praiseworthy because it provides a unified user experience for the website and mobile application users. All the latest features are available on both platforms. 
Controlling The Pace
BuddyBoss 2.0 theme enables users to control their pace of refresh and customization. This latest theme gives more access control to the users. From header styles to themes, typography, widget styling, and also color options, the customization features are much more accessible.
BuddyBoss Theme For LifterLMS Get 25% Off On BuddyBoss Pricing
LifterLMS is a powerful and very flexible LMS plugin with tons of cool features that allow you to do everything from creating courses and quizzes to selling courses and memberships to giving out certificates and badges for your students.
It really is an all-in-one add-on.
For years we have received requests to add support for LifterLMS to our products. And that was always on our roadmap.
For the past few months, the BuddyBoss team has been working to fully support the LifterLMS plugin and all of its proprietary plugins. And the results are amazing!
They have just released the new BuddyBoss for LifterLMS. We have also prepared a new demo for you. It looks really cool!
To celebrate this new start, BuddyBoss is offering a 25% discount on the entire website for a limited time. Use this promo code LIFTER25, and get exclusive LifterLMS Coupon Deals when purchasing the shopping cart.
BuddyBoss Review: What I Like About It
It's very cost-effective considering the advanced features it offers.
It has brought the powerful features of social networking sites like private messaging and social groups under one roof, making building an online community easier than ever.
The theme customization is extensive and offers a lot more features than other premium themes.
It integrates seamlessly with LearnDash and many other WordPress plugins, including page builders like Elementor Pro.
BuddyBoss Review: What I Don't Like About It
Some features lack customization options.
It can be difficult to learn to drive and you will need to watch tutorials to find out how it works.
The settings feel everywhere at first. You can't seem to figure out where something is, which adds to the overwhelming feeling for new users.
Pros And Cons of BuddyBoss
Pros
It is a complete social media application that helps in converting your website into a social platform. 
You can manage all types of settings on the front-end side of the web page.
It is easy to create a section of private messages to communicate with your audience and get feedback. 
You can design the page in any theme and make it look amazing.
With the help of this platform, one can design an interactive forum for unlimited posting and commenting. 
It can easily integrate with LearnDash that helps in adding courses on your membership site. You can combine it with other enhancements to make changes to your webpage according to your requirements. 
There is an email notification system that you can design with available attractive templates. 
Cons
You might have to use additional styles like the Dark version.
The insertion of content is quite difficult because it is done dynamically. 
BuddyBoss App Review – NATIVE MOBILE APP
Stand out from the crowd and start your own native mobile app for iOS and Android with the BuddyBoss app!
They give you all the options you need to customize the look and feel of your app to suit your brand.
BuddyBoss App Community
Connect your followers anywhere. Grow your community and take your member engagement to the next level. Allow your followers or customers to connect under your brand wherever they are.
Increase engagement and loyalty, and collect valuable feedback
Let your Student learn from each other, increase your brand value, and reduce your workload. The mobile app is packed with community features like user profiles, groups, activity feeds, discussion forums, and much more.
Your app shows the configured profile fields in your WordPress dashboard. Members can upload an avatar via the mobile app, edit their profile information, view their profile, or the profiles of other members.
Member Profiles
User Invites
Social Groups
Notifications
Forum Discussions
Network Search
Member Connections
Activity Feeds
Private Messaging
Albums & Media
Group Messaging
Private Community
BuddyBoss is one of those rare platforms committed to offering top-notch services and making a huge difference in the digital world. The latest features and updates on the website as well as the mobile-friendly application, are bound to give them the best experience ever. Visit the BuddyBoss website for more details on the updates. 
Check Out The Latest Video BuddyBoss Platform vs BuddyBoss Theme:
BuddyBoss Alternatives
Many alternatives are also available with the same features and functionalities as BuddyBoss. Let us compare some alternatives:
1. Mighty Networks: It supports more platforms than BuddyBoss like SaaS, Android, and iOS. It targets the audience, like entrepreneurs and developers, who want to create an online community for supporting their brand.
A user can get online support during business hours. The free trial is available with a starting package of $23 per month. The training includes documentation, live online, and webinars.
2. Charodix Community: This platform is for growing brands to target their audience. You can get online support during business hours. The training involves documentation, in-person, live online, and webinars.
3. Thinkific: All types of companies can use this platform for building online communities. It offers 24×7 online support to its customers. The free trial is available, and the minimum package starts from $49 per month. The training includes documentation, live classes, and webinars.
4. Kajabi: In comparison with BuddyBoss, people who only want to sell their online courses can use the Kajabi platform. It offers online support during business hours. The free trial is available with a minimum package of $119 per month, which includes documentation, live classes, and webinar training.
Buddyboss Frequently Asked Questions
Is BuddyBoss Available for Free?
It is an open-source platform, which comes under GPLv2 license. It is free with limited features that you can use for a lifetime. It also has paid features.
What is BuddyPress?
It is a WordPress plugin, available for free. It helps in adding various social networking features. Beginners can manage the website with complete administration. The themes depend on the self-hosted WordPress version with BuddyPress plugin on your site.
How Does BuddyBoss Theme Helpful for You?
The BuddyBoss theme is quite helpful for creating online communities and stores.
How is BuddyPress Helpful for You?
It is helpful for various businesses and entrepreneurs. It helps in designing and building a social network by using a perfect communication tool. You can access all the elements of the WordPress engine, like widgets, plugins, and themes.
Is It Easy to Use BuddyPress?
Yes, it is an easy way to create an online community by using your WordPress website. You can access all the community functions directly from your WordPress site. The biggest drawback is that it does not support all the themes.
How bbPress Plugin Works?
You can use this WordPress plugin for adding functionality to your WordPress. It is easy to create complete forums like an entire WordPress website. You can also design a small part of it.
What Will Happen If You Do Not Pay for the Subscription?
When you stop paying the subscription amount to the BuddyBoss platform, the company will approach you and update all the necessary payment information. After multiple attempts, if you do not respond or if the company is unable to process the owed balance, then your mobile app will be disabled.
Is It Possible to Upgrade the Plan After Purchasing?
Yes, you can choose and upgrade any high-level plan. An additional amount will be added to your current bill. It will be adjusted, and you have to pay it next time. You have to pay the amount difference for the onboarding package.
Are There Any Discount Coupons?
Yes, there is a 15% discount coupon on all the plans of BuddyBoss. You have to use the code, i.e., HEY15OFFBB. It is easy to choose the desired requirement and get great discounts.
Is There Any Similarity Between BuddyPress and BuddyBoss?
No, these terms are quite different. The BuddyBoss team creates BuddyPress-compatible themes for developing social networking websites. But now, a new platform is launched for building community, known as the BuddyBoss platform.
Do You Need BuddyPress Plugin to Create Community on BuddyBoss?
No, there is no need for the BuddyPress plugin. BuddyBoss is a complete solution for creating an online community.
What Types of Communities Can You Create Using BuddyBoss?
It is possible to create open communities where anyone can create a profile and start using it. You can also integrate with many plugins, such as LearnDash. You can develop a learning management system by using this platform.
Is It Possible to Try the Theme before Buying?
Yes, it is possible to test any theme by available online demos. You have to select any theme and click on the Demo button.
Do the Themes Compatible with the Latest Versions of BuddyPress and WordPress?
Yes, all the themes are up-to-date. They are compatible with all the latest versions of BuddyPress and WordPress. It supports WordPress 3.8 or above versions and BuddyPress 2.0 and above versions.
Is It Possible to Customize Fonts and Colors of a Theme?
Yes, there are admin options for changing the fonts and colors. You can customize these things without changing the source code.
Is It Possible to Change the Theme Language?
There is a package of language files that helps you to translate any language to the desired one.
On Which Browsers Can You Test the Theme?
You can test the themes on Chrome, Safari, Mozilla Firefox, and Internet Explorer 9 and above versions. The available themes are compatible with various operating systems.
How Frequently Are Themes of BuddyBoss Updated?
If there is any bug or any need of adding a new feature, BuddyBoss updates its themes. The updated themes are compatible with new versions of Buddyboss, BuddyPress, WordPress, operating systems, and browsers.
Do All the Themes Work with Any Plugin?
There are thousands of WordPress and BuddyPress plugins, and it is hard to test with every setup. But BuddyBoss is sure that it can work with the majority of available plugins.
Is it Possible to Use the Themes on Multiple Websites?
Many themes need multiple domain licenses, but some are available with unlimited domains. You have to check the purchase page of every theme.
Conclusion: BuddyBoss Review (June 2023)
BuddyBoss is an interesting plugin to transform your website into an interactive newsfeed with user profiles, chats, and other features. It is quite easy to use it as compared to other software.
You can add various things to your website and make it look more appealing to your visitors. It is quite profitable to invest in this platform. 
If you are looking for a plugin to make your website more interactive, you can consider BuddyBoss. There is no significant investment because it gives long-lasting results and keeps your customers in touch.
You can easily solve problems by interacting with them through chats, group messaging. You can add courses and jobs also for attracting other users. Well, it offers a lot of features, and using it is your decision.
[/su_column]
About BuddyBoss
Want to learn more about BuddyBoss?
Their about page is probably a good place to start.
You can also follow their blog or contact them here.
Have a question? Maybe the FAQ can help.
Or check out their socials on Facebook, Instagram and YouTube.
Visit this page for shipping info.
Ancient Treasures is located in New York, New York.