In this post, we'll talk about Unbounce pricing with its pros and cons. Unbounce is a popular application for converting visitors into customers that land on your online portal. Many business owners are aware of this software, but they never initiate to try it because of pricing. They do not know about various plans and at what price the company is offering these plans. Therefore, we will provide some essential information regarding its packages so that you can decide the best one for the investment.
There are plenty of features in every plan, but as you go to the advanced plan, you will get more features. We will also discuss special discounts if you purchase any of the plans annually. But before knowing the pricing, let us revise more about Unbounce and how it is useful in growing your business.
About Unbounce
This application is quite beneficial for converting your online store visitors into customers and sales. There is a drag & drop builder feature, which helps you develop your landing pages without any knowledge of programming. There is no need to code or do styling. It contains templates, and you can use them to make ready-made pages by including your content.
The user interface is relatively easy, and even a beginner can also operate it with ease. When any visitor comes to your landing page, it will never go to another page. This platform helps that customer to make a purchase and increase sales. This is how it works effectively and grow businesses.
Features of Unbounce
Check out some exciting features of this application:
1. Develop Landing Pages
With the help of Drag and Drop builder, it is easy to create landing pages. It takes a few hours to create a highly-converting page without any in-depth knowledge of coding. You need to add specific integrations and scripts, and you are ready to go. There are four main stages of landing pages that you need to go through to develop these pages properly.
Build

: It is easy to add, customize, or remove any landing page without any coding skills. You can use a library of 100+ templates and get ready-made designs. You can save time by duplicating the design and creating more landing pages. In these templates, you need to add your text and customize it well. 
You can copy and paste every element you want, including images, videos, text, etc. If you want to add functionality, then add customized scripts of CSS and HTML on any page. Make these pages responsive and fast to increase the conversion rate. You can also publish the landing page to any URL or domain. It is easy to publish these web pages to WordPress.
??Click Here To Get Latest Discount On Unbounce Now
Customize

: You need to customize the template that it looks like you have created. It is possible to modify every element of it. There are pixel-perfect adjustments that are necessary to create pages more polished. You can add grids, boxes, and rulers according to your preference. You can also access free images from amazing photographers and post them on your page.
Choose any font and make your webpage look amazing. You can optimize the size and quality of the files to load and operate your pages quickly. You can add SVG graphics and videos at any dimension on your landing page. Insert parallax scrolling to enhance the quality of the web pages. Avoid too much-linking pages because it can distract visitors and not let them focus on the call button.
Convert

: You can add different types of buttons like radio, checkboxes, hidden fields, drop-downs, etc. If you want to build an impressive picture of your brand in front of customers, you can add Thank You messages. Add useful links so that the visitor stays on your website and explores more.

Optimize

: You can run AB tests to check the functionality of landing pages. With the help of results, you can make changes and boost your conversion rates. If you optimize your pages, then you will gain more traffic. You can check the dashboard to check the status of the pages and track everything happening on it.
2. Sticky Bars and Popups
Popups are necessary to flash exciting deals and offer to visitors. It helps in engaging customers on the website and allows them to make purchases. These offers can be changed anytime, whenever required.
Create

: With the help of Drag and Drop builder, you can create sticky bars and popups and post daily offers on them. You can insert search terms that your customers are looking for on your website. Post any image, button, or link of any web page on these popups. It helps visitors to relocate to any page.

Target and then Trigger

: After creating popups and sidebars, you can launch them so that it appears to live on your website. You can target any URL where you want traffic or attention. It is a must to monitor the frequency of people viewing or clicking these popups. After tracking, you can create more if required. You can also target various countries, products, and services to make everything more interesting for the customers. 
3. Integrations with Different Platforms
Unbounce can be combined with other applications to provide better results. Let us check some of them.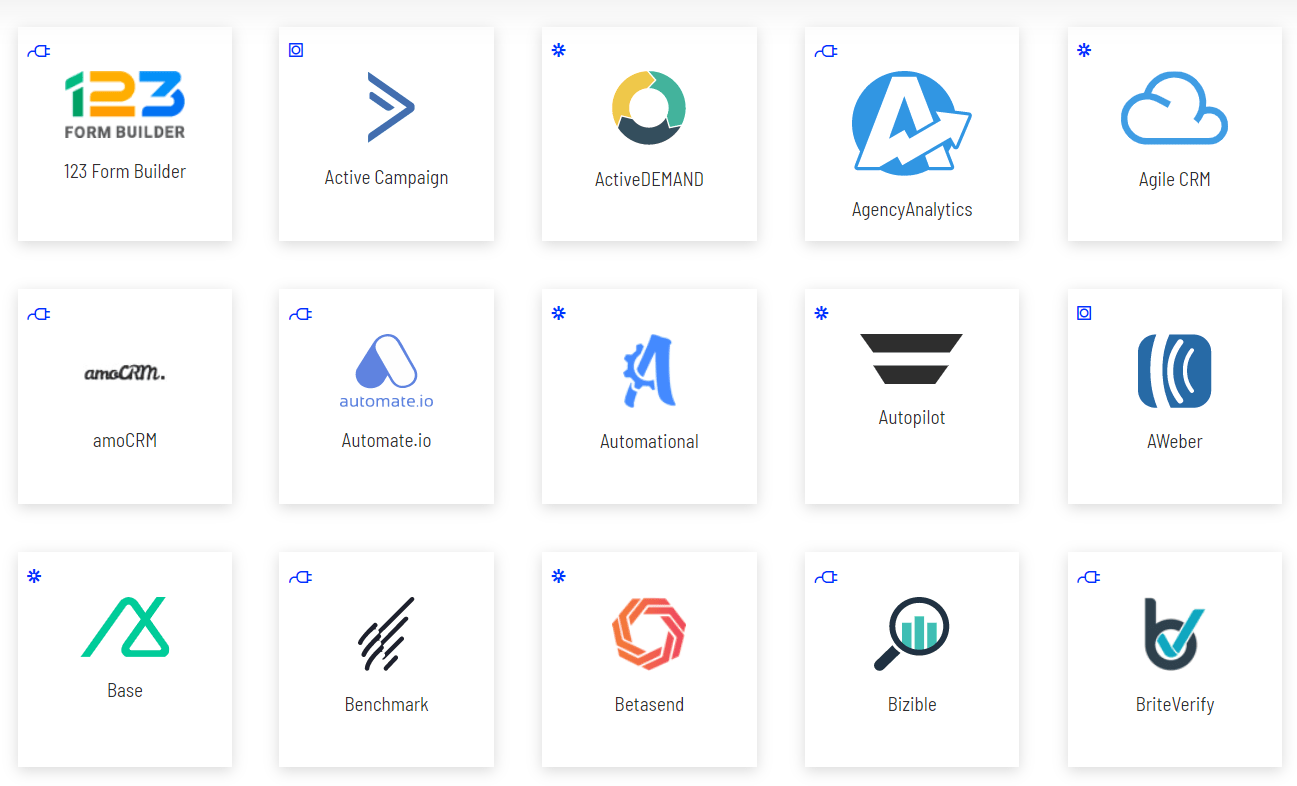 Google Analytics

: With this application's help, you can track your ID and monitor all the events and traffic.

Zapier

: You can send data and leads to various applications from the landing pages of Unbounce.

Webhooks

: You can develop your customized integrations by form submissions of Unbounce to any web server by webhooks.

Direct Lead

: If you want to send leads automatically to CRM and other marketing tools such as Zoho, MailChimp, and HubSpot.  

Email Notifications

: You can send notifications to your teammates whenever the time comes to contact them. It is easy to customize emails to match your business.

Analytics and Tracking

: You can manage your brand's tracking process, such as Facebook pixels on all the web pages, with Script Manager.

Third-party Tools

: Unbounce can also integrate with various third-party applications like Drift, HotJar, Calendly, etc.
 4. Account Management
With the help of Unbounce, it is easy to manage everything on your website. It can be users, clients, campaigns, landing pages, sticky bars, popups, or customers. You can organize all the accounts separately and maintain all the records. You can manage the accessibility of viewers, authors, admins, etc.
??Click Here To Get Latest Discount On Unbounce Now
It is possible to audit logs and check all the team actions. You can also create your template and share it with others. It is easy to manage multiple clients and deal with various contacts simultaneously.  There is no need to pay anything extra for popups, landing pages, and sticky bars.
5. Security and Performance
If you are using Unbounce, then your landing pages are entirely secure and work well. It provides a shield to your data and provides more attention to safe payments. When it comes to page load time, it works perfectly and satisfies the user's needs. Five data centers across the globe target various campaigns.
It can load pages quickly from any location. Everything happens in the Content Delivery Network (CDN) of Unbounce. There is an uptime of 99.96% of your pages which makes them fast. The login process is also safe and secure because it provides two-factor authentication.
What's New In Unbounce For 2023?
The Unbounce Conversion Intelligence™ Platform endows you with AI-powered instruments, including the Smart Builder and Smart Traffic. These tools are designed to streamline the process of presenting suitable content to your audience. As a result, you can enhance your marketing campaign's conversion rates and strengthen your overall marketing assurance. Additionally, this platform eliminates the guesswork from your marketing efforts, enabling you to make data-driven decisions. Its easy-to-use interface ensures you spend less time learning and more time implementing successful marketing strategies.
Unbounce Pricing
There are four plans with monthly and yearly prices. You will get all the features of both subscriptions. There is an additional 10% discount on yearly plans. Let us check the plans.
Monthly
Yearly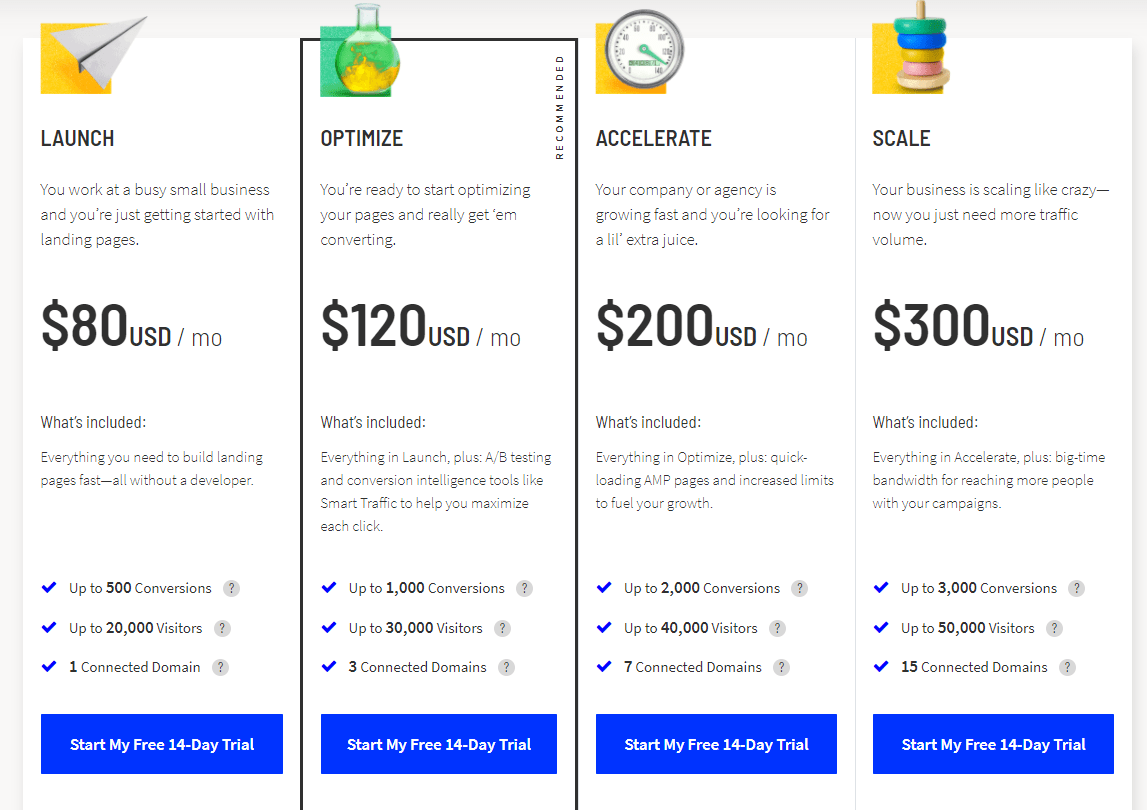 The Bottom Line: Is It Worth Buying?
After going through the pricing of Unbounce, you can compare your requirements and get the required plan for a monthly or yearly subscription. This application is full of unique features that are already mentioned in detail. If you want to build an impressive checkout and convert visitors into customers, it is an effective platform for your website.
It is easy to understand and create great landing pages that attract the targeted audience without any distractions as a beginner. You can grow your business if you opt for such a unique platform. Consider your brand requirements and get the best to grow and succeed online.