In this digital era, chatbots have become a necessity for your websites. People nowadays don't like to wait for long hours to help them with their queries, and that's where chatbots help. In 2023, 74% of customers prefer using chatbots over interacting with human corporate agents when seeking solutions to their inquiries. It can handle sales, marketing, and even customer support. Various industries from all around the globe benefit from these smart virtual assistants.
Chatbase serves as an AI chatbot builder that leverages your data to train ChatGPT, allowing you to seamlessly integrate a chat widget into your website. In this Chatbase review, you will learn everything related to its features, pricing, and how to utilize it to engage your customers.
What Do You Mean By Chatbase?
Chatbase is an Artificial Intelligence chatbot-building tool that can be used to create chatbots for your website. These chatbots work based on the information that you feed them. Chatbots have become popular amongst online businesses as they provide quick solutions to customer queries. The best part is that you don't require coding skills to build a chatbot using the Chatbase.
It offers huge customizable options and a user-friendly interface, so beginners can easily use Chatbase. Chatbase stands out from its competitors because it supports almost 95 languages, which makes it a unique and versatile chatbot builder worldwide. However, this chatbot platform provides various other services also. One can understand the customer's preferences with the help of the Chatbase tool.
Chatbase Review: Pros And Cons
Pros:
Creating chatbots with Chatbase does not consume a lot of time.
Beginners having no coding skills can build chatbots using the Chatbase.
The user interface of the Chatbase is quite simple to understand.
It offers a free trial plan to new clients.
Numerous customizing options are available for creating chatbots with the Chatbase.
It gives API access to communicate with AI-powered chatbots.
It offers GPT-4, a cutting-edge solution for online businesses.
Cons:
One OpenAI account can create complexity while managing several chatbots.
No subscription plan provides endless message credits.
Chatbase Pricing
Chatbase provides four pricing plans: Hobby, Growth, Standard, and Unlimited. Users can choose their plan according to their preferences. Beginners can try out their free trial plan to understand its features. However, with the free trial plan, you can build only one chatbot and get up to 30 message credits. It is a great option for people who want to test how the Chatbase review works and whether they should invest in it.
The features differ from each of the subscription plans as per the pricing. All the paid plans have different chatbot limits, message credits, and character limits. The least expensive plan, the "Hobby" plan, costs $19 a month. You can create about five chatbots using the "Hobby" plan. It offers about 2,000 message credits and 2,000,000 characters.
The "Unlimited" plan costs $399 per month. You can access all the additional features in the "Unlimited" plan. You can build up to 40 chatbots using this plan. It provides 40,000 message credits and access to API and GPT-4 technology. The best thing about this plan is that it lets you remove the mark Powered By Chatbase review.
Chatbase: How It Works?
The process of creating chatbots on the Chatbase platform is effortless. One can fully customize these chatbots depending upon their brand. It cannot be easy to train the chatbots, but with Chatbase, it has become easy.
To train your chatbot, you must upload files such as PDFs, Word docs, etc. By doing this, your chatbot extracts valuable data from these sources and provides relevant information to customers.
There are different themes available on Chatbase to customize your chatbot. You even have the option to display an image for your virtual assistant. Apart from this, Chatbase review offers reusable HTML source code that can be used to embed these chatbots on any online platform.
How To Sign-Up On Chatbase?
Visit the official website of Chatbase. Click on the login option in the top right corner of the screen.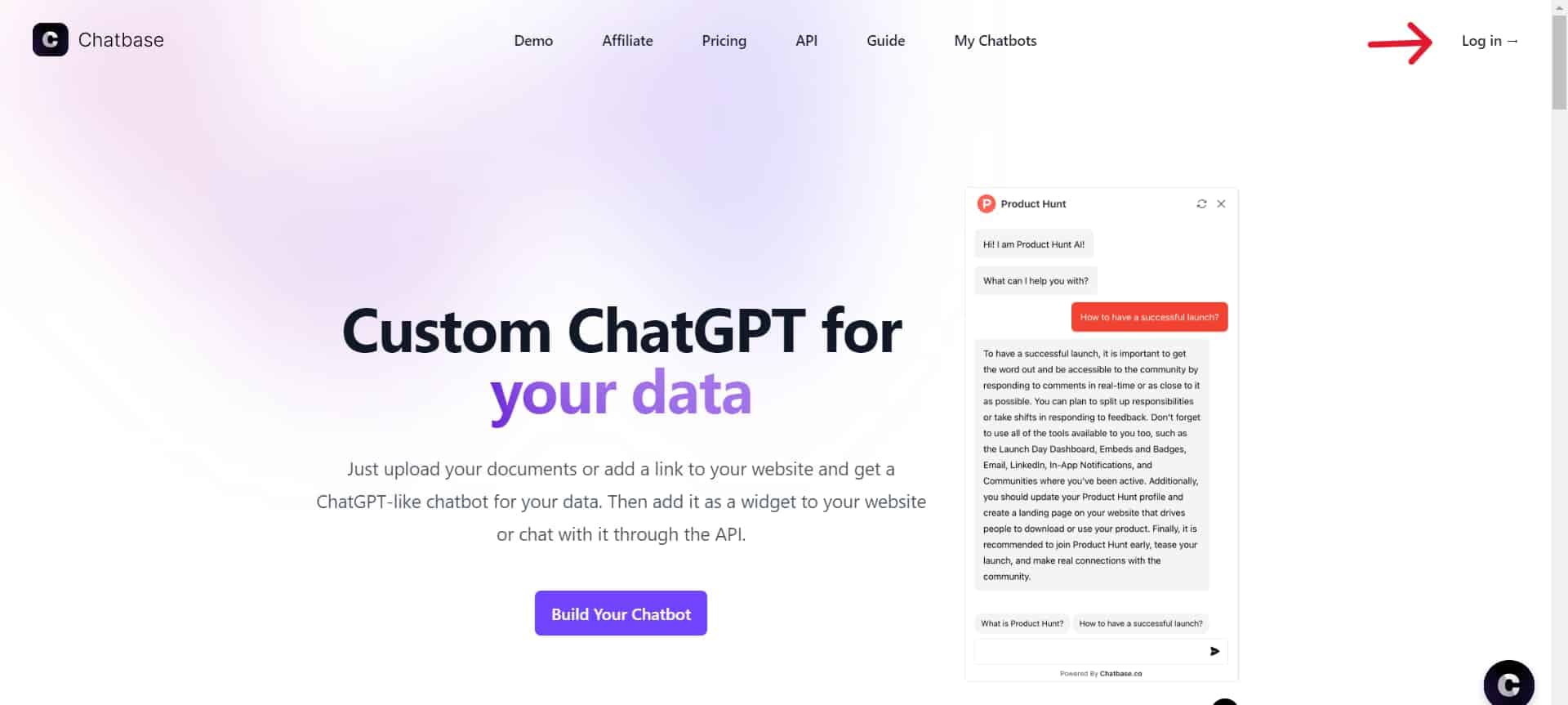 For new users, click on the Sign-up option to create your account.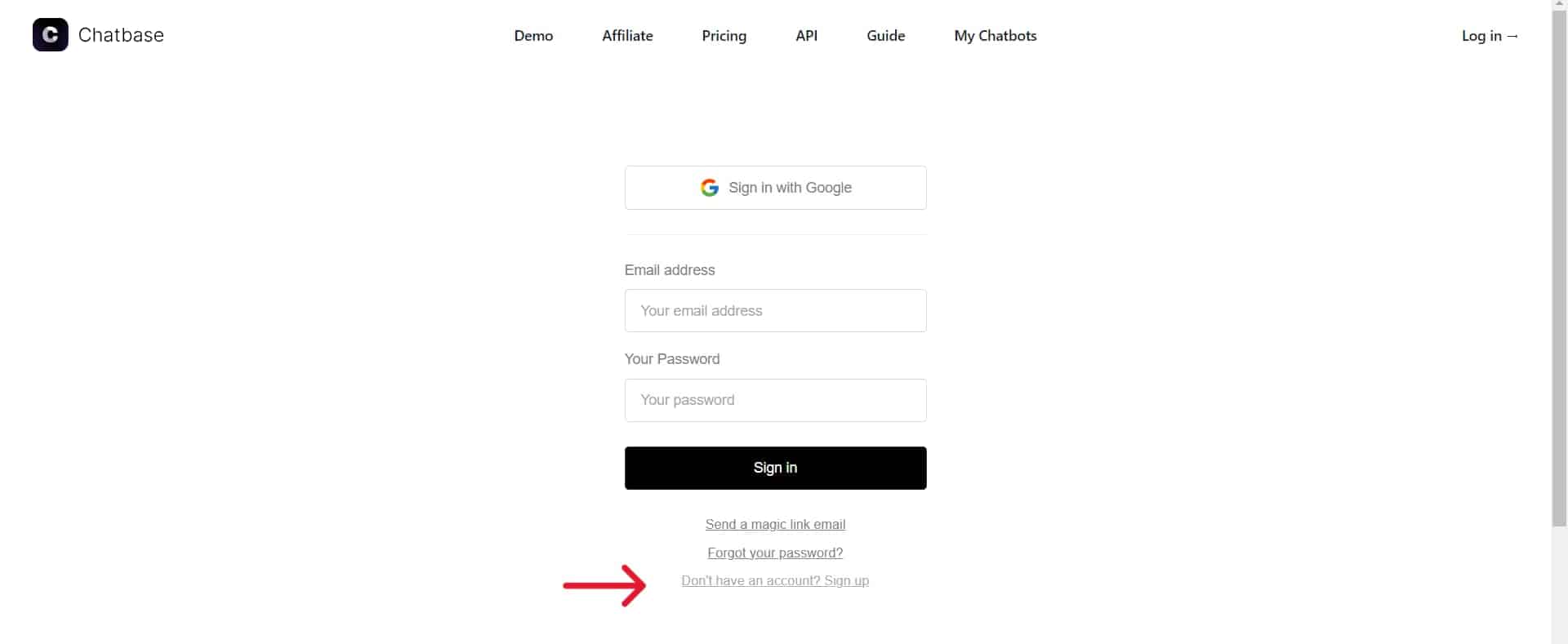 2.Provide your email and password to build your Chatbase account. You can also use your Gmail credentials to sign-up on Chatbase.
3.You have successfully signed up on Chatbase. Click "New Chatbot" to start building your customized chatbot on Chatbase.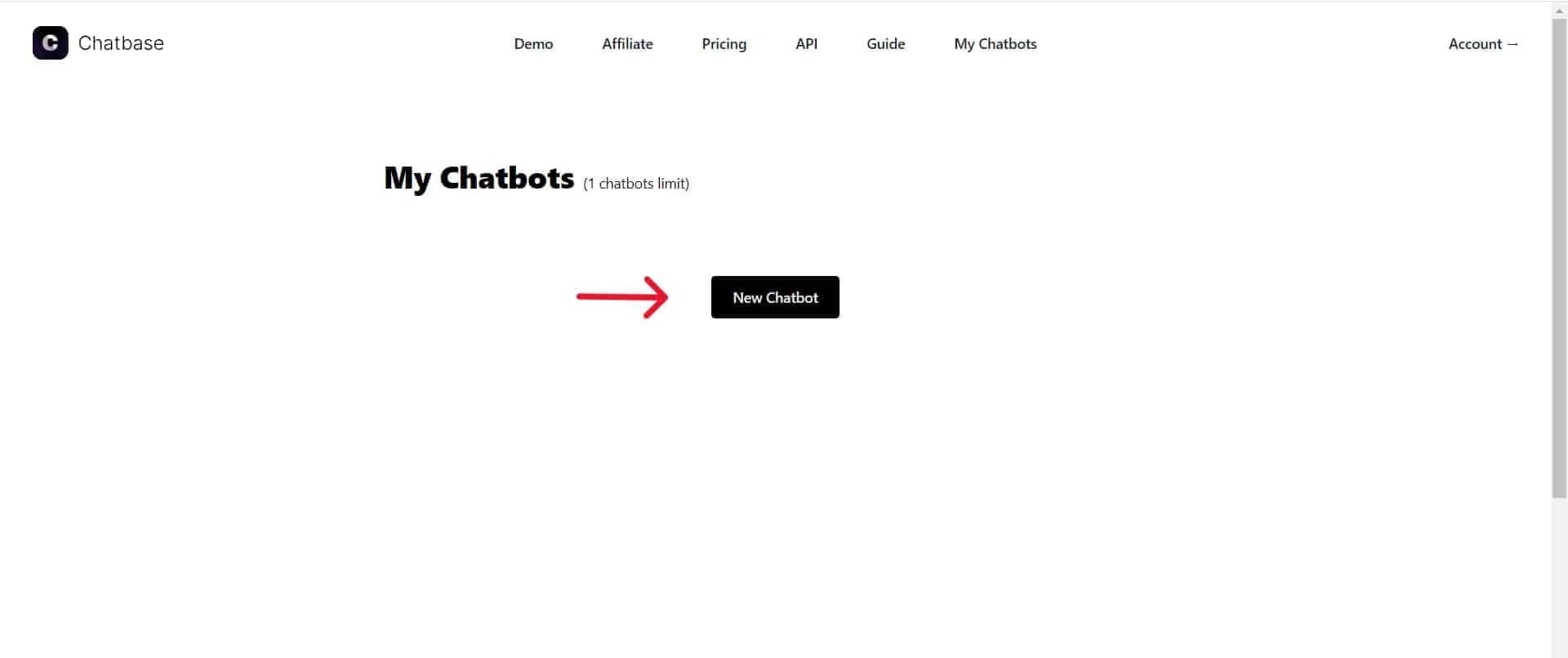 Steps To Build Chatbots Using The Chatbase
The first step involves visiting Chatbase's official website. Tap on the "Build Your Chatbot" button. After that provide your email and password to log in to your Chatbase account. Click on the "New Chatbot" option.
2. Now, you will come across the Data Source section, where you have to provide the files that can be used to train the chatbots. There are four unique data sources available. These sources are Files, Text, Website, and Q&A. You can choose any option depending on the type of information your want to feed your chatbot.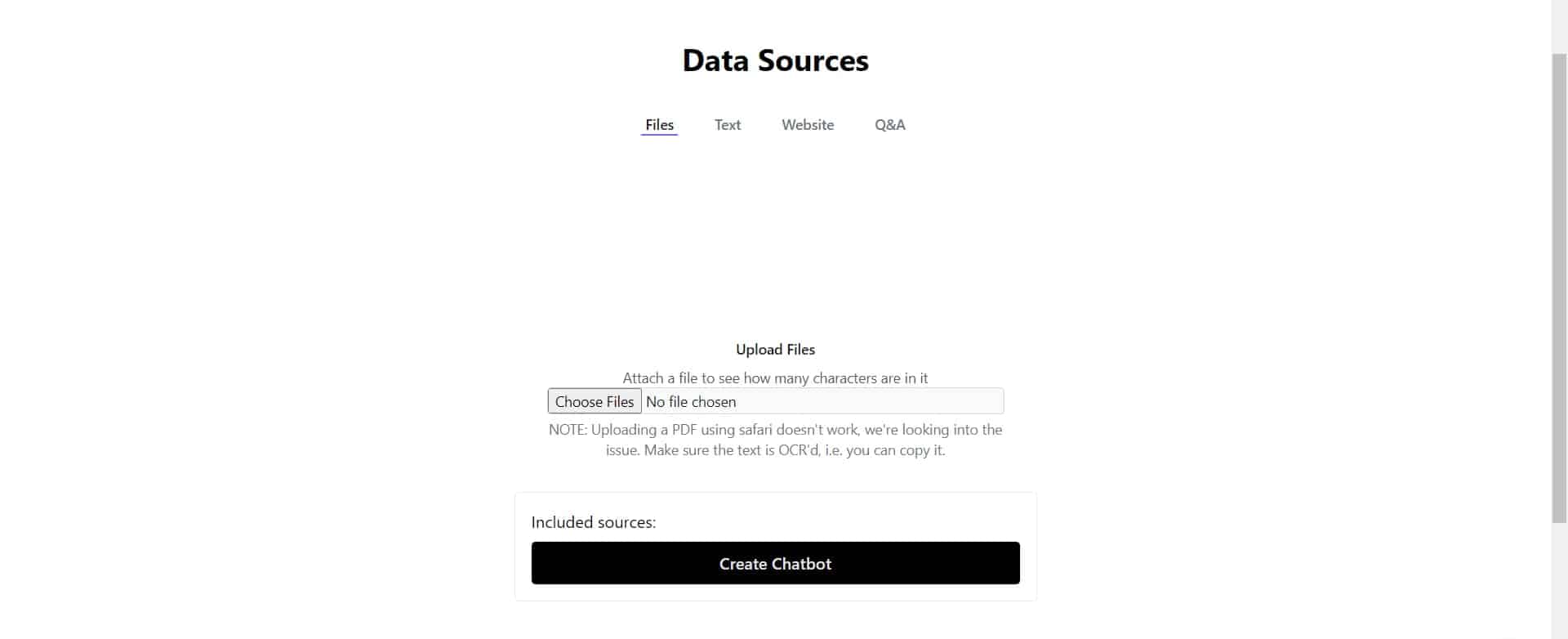 3. In this case, we have used the Website option to train the chatbot. Enter the URL from which you want your chatbot to extract data. Now, the Chatbase platform will fetch all the available URLs.
4. The last step is to click on the "Create Chatbot" button at the bottom of the page. By following these steps you can easily create a chatbot. Once your chatbot is ready, you can start having conversations with it.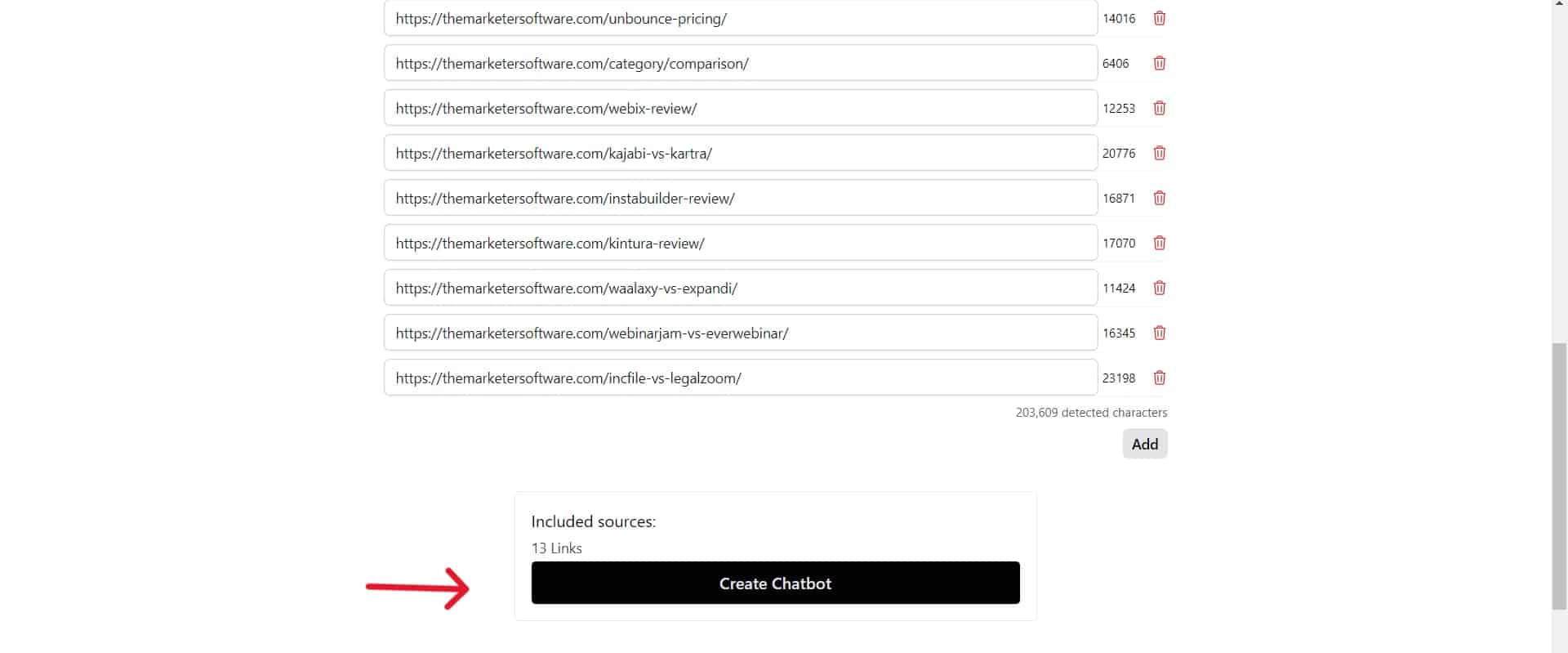 Chatbase – Features
Artificial Intelligence Responses Using GPT-4 Technology
The feature that is responsible for offering AI responses in Chatbase is the GPT-4 technology. It is an advanced solution for legitimate and accurate answers to the user's queries. It helps in improving the visitor's experience on your website.
Visitors expect intelligent answers from these AI-powered chatbots. The GPT-4 technology helps the chatbot understand the queries in depth to provide relevant information to the visitor. You get the opportunity to design your chatbot to sound like a human. Such chatbots are one of the best ways to offer quick solutions to users.
However, only some of the subscription plans of Chatbase reeview offer GPT-4 technology. To enjoy the benefits of the GPT-4 technology, you must choose the "Unlimited" and the "Standard" plan.
Use Any Website Data For Training Your Chatbot
Another great feature of Chatbase is that it allows you to use the data of any website for training your chatbot. It means you can create a knowledgeable and highly customized chatbot that provides relevant information to the visitors to your website.
All you have to do is provide the URL of the website from which you want your chatbots to extract information.
You do not have to feed the data to train the bots manually. Linking any website for training your chatbot is simple and quick. Customers can get solutions on a variety of topics with the help of these customized chatbots.
The best part about using Chatbase review, it is to build chatbots is that it supports 95 languages. It means you can train your bot in your preferred language. Businesses operating in different parts of the world can use this feature to improve user engagement.
Gathering Emails Of The Customers
Gathering visitors' emails is another great feature of Chatbase. It helps in growing your leads and thereby increasing the conversion rate. But to do this, you must first know about your target audience. Collecting emails of customers who don't belong to your target audience would be useless.
Take follow-up from your target audience about the services you are offering and send them your marketing campaign via email. It is an amazing method to stay in touch with your target audience. Apart from this, you can also send them discount coupons and promotions to improve the conversion rate.
Embedding Chatbots On Multiple Websites
Many people think that integrating chatbots into more than one website is not possible. But with Chatbase, it is possible. This AI chatbot builder allows its users to embed chatbots on multiple domains. You don't have to create multiple chatbots to provide customer solutions on different platforms.
Build an authorized domains list to ensure that AI chatbots provide their exclusive services to verified websites only. You can easily customize and manage the chatbots on unlimited websites by using the Chatbase. It is perfect for businesses looking forward to providing customer service via chatbots across multiple websites.
Chatbase Review: Customer Support
Chatbase Review is not complete without mentioning its customer support. Every platform appoints experts to handle the client's queries. Chatbase provides excellent customer service to its clients. The professionals ensure to provide instant solutions to the customers.
They have also employed AI-powered chatbots to solve clients' issues. The best part is that customer support is available 24/7 to assist you.
Beginners can use Chatbase's virtual customer support to make informed decisions. You can contact their team of experts via email. Chatbase also offers video demos to explain to users how their platforms work. With the help of this demo video, you can learn to create chatbots.
Check out : Plerdy Review
Chatbase review: Final Verdict 
Chatbase is a powerful platform that can help you build AI-powered Chatbots. It offers various benefits. One of the major benefits of Chatbase is that it helps in providing valuable insights to people visiting your website.
When chatbots interact with visitors, you can understand the customer's preferences and problematic areas of your website.
The platform is easy to use. You do not require coding skills to build chatbots using Chatbase. The free plan is quite useful to understand and the features it provides.. However, if you need help creating customized chatbots on Chatbase, you can contact their customer support for instant solutions.
Check out the above points to read the full Chatbase review.
You Can Also Read: Kintura Review