Now, more than ever, people are engaging with each other on social networking sites. Do you often come across a point where you feel like creating your social networking site but aren't sure where to begin from?
You are not alone in this. Mighty Networks Review networks are one of the most popular Buddyboss alternatives that will help you in creating the right online community.
For creating a successful community website, Mighty Networks will be your savior. Research has shown that more than 50,000 users are currently relying on Buddyboss for creating their perfect community site where people can easily interact with each other. But how efficient is this Buddyboss alternative? Let's move ahead to figure it out.
The best part about this software is that it is super flexible and can be used to create almost any type of community on your own website. One question that might bug you is why would businesses create different online communities instead of Facebook groups?
Facebook groups can easily be created and used for important discussions but what about the distractions that follow through? Constant notifications from friends and family can be a lot to take.
Also, Facebook groups are not created keeping in mind the requirements of paid communities, thereby meaning no member can be charged before entering the group.
All these procedures need to take place separately. Now, through Mighty Networks, a completely separate space is offered to the members where they can easily interact with each other. It can be customized according to the need or requirements of different businesses.
Buddyboss on the other hand is not limited to creating social networking sites like Facebook and Instagram but can also be used for creating online courses selling websites, corporate community sites, etc. There must be many doubts in your head regarding the same.
This Buddyboss review will provide you all major information regarding Buddyboss to create the most suitable online community website.
Before moving forward let's go through some major differences between both of these two online community builders.
Buddyboss Vs Mighty Networks
Purpose
Buddyboss is generally used by any and everyone who plans on starting an online community, membership sites, or paid courses.
On the other hand, Mighty Networks is generally used for creating an online community around a specified brand.
Pricing Plan: Mighty Networks Review
The pricing for Mighty Networks is comparatively more and it costs you $276 per year. On the other hand, Buddyboss costs you $228 per year. Both online community builders have their own benefits and work just right.
Supported Platforms
Buddyboss is only supported by SaaS. On the other hand, Mighty Networks is supported by SaaS, iPhone, iPad, and Android.
User Experience
As far as the user experience is concerned, both these platforms are trusted by thousands of individuals due to the amazing result both offers.
Let's move ahead and talk more about this Buddyboss alternative that proved to be very useful for businesses all over the world.
The Most Suitable Option For Creating A Private Community
A private community is a type of community that is only accessible for logged-in users. These are made for private discussions generally by businesses. This is one of the best ways of creating a platform that puts forth creative ideas and suggestions.
Furthermore, you can create it as a safe place where people put forward their opinions without the fear of being judged. This prevents some of the most creative ideas from staying in the head.
Create Membership Platforms
Unlike other community platforms, membership sites require people to deposit a specific fee to become a member. You can either go for a monthly or yearly plan for the members. If you have information regarding a particular subject that you plan on teaching online through your website then you can easily do the same.
Once the interested students pay the fees, they can get access to the material including videos, assignments, etc.
The coronavirus pandemic led to a rapid increase in the popularity of membership sites created for varied purposes. If you do it right, and the word reaches a large number of people, you can easily make a huge amount of money through these sites.
After creating a membership site for the first time, lure in people by keeping the initial price low or offer demo classes to the interested people. Several ways can be used to ensure people get the taste of the bigger picture. If you plan on growing your site then make sure the course you offer is updated with the changing trends.
After you see progress on your membership site, you can modify or add new courses of your interest. To add some extra fun, you can add brain exercises like quizzes to your module. The entire point is to make sure the users enjoy their time on the site along with gaining sufficient knowledge.
Most of the membership sites offer e-certificates once a student completes a course. You can also offer discounts for other courses to these students. This ensures you keep the current students in hand along with searching for the new ones.
Using Mighty Networks, you can easily create a platform wherein your users can browse through the available courses, make payments if they like one or more of them, etc. Presenting all the information regarding the courses in a proper and arranged way for better understanding of the users or visitors is important. With Buddyboss, you will achieve the same.
Learning At The Right Pace
Every person has a different grasping power. Mighty Networks provides you the feature of scheduling your content instead of posting it all at once. This ensures the people who are a part of your community get enough time to go through the available content before moving further. Learning things online is a task in itself, especially for students.
In such a scenario, if you offer them a step-by-step model, they are likely to go through it and understand it better. You can slowly and gradually increase the difficulty level once they are done with the basics. Even the most brilliant minds prefer learning at a slow pace to completely understand the top in question.
Design Your Site The Way You Want
Let's be honest, no one likes restrictions when it comes down to creating your own website. This open-source platform is fully customizable and loved by thousands of its users.
You cannot make a website work until it's unique and you have all the features and options required to create one here.
Always remember that people need a strong reason to use a different website than the ones they are already using. In such a scenario, having multiple options to choose from is of utmost importance.
There are a number of popular WordPress plugins and Buddyboss easily syncs with all of them to provide amazing results.
The Main Part: NETWORKING
People often use community websites to connect with other people by creating groups. Mighty Networks gives you the feature of group creation where discussions on varied topics can take place. Whether a user prefers creating a public group that anyone can join or a private one only for the close ones, he can easily do it.
You can say that your community site is growing when more and more groups are being created for different purposes by many people.
Furthermore, the members of your community will be kept up to date regarding the activities done by the fellow members through notifications.
Apart from chatting in a group, private messaging is also an important area of a community site. Users will not always want to express their views, opinions, etc. in front of everyone. If they are up for a private discussion then that can easily take place in private messaging without the intrusion of their privacy.
Make The Site Interesting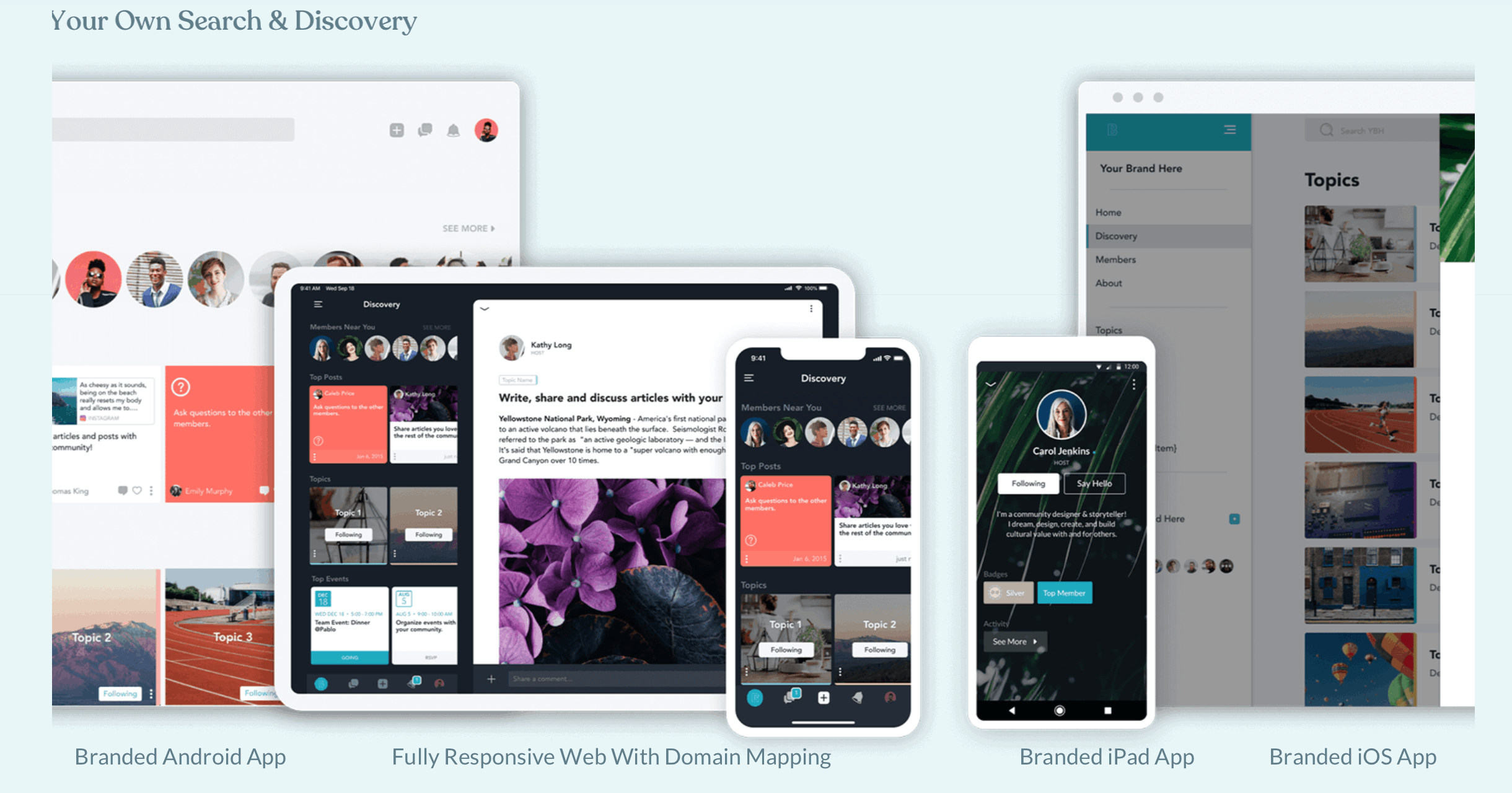 As discussed above, you need to make sure you interestingly provide knowledge to get proper attention from everyone on the website.
Most e-learning sites offer points with every completion of tasks, badges to the active members showing regular contribution, etc. This will create an atmosphere of competition on the website, thereby increased social presence.
You can also keep certain levels locked. Only after receiving a specified number of points, the level will be unlocked. This feature is of utmost importance for the sites offering knowledge in a specific niche to the paid members.
With every increased level, the member will develop expertise in the field which in turn will motivate him to strive further. Mighty Networks will provide you all these options to assure the people who are part of your community learn most interestingly.
The Final Verdict: Mighty Networks Review Buddyboss Alternative 2021
If you are still confused about whether or not this Buddyboss alternative is worth your time then you can go for the free 14-day trial it offers.
Once you are satisfied with its working, you can switch to premium. After making a community, it's time to contact your knowns and ask them to join it. You will get proper insight and ideas about the changes you can make to the same.