Have you heard of the best checkout platform, SamCart? Do you know how it can help your business to grow? Do you know how much it costs you? Well, these are some of the essential queries that strike our heads whenever we are looking for ways to grow our brand and get enough customers. Samcart Pricing is quite essential to consider while buying any service.
A user must check the availability of necessary features at a reasonable cost. Here, we will discuss different plans and the price of SamCart in the following write-up. If you think that this checkout processing service can help in converting visitors into customers, then considering this platform is the best decision.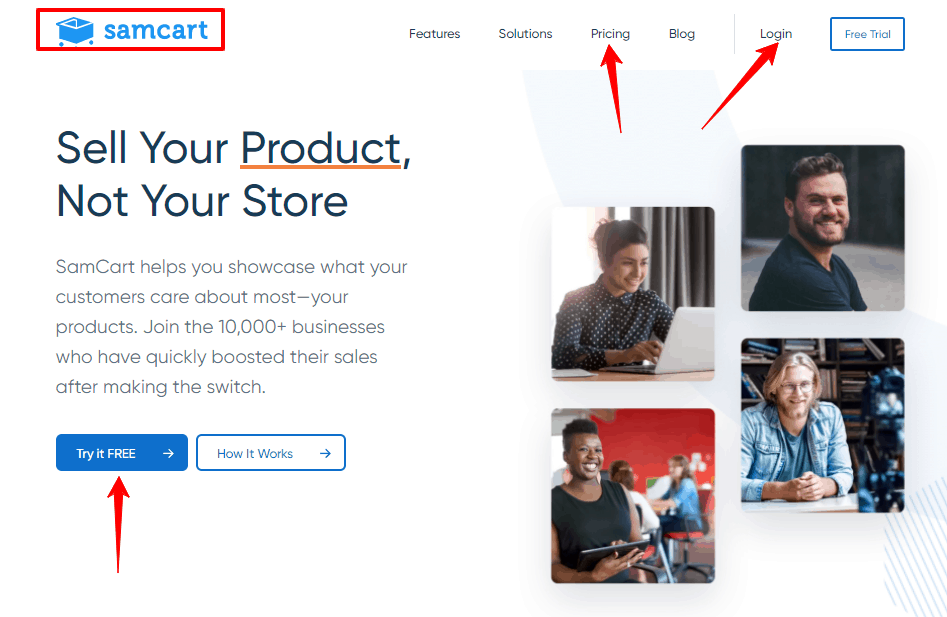 Before discussing SamCart's pricing plans, you should know some briefs about SamCart and how it helps your business grow. It is found that many people leave their carts while checking the checkout page due to many problems. You need to make sure that visitors do not leave the page and make the purchase. You must have a checkout platform like SamCart that helps you in improving your sales conversions.
Here is what I will be covering in this post about this shopping cart tool:
The main features that come with each plan.
All price plans, costs, and special advantages.
So you can try it out and test it yourself.
Samcart Pricing Detailed Overview
About SamCart
SamCart is a perfect platform that allows a customer to purchase your products and services in a few clicks. It makes things easy and quick for visitors, so they do not rush and make purchases with complete satisfaction.
There are different SamCart pricing plans, and one can purchase any according to your requirements and budget. Check out its plans in detail. 
You will get all of these main features that are listed below:
Checkout pop-ups.
Checkout templates.
Payment processing.
You get a free SSL certificate.
Numerous amounts of integrations.
Samcart Coupons codes and discounts.
Custom domains.
Advanced subscriptions.
Samcart Smart pixel tracking.
Digital product deliverability.
Drag and drop templates builder.
SamCart Pricing Plans 
If we talk about the main plans, you will get three monthly packages, in which you will get plenty of features. If you need extra support, then you can go for the Enterprise plan.
The price goes up if you need to get a more advanced package. It will have all the features of the existing plan but some additional features. The basic plan costs a minimum of $49 per month, with all the necessary features. Let us discuss all the plans in detail. 
1. SamCart Launch Plan
It is a basic SamCart pricing plan, which will cost you only $59 per month. If you are choosing this package, then you need to keep some essential things in your mind. Firstly, on your payment page, the SamCart branding or logo will be visible if you use the Launch plan. Only one admin user can access the account. 
There are limited features, along with customer support. You will get an answer within two days. Remember that you cannot access the affiliate and upsell feature. But it will initiate the process of maximizing sales. As a beginner, you can get this plan to sell your products on your online e-commerce platform.
The cost is $49 a month.
Here are the unique perks that come along with choosing this:
You get 1 user.
Get dashboards and sales reports.
Customer support comes in the form of email and your knowledge base.
And the SamCart branding on the side (not exactly a bonus, but useful to know).
2. SamCart Grow Plan
It is an above-one-step SamCart pricing plan, which costs $99 per month. There is no branding of Samcart on the checkout platform.
You can enjoy various features like before purchasing add-ons, customized checkout fields, various payment gateways, post-purchase upsells, etc. Only three admin users can access your account. 
It consists of all the features that you get in the Launch plan, with some additional ones. There are advanced options for subscription cancellation and a feature of subscription reminders for customers. These are the management tools to handle visitors and understand their requirements. 
Here is the price:
The cost is $99 a month.
Here are the unique benefits you get over the old plan:
You get 3 users.
Customer support takes the form of email and chat.
You get full tracking and UTM reporting
This version is a completely white label (not a SamCart brand)
And here are some shiny new benefits that you can use to increase your sales.
Different payment options.
Custom payment fields.
Pre-purchase of accessories.
Additional sales after purchase.
And many more new advantages:
Customer management.
Subscription Fee Reminder.
Advanced subscription cancellations.
3. Scale Plan
If you want to scale up your brand, you must buy the Scale plan, which costs you $199 per month. After upgrading this SamCart pricing plan, at least ten admins can use your account.
Any user can cancel the subscriptions whenever he wants without any approval from the email support team. Many additional features are available in this plan, along with Launch and Grow features. 
It supports features such as cart abandonment, subscription saver, AB testing, and an affiliate center. The support team will manage and answer all your queries due to priority. It is possible to resolve your issues in very little time. 
4. Enterprise Plan
If you have a large-scale business and want to excel in it, this plan is for you. It is a customizable package, which a business owner can get whatever he wants on his online platform. There is advanced customer support, which is available all the time to resolve your business queries. 
It may cost you around $399 per month, which is a great deal. The price of this SamCart pricing plan also depends on the features you are asking for in the checkout platform. You can also contact the team for more information.
Let us discuss three main SamCart pricing plans and their features in brief.
| | | | |
| --- | --- | --- | --- |
| Features  | Launch Plan | Grow Plan | Scale Plan |
| Price  | $49 | $99 | $199 |
| Processing Fees | No | No | No |
| Products and Pages | Unlimited | Unlimited | Unlimited |
| Complete Template Library | Yes | Yes  | Yes  |
| Templates  | Unlimited  | Unlimited  | Unlimited  |
| Subscriptions  | Advanced | Advanced | Advanced |
| Drag and Drop Builder | Yes  | Yes  | Yes  |
| Customized Domains | Yes  | Yes  | Yes  |
| Email Customizations | Yes  | Yes  | Yes  |
| Discounts and Coupons | Yes  | Yes  | Yes  |
| Pixel Tracking | Yes  | Yes  | Yes  |
| Product Delivery | Digital  | Digital  | Digital  |
| Pay What You Desire | Yes  | Yes  | Yes  |
| Tax and Sales Support | Yes  | Yes  | Yes  |
| SamCart Branding | Yes  | No  | No  |
| SSL Certificate | Yes  | Yes  | Yes  |
| Thank You Pages | Yes  | Yes  | Yes  |
| Google Pay  | Yes  | Yes  | Yes  |
| Customized Checkout Fields | No  | Yes  | Yes  |
| Trials (Free and Paid) | Yes  | Yes  | Yes  |
| Post-purchase Upsells | No  | Yes  | Yes  |
| Pre-purchase Add-ons | No  | Yes  | Yes  |
| Different Payment Gateways | No  | Yes  | Yes  |
| Admin Users | 1 | 3 | 10 |
| Report of Sales and Dashboard | Yes  | Marketing report and UTM tracking | Marketing report and UTM tracking |
| Customer Management | No  | Yes  | Yes  |
| Advanced Reporting | No   | Yes  | Yes  |
| Subscription Reminder | No  | Yes  | Yes  |
| Cancellation of Subscriptions | No  | Yes  | Yes  |
| Self Cancellation | No  | No  | Yes  |
| User Roles of Admin | No  | No  | Yes  |
| Subscription Saver | No  | No  | Yes  |
| AB Testing | No  | No  | Yes  |
| Cart Abandonment | No  | No  | Yes  |
| Affiliate Center | No  | No  | Yes  |
| Email Integrations | Yes  | Yes  | Yes  |
| Zapier Integrations | Yes  | Yes  | Yes  |
| Membership Integrations | Yes  | Yes  | Yes  |
| Custom Integrations | No  | No  | Yes  |
| CRM Integrations | No  | No  | Yes  |
| Knowledgebase | Yes  | Yes  | Yes  |
| Email Support | 2-day SLA | 1-day SLA | Priority |
| 99.8% Uptime | Yes  | Yes  | Yes  |
Is There Any Trial Period for Every SamCart Pricing Plan?
Yes, you will get a free trial period of 14 days, in which you can test any plan and try out its features without paying a single penny. If you do not feel satisfied, then you can switch to another plan or service. You will get more features whenever you access the advanced Samcart pricing plan. 
It is the best way to check whether these features meet your requirements or not. There is a Demo section on the website to check everything available on this platform. You can do all these things before signing up. Remember one thing there are no additional fees for processing. There are no hidden fees at all. 

What Can SamCart Do?
It is possible to create discount codes to attract customers to your portal and allow them to buy your products and services quickly. A customer can easily decide if he has these types of codes. He will not go to another platform if you are providing reasonable rates and offers. 
There are too many templates and pages in every SamCart pricing plan. And you can place a popup of the checkout template anywhere on the site. You can access a fantastic customer support team with subscriptions to advanced plans and email customizations. 
SamCart has an automation capability that helps in sending tags and information of customers into CRM and other email marketing applications such as Hubspot, ActiveCampaign, and Infusionsoft. 
If we talk about other features, you can create customized domains, smart pixel monitoring, and online product delivery. You can also get an SSL certificate for free for your site.
What About Annual Discounts?
After trying the trial period or monthly package, you can also buy the plan for a year. There is an annual discount that one must prefer instead of paying money monthly.
There is a 20% discount on annual services on every SamCart pricing plan. It is better to invest in it to get more profits at a reasonable price. You will get the same features as you are getting in the monthly plans. 
Quick Links:
Conclusion: Samcart Pricing
SamCart is an effective checkout platform that helps in converting visitors into loyal customers. When any user visits a checkout page, he moves out of the site without purchasing anything.
SamCart provides practical solutions to make visitors stay on the page and allows them to purchase your products and services. 
It offers effective plans that help any business to grow. After checking out those SamCart pricing packages, you can compare the features with your requirements and get the suitable one.
The detailed set of features will help you to decide what is necessary for your business. Go ahead and get the right plan.