Automation tools are a necessity for every business thriving in the competitive market. Ever since the digital revolution and the rapid modernization of technologies, it has become challenging for businesses to find out the best tools amongst the crowd of thousands and utilize them efficiently.
According to recent forecasts, digital marketing has become a primary source for generating leads, boosting sales, and broadening business networks. And LinkedIn has become the leading platform for finding prospects and developing a strong network.
Automation tools like Waalaxy and Expandi are helping business owners, sales and marketers, freelancers, and recruiters make the most of multipurpose platforms like LinkedIn. Follow up this detailed Waalaxy vs Expandi review until the end to get an in-depth understanding of which tool is the best and most efficient.
What Is Waalaxy?
Waalaxy is the best lead generation prospecting tool for utilizing LinkedIn the most as a prospecting platform. Waalaxy helps boost automated sales, send automated connections to verified profiles, and personalized automated emails to prospects. Waalaxy is trending among businesses and professionals because it is an all-in-one platform that makes finding prospects and launching multiple campaigns at once the easiest.
LinkedIn is not only a paradise for recruiters and job seekers but has also become an essential platform for generating leads and launching marketing campaigns. It is through automation tools like Waalaxy boosting sales and broadening reach get easier.
What Is Expandi?
Like Waalaxi, Expandi is an automation tool that focuses mostly on LinkedIn lead generation. This cloud-based automation tool helps with outreach campaigns on LinkedIn and enhances engagements, including sending connection requests and post interactions. Expandi is a good choice for generating new leads and automating engagements and interactions on LinkedIn's platform.
What Is Waalaxy Popular For?
Waalaxy is most popular among users worldwide because it is an exceptional prospecting tool as well as an efficient extension of Google Chrome. One of the primary reasons why Waalaxy is extremely popular among businesses and professionals is because the tool is user-friendly and includes basic features. This means there is no technical knowledge necessary to make the most out of this prospecting tool.
Another reason why Waalaxy is praised is that it works as an efficient prospecting tool for both LinkedIn and Emails. It is easy to launch multiple campaigns at a time, send 800 invitations in a month, and monitor all campaigns. Waalaxy also boasts its free version to users, which is as effective as paid ones.
What Is Expandi Popular For?
Expandi is popular among users for being a useful LinkedIn automation tool that helps businesses create omnichannel outreach. Expandi makes it easier to contact prospects through emails and LinkedIn and analyze data based on connections and campaigns. It is most popular among B2B companies that want to boost their sales and marketing strategies.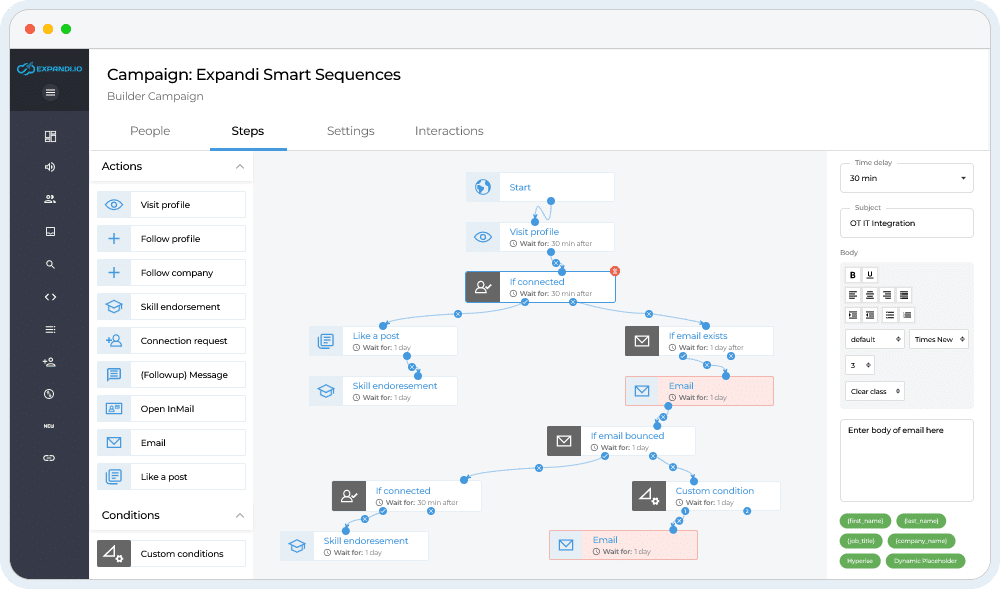 Source: Expandi
Best Features Of Waalaxy
Waalaxy is popular among users worldwide because it is the only automation tool that bypasses LinkedIn's restrictions and helps generate 100 leads per day. Some additional features that come with Waalaxy subscription plans and free trials surpass all the other competitors in the market. The best features of Waalaxy are:
Campaign Analytics
Activity Dashboard
Lead Generation
Advanced Prospecting Tools
Contact Management
CRM Synchronization
Campaign Planning And Campaign Management
Chat/ Messaging
Email Management
Multi-Campaign And Drip Campaign
Customizable Templates
Template Management
Auto-reporting And Statistics
Source: Waalaxy
Best Features Of Expandi
Expandi, too, has proven to be a good lead generation and sales management tool. It has helped businesses create omnichannel outreach in the least time and launch campaigns quickly. Some of the key features of Expandi include:
Data Analytics
Content Marketing
Email Marketing
Email Management
Lead Monitoring
Demand Generation
Conversion Rate Optimization Tools
Data Capture
Integration
Template Customizations
A Brief Comparison Table For Waalaxy Vs Expandi Based On Their Features
It becomes easier to choose software tools when you get to see a brief comparison of their features. The table below justifies the Waalaxy vs. Expandi comparison moreand will help you choose the best one.
Source: Waalaxy
| Features | Waalaxy | Expandi |
| --- | --- | --- |
| Free Version | Yes | Only 1 Seat |
| Email Management | Yes | Yes |
| Cloud-Based Deployment | Yes | Yes |
| API Access | No | No |
| Integrations | Yes | Yes |
| Activity Tracking | Yes | Yes |
| Campaign Analytics | Yes | Yes |
| Drag And Drop | Yes | Yes |
| Chat/ Messaging | Yes | No |
| Activity Dashboard | Yes | No |
| Customizable Templates | Yes | Yes |
| Live Support | Yes | No |
| Contact Management | Yes | No |
| CRM Synchronization | Yes | No |
| Multi-Campaign | Yes | Yes |
| Pricing | Starting From €20/ month | Starting From $99/ month |
Pros And Cons Of Using Waalaxy
Overall, Waalaxy is a very efficient prospecting tool; let's get to know about its advantages of using it and shortcomings.
Pros
Easiest To Operate
No Technical Skills Required
Pre-Saved Responses
Automated Scheduled Follow-Ups
Can Send 100 Invitations Per Day
Automated Lead Generation And Crm Synchronization
Prospects From Verified Profiles And Email Addresses
Makes Linkedin The Best Acquisition Channel For Your Business
Cheapest Subscription Plans
Cons
Includes Basic Features
Does Not Yet Have A Phone Support Feature
DropContact Is The Third-Party Tool That Is Used As Email Integration
Pros And Cons Of Using Expandi
Expandi is a good tool for solving business problems; it helps owners overcome the limitations often imposed by LinkedIn. The good and bad sides of using Expandi include:
Pros
Has Automated Connection Tools That Help With Personalizing Messages And Sending Connection Requests
Offers Seamless Integrations
Has Data-Tracking Features And Provides Integration With Hubspot
Cons
The Biggest Drawback Is The Poor Customer Support, The Responses Are Slow, And Often The Answers Are Irrelevant Or Not Much Helping
Navigating Through The Platform Is Difficult Because Of Its Buggy User Interface
Not All Features Are As Efficient As They Claim To Be, Some Of The Critical Features Of The Tool Do Not Work Properly
Which Is A Better Tool, Waalaxy Vs Expandi?
You must have encountered several reviews of these software tools individually, but a brief comparison of Waalaxy vs Expandi makes it much easier to choose. Waalaxy and Expandi are good automation tools with many positive reviews, but comparing their ratings on multiple recognized platforms, Waalaxy has an overall rating ranging from 4 to 4.6 out of 5. In contrast, Expandi has ratings ranging from 3.2 to 4.2 out of 5.
This clearly shows that Waalaxy is a more preferred prospecting tool than Expandi. Also, when comparing the features, Waalaxy offers more relevant features needed by businesses for generating leads and boosting sales than Expandi. So, it is quite fair enough to say that in the Waalaxy vs Expandi comparison, Waalaxy is ahead on the scoreboard with more features and advantages than Expandi.
Also, Waalaxy is much cheaper when considering monthly or yearly subscription plans, which adds more to the claim that it is a better tool.
Bottomline
Prospecting tools can change the perspectives of businesses; they not only make it easier to contact prospects and grow networks but also generate more leads. There are many arguments on the net on Waalaxy vs Expandi, but in all terms, Waalaxy has proven to be more helpful to businesses, marketers and sales professionals, freelancers, and recruiters.
You can visit Waalaxy's official website to enjoy their free trials that can be extended up to 2 months.
You can also read: Koala Writer Vs ChatGPT