Let's dive into the Webix review, where we will explain everything in detail from a developers point of view.
Webix is a UI toolkit for developing cross-platform HTML5 and CSS3 web products. It is one of the most popular online libraries of JavaScript and HTML5 in the market. The UI toolkit comes loaded with multiple UI widgets and controls that allow developers to design unique user interfaces.
Webix works for all types of business needs, be it a small or large online business. The long list of widgets and controls helps to conceptualize charts, pivots, reports, and other key elements like Data Table and Tree Table tap-able displayers.
Webix Review: Features
Quality and Dependability
Webix has top-quality professionals with half a decade of market experience in developing innovative tools for JavaScript and HTML5 developers. The tools developed by them are used to build a JSON configuration that allows developers to work and execute key business analysis solutions. 
Areas of Function
Webix presently carries expertise in an array of Service lines:

Custom Software Development 

Webix Customization and Development 

Hybrid and Cross-platform Mobile Development 

UX/UI Design and Development 

Developers/QA and Team Expansion 

App Modernization for Organizations. 
Webix Services
Webix is constantly helping developers to build exclusive UIs better and faster. Their services and tools are in practice among hundreds of companies and businesses around the world.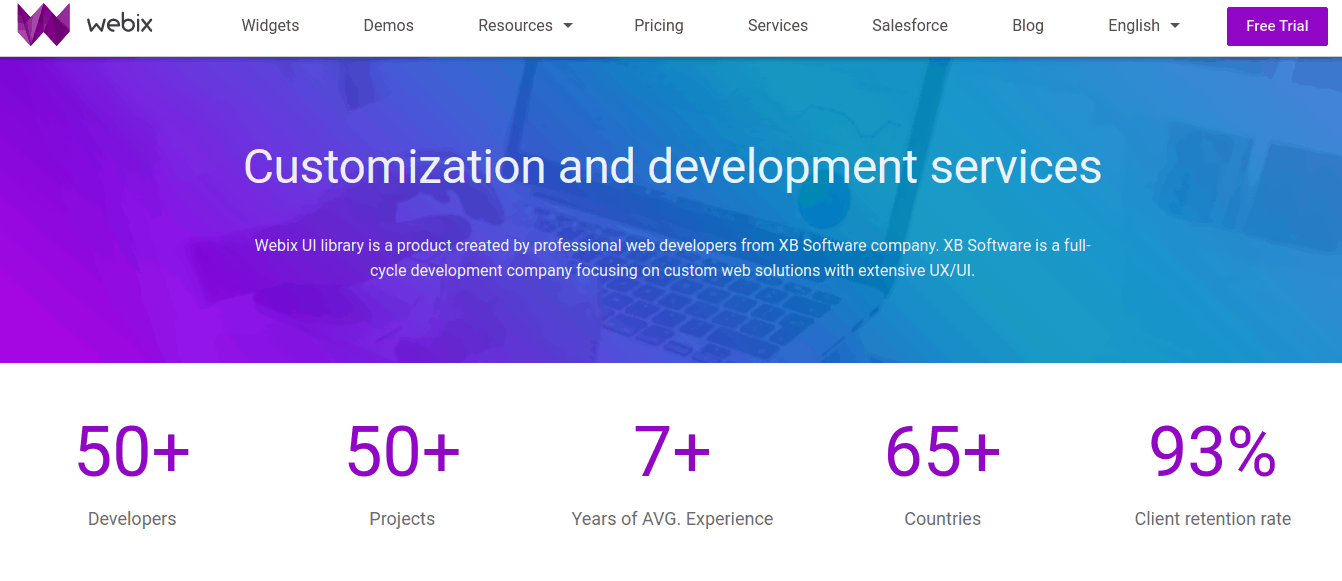 The company boasts a track record of touching the lives of 50+ developers and helping over 30 projects in 65+ countries. With a 93% client retention ratio, the company is taking long strides in the domain of web and resources.
Their UI framework is used to create all kinds of web products and internal web resources, in use with small and Fortune 500 companies. They are also well-known for their reliable and instant customer support.
Let's discuss the services offered by Webix for the following developmental projects. 
Custom Web Application Development
Creating delightful web apps for a wide range of industries 

Modernizing apps and migration of legacy systems 

Rendering data for tables, charts, and diagrams 

Personalized Technical support and maintenance 
Webix Customization and Development
Creating web apps from scratch 

Personalizing Webix widgets 

Assembling of Webix elements into the existing apps 

Using Webix to add improvements and modernizing customer usable apps 
Information Technology Staff Augmentation
Expanding skilled web developers 

QA team expansion 
Technologies in use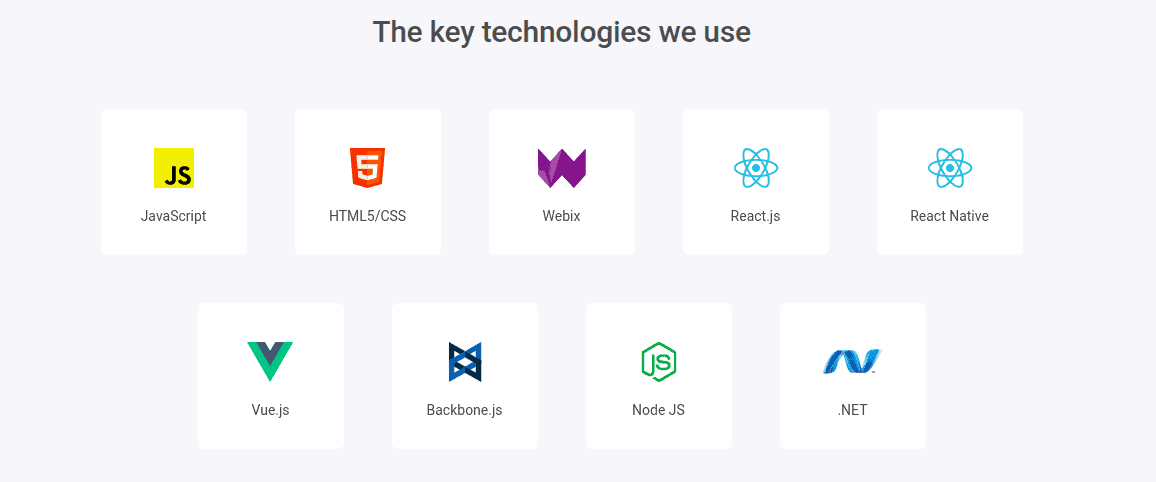 Webix specializes in 100+ UI widgets that deal with JavaScript CSS/HTML5 controls. The company deals with the below-given technologies at present. 
.NET 

React JS 

WebRTC 

Marionette JS 

PHP 

Node JS 
Webix Pricing Plans
Webix comes with a robust pack of 4 pricing plans for its customers. They display a reasonable price, making it a cost-effective web solution for you. Check out the below-listed pricing plans. 
Individual License Pack
The Individual License plan is an ideal solution for a single developer working on a solo project. It has three support plans:
Basic Plan – It is a trial version

Standard – The standard plan comes for $299

Priority – The Priority plan costs $599
The above-given plans come with one year of updates and technical support. Not just that, it comes with a Lifetime Commercial License and basic support for the Webix users. 
The Complex widget is an optional plan that offers Spreadsheet, User Manager, Scheduler and Chat Box worth $329, $99 worth of Scheduler and Query, File manager + Doc Manager, a Pivot and Kanban for $99 each. 
Commercial License Pack
Here comes the Commercial License for developers: –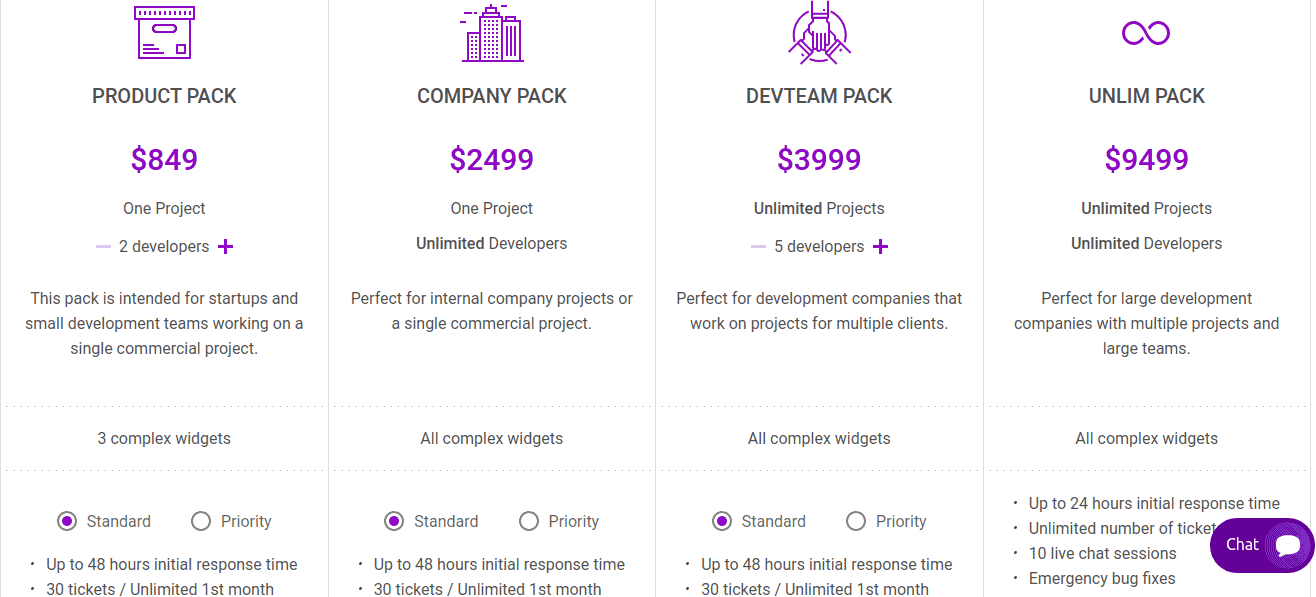 PRODUCT PACK
This is a great pack for a size of 2 developers at $849. It is suitable for startups and small teams with one project at hand.
COMPANY PACK
The Company pack is a great pick for internal company projects working on a single commercial project. The plan costs $2499 that comes with Webix UI library, Lifetime Commercial License, and standard customer support. It is free to use for an unlimited number of developers. 
The company plan comes with the optional complex widget combo pack. 
DEVTEAM PACK
This is a developer pack that works best for companies occupied on multiple projects with multiple clients. For $9499, you get to work for an endless number of projects with instant customer support and a year full of updates. 
The DevTeam Pack is free to use for 5+ developers and offers a Lifetime Commercial License. It covers the complex widget optional pack. 
UNLIM PACK
The unlimited combo is a perfect plan for companies with big teams and large development projects. The pack costs $3999 for a year full of updates and customer support. Along with that, you get access to endless projects and developers. 
You can use the dynamic Webix UI library with a lifetime commercial license. Complex widget plan included. 
Free Developer tools
Webix also comes with a range of additional tools that are free to use for developers. All you need to do is sign up on their official website and get started with the vast library of tools and functions.
Webix Form Builder
The Webix Form Builder is a dynamic online kit for creating web forms. To get started, you need to select a field and layout, and then generate your code form in seconds. You can do all of that in just a few clicks.
Webix Code Snippet
This is a great tool for designing JS dashboards, quick
sneak peeks of results, and sharing it with colleagues and customers on social networks.
Webix Skin Builder
The Webix Skin Builder is a web designing tool for installing default front end skins for your interface and custom theme templates. You can also design your own custom skin and add desired changes to it.
Webix JS Library Benefits
Check out the benefits discussed in the Webix review.
Enhanced Performance
Webix is a lightweight software and offers a rapid UI library for faster web development. It streamlines your web operations at every step of your development process.
Superior UI Controls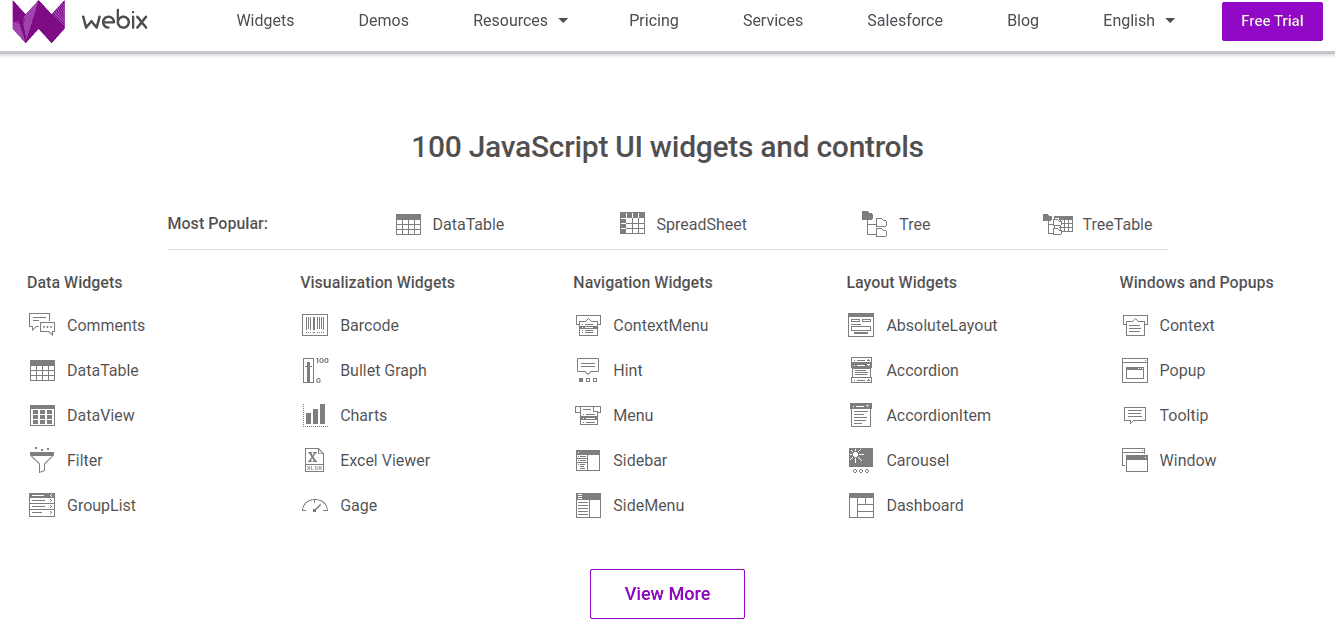 The Webix library comes packed with over 99 controls and widgets for the design and development of any business application. It comes with instant access, ensuring a great speed for application development. 
A Large Set of UI Skins
Webix comes with a myriad of UI skins for front-end design and development. It gives you vast layout options that are ready to use for design and testing material controls. 
It helps to save both your time and money. 
Firsthand Support and Education
Webix is constantly working to improve its web platform and considering the valuable feedback it collects from its users worldwide. It has given users a handy platform for application development. 
It also brings an education program for the developers that covers IT consulting, video tutorials, webinars and extra classes. 
Single Page App Development
You can develop and launch single web pages with much ease and speed. 
The Webix Thought
Webix is an all-in-one tool with top-notch online libraries for JavaScript and HTML developers. It works best for online businesses of any size, small, medium or large!
Webix offers an easy dashboard to get started with and to execute advanced features. It offers a great deal of variety and flexibility. It has a wide set of UI components and API-enabled widgets that can be custom-tailored as per your needs. 
Webix Jet Library has it all you require for SPA development. That makes it a tool of high usability and a perfect tool for developers.
The tools for developers are bug-free and stable to use. It runs even the complex GUIs with ease, promising a superior design and responsive UI skins and icon packs. Plus, they offer quick customer support for developers stuck with any queries.
In this Webix review, we have covered the details inside out so you clearly understand its implications and benefits. Comment below for doubts, and we'll ensure a quick response to your query.
Webix FAQs
1. Does Webix come for free?
No, Webix does not have any free plan for first-time users. However, you can try out the demo version to familiarize yourself with the Webix toolkit and features.
2. How much does the basic plan of Webix UI Library cost?
The basic plan of Webix comes for $349 along with various other pricing plans depending on the projects and development support you need.
3. Are Webix Tutorials worth it?