This article is all about Divi Vs Genesis – two of the most widely used WordPress themes. To be more precise, Divi is a WordPress theme, while Genesis is a framework.
Why do you need WordPress themes or frameworks?
The right look and feel of your WordPress site matter a lot. You can achieve this by using themes and frameworks. Although WordPress has some free themes, they are limited and offer limited designs and customization. Therefore, bloggers and content managers move towards buying paid themes and frameworks.
So, what's the basic difference between a theme and a framework?
In simple words, themes are self-contained designs. They are ready-to-launch WordPress design templates or layouts. In comparison, a framework is more like a "toolkit" or a set of tools that you can use to create custom themes.
Let's see what Divi Vs Genesis has to offer.
What Is Divi?
A product of Elegant Themes, Divi is one of the most widely used WordPress themes. More interestingly, Divi lets you create beautiful website designs. There's no need to know coding to use this WordPress theme. Moreover, it doesn't require the installation and configuration of dozens of disjointed plugins.
When compared to Genesis, Divi is a more self-contained theme. If you are not that tech-savvy, Divi is perfect for you. You can easily install Divi on your WordPress and start creating your website.
What Is Genesis?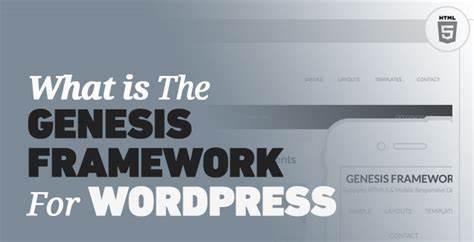 Created by StudioPress, Genesis is more of a WordPress framework than a theme. Many people mistake it for solely a WordPress theme. However, that's not the case. In other words, it can control your site's core functionality as well as aesthetics. It is good for developers who have knowledge of coding and technology. Why?
It acts as a verified and tested code for website developers to generate new WordPress child themes. It means that it's not just a theme that can be installed, and you can start creating a website. Instead, you can use it as a framework to build different websites with WordPress.
Don't be disappointed if you are not tech-friendly. It also has several pre-made child themes that you can use directly. However, if you love creating, it will let you create an umpteen number of themes and websites. So, that's a plus point.
Comparison of Divi Vs Genesis Features
Price: Divi Vs Genesis— Which one is cheaper?
The most popular plan of Divi will cost you $89 per year. You can also pay a one-time price of $249 to get lifetime access and updates. However, the latter plan is not bought by many.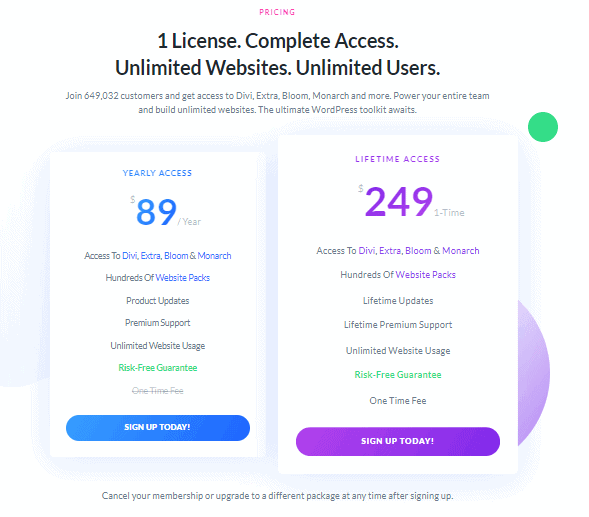 Genesis is priced at $59.95 if you need only the framework. However, you need to pay extra for buying pre-made child themes. They range between $99.95 and $129 as per the theme you choose.
At a glance, it seems as if Genesis is cheap. However, it can cost you more if you don't know to code. So, choose wisely!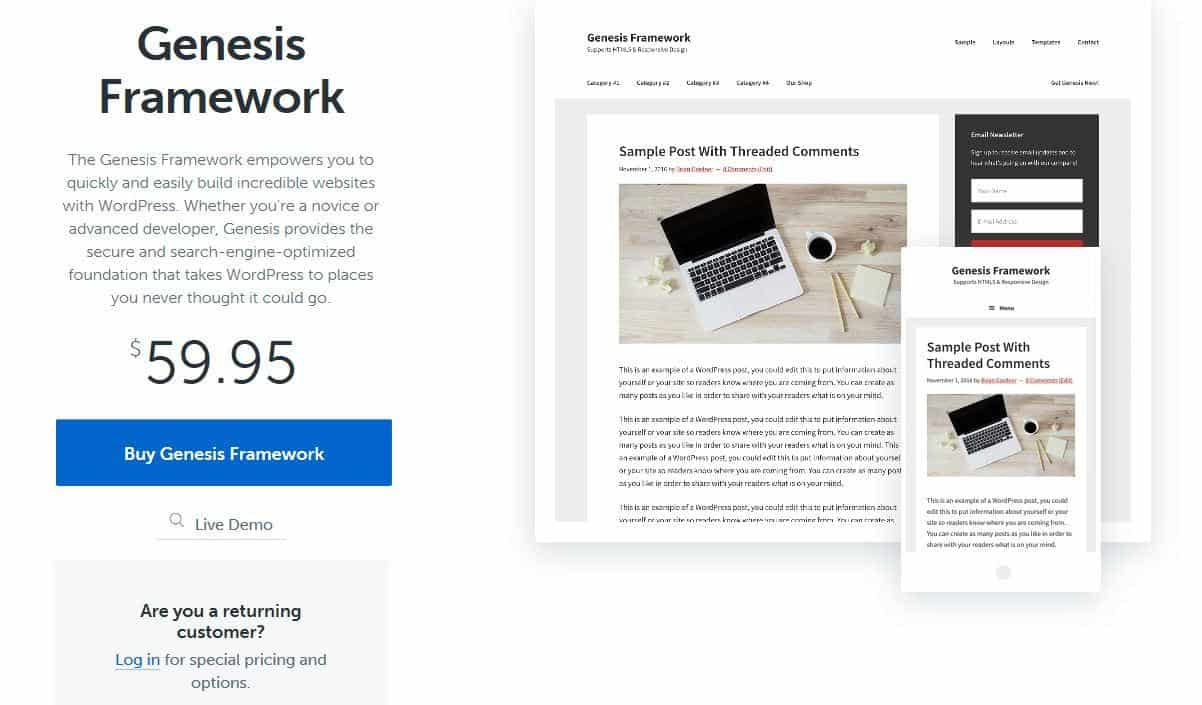 Customer Support and Community: Customer support is very important if you make a purchase. Moreover, the larger the community of users, the better it is. You can discuss your problems, mention your queries related to the product, or share your experience.
Now the question is between Divi Vs Genesis, which theme has a better customer support and a large community?
Genesis is old as compared to Divi. It has been in the market a few years before Divi. Therefore, Genesis has a wider community than Divi. Moreover, many tips and codes are shared in the Genesis community as it is coder-friendly. Many developers share their experience and easy steps to code, which is extremely useful.
There is also an excellent customer support system provided by StudioPress, where you can reach out for help.
Divi also has a reliable support system provided by Elegant themes. However, it's the community is not that large.
User-friendly: You cannot decide which is more user-friendly between Divi Vs Genesis. It is relative and depends from person to person.
If you are a non-coder, you will find Genesis less user-friendly. Whereas, if you are a developer, you will find Genesis much easier and more flexible to work with.
Divi and Genesis both work differently. In Divi, you have a Drag-And-Drop Builder. This user interface is designed, keeping in mind the people who don't know how to code. Divi Drag-And-Drop visual editor lets non-coders create custom layouts easily and without any hassle of coding. You don't require any codes or third-party plugins to work with Divi.
Functionality and Website Features:
The features offered by Genesis are somewhat close to those provided by a standard WordPress installation. There are some sidebars, widgets, and SEO fields, but overall the features and widgets are not many. The advantage of this is a faster speed. Your site will lag less. Moreover, you can install more features when you require them. In this way, it's set up is fast.
On the other hand, Divi's dashboard comes packed with features. It somewhere hampers user integration. Also, the speed becomes slower as compared to Genesis. It comes with many features and options. However, it doesn't mean that you cannot expand the features in Genesis. It's just that you can install them as and when you need them.
Add-Ons and Extensions:
Divi doesn't require add-ons, external plugins, or extensions. It is a self-contained package that has all the features pre-built. It is to ease non-coders to create their site's layout easily with the available options.
On the other hand, Genesis requires third-party plugins and extensions. With Genesis, you can decide what all features you want. And as per your requirement, you can install external plugins. You can choose your plugins from Cobalt Apps and the Genesis Design Palette Pro plugin.
Pros And Cons
Let's discuss some of the major pros and cons of Divi Vs Genesis.
Pros And Cons of Divi
Pros
Divi is an excellent WordPress theme for non-coders. People who lack the knowledge of coding can work effectively to give their site a nice appearance with Divi.
Furthermore, it comes with a powerful drag-and-drop visual page builder that is exceptionally user-friendly and convenient to work with.
Users get a lot of self-contained customization options. There's no need to purchase third-party plugins or extensions.
Moreover, With Divi, style changes are automatically applied to all screen sizes.
Cons
Switching between themes is difficult. You cannot navigate to a different theme without disturbing the layout of your current theme.
Divi is not very famous among web developers.
Pros And Cons of Genesis
Pros
Genesis is a great option for coders. They can control the layout of their websites as per their requirement.
The user interface of Genesis is much easier to work with. It doesn't come packed with different panels or widgets. You can install plugins when you need them. In short, the panel option is quite straightforward.
Faster speed and great performance.
You get an option of a large number of top-notch quality child themes.
It's good if you want to do brand monitoring as it comes with professional SEO-optimized coding.
Genesis offers various hooks and filters to ease developers in developing sites.
Cons
It can be heavy on your pocket since you need to buy both the framework and child themes.
Not friendly to work with for people who don't know how to code.
There are no direct features to make basic changes related to the font, color, etc.
We have so far discussed in detail Divi Vs Genesis, their features, and some major pros and cons. Both of them have great options to offer when it comes to WordPress site-building.
Now let's jump to the conclusion. Divi or Genesis— which one to choose? Or which has more to offer?
Quick Links:
Divi Vs Genesis: Which One to Choose?
There is no clear-cut answer to this question. You can't simply say that Divi is better than Genesis or vice versa. No, it's not that simple.
Both Divi and Genesis are designed, keeping in mind different kinds of users. Moreover, they are used for different purposes.
Divi is used more by casual bloggers whose main purpose is to give an aesthetic look to their blogs. They are not much concerned about marketing or business. At the same time, Genesis is used more by developers to aim for marketing, brand monitoring, and online business.
Keeping in mind these two different needs, both Divi and Genesis, are good for the target audience they are meant for.
Lastly, if you are a non-coder and want a good-looking site without many efforts, go with Divi. But if you are a die-hard coder, you should go with Genesis.
I hope this article gave you some meaningful insights into Divi and Genesis. So, make your choice wisely.