To help you out, in choosing the best, I am going to do a WebinarJam vs EverWebinar comparison based on their features, Pros, Cons, and different pricing plans.
WebinarJam and EverWebinar are two ultimate platforms for hosting different types of webinars. 
WebinarJam is known to be one of the best platforms for hosting live webinars, but it has some limitations whose solutions are provided by the EverWebinar platform, another famous webinar hosting place.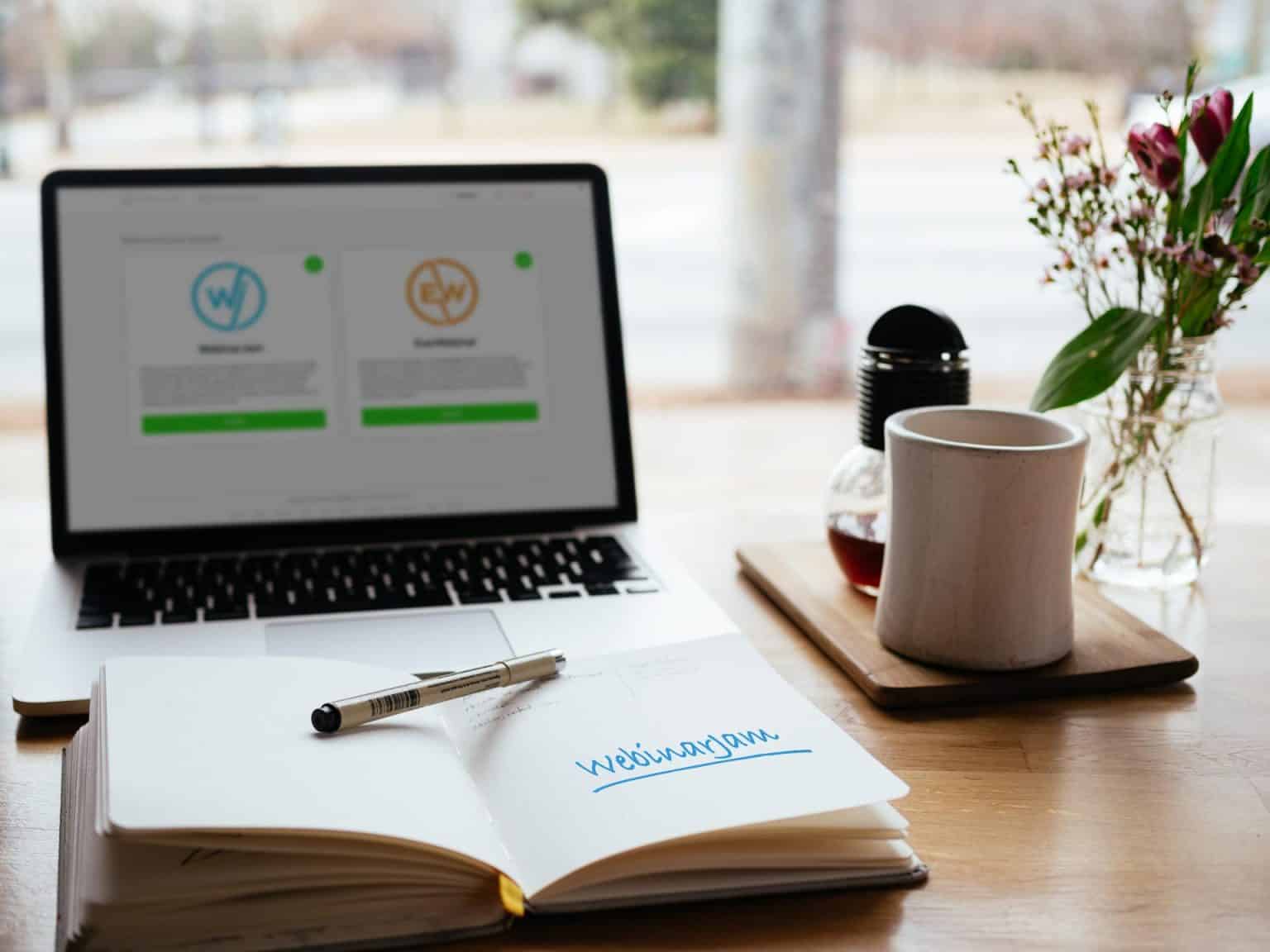 They both have various similarities as well as differences. While WebinarJam does not allow you to host automated webinars, EverWebinar provides this facility with ease.
 So, it can be a tough decision for you to choose which one is suitable for your business requirement. 
After going through this in-depth comparison between WebinarJam vs EverWebinar, you will be able to decide the best platform for you. 
So, let's dive in and explore them in detail.
WebinarJam
To begin with, WebinarJam is a cloud-based business solution helping to create and host webinar sessions. Along with it, it includes live streaming on Facebook and Youtube as well. 
Its broadcasting technology allows you to have 5000 attendees and six presenters in a single webinar. You can use existing videos, animations, and can share your device's screen with attendees. 
From my experience, I will rate WebinarJam 8.4/10.
EverWebinar
In EverWebinar, you can create pre-recorded webinars that will look like a live webinar. It works on all devices and provides a very high-quality video. 
It has a feature of flexible scheduling where you can select the date and time in accordance with what is best for your audience. Thus, it provides you the facility of automated webinars.
I would like to rate EverWebinar 7.6/10.
Undoubtedly, WebinarJam is that one platform which provides the whole setup for the webinar, has very advanced features, is reliable, and easy to use.
Both of these webinar tools have various similarities and differences, as well. To understand them, let's go into some detail.
Differences between WebinarJam and EverWebinar
Given below are some of the differences between WebinarJam and EverWebinar:
Webinar Types
There are four types of webinars that anyone can host: Live, Automated, Hybrid, and Series Webinars. 
While WebinarJam mainly offers to host Live Webinars, EverWebinar allows you to host automated webinars. 
However, with the help of EverWebinar's configuration, you can also host hybrid and series webinars as well. 
To host a hybrid webinar with it, you have to integrate live chat while hosting your automated webinar. Your attendees will not be able to find out if this is a live or automated webinar.
In WebinarJam, this can be done using the video injection functionality offered by it. With the help of this, you can play video for your attendees and anytime take the control back to your webcam.
Attendee Spot Light
This feature of WebinarJam allows you to put the spotlight on one of your attendees. Simply putting, it offers to feature any of your attendees as a guest speaker. This is the feature that makes webinars engaging.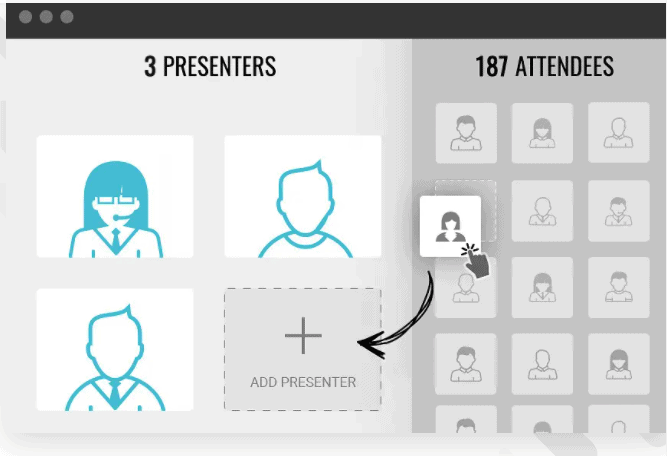 When you choose any one of your attendees, he/she has to use their webcam for recording and to come on air. You can use this feature when you want to talk to anyone of your attendees instead of using the live chat option.
Despite the great functionality that this feature offers, it is not available on the EverWebinar platform. You can only live chat with them.
YouTube Live Stream
WebinarJam offers the alternative of live streaming your webinars on youtube. It makes it possible for your audience to attend your webinar without having to register themselves on the platform. 
But it has a limitation that you cannot use the live chat feature with it. 
This feature is also not available in EverWebinar.
Always-On Room
The always-on room feature allows you to permanently allot a room and a link for your particular meeting or webinar. You do not have to start from the beginning to set up your webinar. 
It also gives you the facility to design your room with your own brand logo—no need to say that this is one of my favorite features.
Again, this feature is available in WebinarJam as usual, not available in EverWebinar.
Control Room 
Management of your webinar is done by your administrators and moderators from the control room. It is the backend from where your team manages the entire webinar. They can make changes during the webinar. 
Once more, this is present in WebinarJam but not available in EverWebinar.
Scheduling
When it comes to scheduling, EverWebinar wins the race. It offers more flexible options for scheduling. 
WebinarJam has three types of scheduling: A single session, Multiple scheduling, and recurring presentations.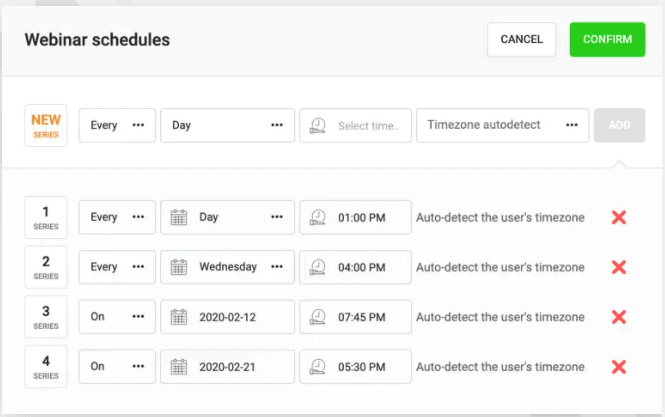 If we talk about EverWebinar, in addition to these three schedules mentioned above, it has many more choices like attendee time-zone, instant replay, etc. 
Similarities between EverWebinar and WebinarJam
Some of the similarities that I have found between them are:
Clickable Offers
You can display clickable offers using both WebinarJam and EverWebinar. When an attendee clicks on that offer during the webinar, it takes him to the sales page to complete their purchase. 
You can also use an indicator whenever someone makes a purchase.
Page Builder
WebinarJam provides you many options for customizing your registration and thank you pages. The same is with EverWebinar. You can customize the logo, color, images, text, and even Youtube and other files.
Polls and Surveys
Talking about polls and surveys, there is a tie between WebinarJam vs.EverWebinar. You can create polls and surveys in two ways on each platform.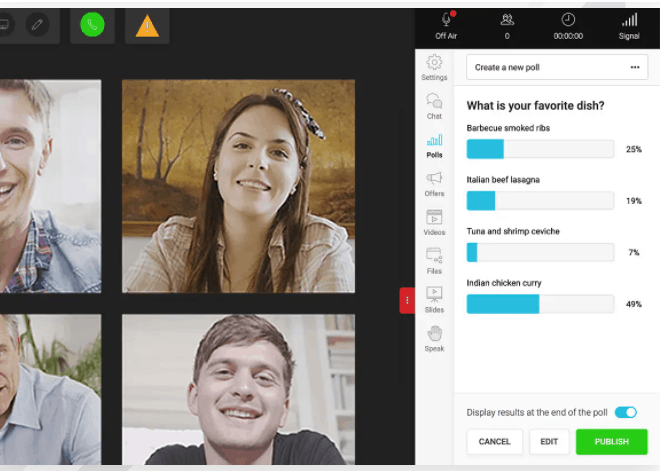 In Full configuration mode, you can use the poll you have configured in advance. Another is using Express, wherein you can create a new survey or poll during the webinar. You can also limit the length of the answers provided by your audience.
Email automation, SMS, notification
You can send any type of essential email using both the webinar Platforms. Both platforms allow you to send a total of 20 notifications. This means you can send up to 10 messages before the webinar and up to 10 after the webinar.
The type of email notifications that they offer is Welcome message, Pre-webinar reminders, Last-minute reminders, and Post webinar message. Setting up of these webinar notifications is absolutely trouble-free.
Live Chat
Live Chat feature allows your attendees to interact with you in real-time. This is where the interaction happens between the host and attendees during the live session.
You can chat with them and can leave sticky messages for your audience to see. In addition to this, you can also chat with the administrators without letting your attendees know about it. 
You can convert your chat into a Q/A form so that the messages of your attendees are saved as questions and your messages as answers.
You can handle all these functions from the chat box inside the control panel in WebinarJam. 
While in EverWebinar, it is the only box inside its control panel. In its case, you even have the option for importing chats from a previous webinar or create a new one and place them anytime during the event.   
Integration
Both WebinarJam and EverWebinar blend well with the 3rd party apps and tools. From adding a registrant to google spreadsheets to sending automated messages, they have it all.
For automated emails, you can use Zapier and for sending automatic phone calls and messages, Twilio is there for you. Twilio is an API for sending and receiving SMS, MMS, OTT messages around the world.
Youtube integration allows you to do video streaming, though the inherent streaming service inside WebinarJam is far more comfortable than Youtube's complicated procedures. 
Comparison of WebinarJam vs. EverWebinar Pricing Plans
WebinarJam Pricing Plans
WebinarJam has three plans with an annual subscription:
It is primarily for the starters. It allows you to have two presenters and 500 attendees and duration of 2hours for the webinar. Features like the Control center, Always-on room, and panic button are not available in this plan.
Professional – $699 per year
In this plan, there are four presenters and 2000 attendees. Webinar duration increased to 3 hours. And only Control center functionality is not available in this subscription.
Enterprise – $999 per year 
Availability of six presenters and 5000 attendees in a webinar. Duration for webinar increases to 4 hours, and all of the features are available to you.
WebinarJam allows you to have a refund in case you are not happy with their services and don't want to continue.
EverWebinar Pricing Plans
EverWebinar also has three categories for pricing:
This plan offers you to pay $199 three times a year; that is, you have to pay once every four months.
In this plan, you have to pay $499 every year.
This plan offers you to pay $799 for two years in advance. 
All the plans have features of automated webinars, advanced tools, 24X7 customer support, and provide a 30-day guarantee with a 100% refund. 
Pros and Cons of WebinarJam and EverWebinar
Every coin has two sides. Similarly, these two softwares also has some negatives and positives. So, in this part, I will cover the good and the bad of both the tools.
WebinarJam Pros
Have support for up to 5000 attendees
You can host live webinars
Has a fantastic feature like attendee spotlight
You can Livestream your webinar through Youtube
Gives you the option of templates for landing pages
WebinarJam Cons
It is a little bit expensive; not suitable for startups
Does not allow automated webinars
The setup page can be a bit complicated.
EverWebinar Pros
It supports automated webinars
Provide live chat facility
You can host hybrid webinars
Pricing is affordable
EverWebinar Cons
It does not have an option for live webinars
Some advanced features like attendee spotlight are not available
Youtube integration is not supported.
WebinarJam and EverWebinar FAQs
In this section, I am going to put forward some general questions asked about these platforms.
Q1: Is the translation feature available in WebinarJam?
A: Yes, translation is available, and you can translate all buttons, attendee instructions to so many languages, including English, French, German, Greek, and many more.
Q2: If there is a technical issue, then what should I do?
A: Don't worry! They have got it covered for you. WebinarJam provides an option of Panic Button, which you can press if there is a technical difficulty, and you will instantly earn a new live room, and all the attendees will be transferred to it automatically.
Q3: What is a One-Click Registration Hotlink?
A: The One-Click Registration Hotlink is a super convenient way to allow people who are already on your autoresponder mailing list to click one link to get quickly registered for your webinar.
Q4: Will the attendees on EverWebinar know that the webinar is not live?
A: No, they will never be able to identify if this is a pre-recorded webinar. The simulation looks exactly like a live webinar.
Q5: Can I use my WebinarJam session during my EverWebinar event?
A: Yes, you can easily import your WebinarJam session inside the EverWebinar platform. You just have to select that session, and all the work will be done for you automatically.
Q6: How do I register people for my webinar on WebinarJam?
A: Just send them an email along with the special invitation link provided to you by WebinarJam using your CRM software. When they click on the registration link, WebinarJam automatically draws out the essential information and registers them for the webinar instantly.
Q7: Does WebinarJam show the face of my attendees?
A: Yes, when you allow one of your attendees to open his/her front camera and come on air for a face-to-face interaction using the Attendee Spotlight feature of WebinarJam.
Final Thoughts
After using and reviewing both the platforms, to choose the one between them is a bit challenging. Both have their pros and cons. Both offer some great features for distinct kinds of webinars. 
But my vote goes to WebinarJam; it is a clear winner in this battle of WebinarJam vs. EverWebinar. It not only supports a lot of advanced features but also simplifies everything for you. 
However, the final decision depends on your need to use these platforms. If you want to host live webinars, then go for WebinarJam, and if you wish for automated webinars, then EverWebinar will be the right choice for you.