In this article we have featured 4uKey Review, From personal information to online transaction apps, your phone carries extremely important data that needs to be secured. In order to prevent the misuse of their phone's data, many people keep password/security key/passcode. However, sometimes the passcode used is so difficult that you end up forgetting it. While
unlocking your android phone
is easy; it becomes challenging to unlock an iPhone if you forget its screen passcode. There are also chances that you buy a second-hand iPhone with a locked screen or iCloud account. Since the iPhone is expensive, some people prefer going for a second-hand iPhone. Moreover, you get a screen-locked iPhone at extremely cheap prices as unlocking an iPhone is not an easy task. Still, people buy it thinking that they can fix the forgotten passcode problem. Earlier, it was next to impossible to unlock the IOS screen or to
remove the IOS passcode
. Nonetheless, there is much software available in the market nowadays that can assist you in unlocking your locked iPhone. One such reliable software is 4uKey. In this article, you will get to know everything about 4uKey. This 4uKey review will deal with 4uKey, its pros and con, cost, features, and other important information. So, let's start!
What Is 4ukey?
Developed by Tenorshare, 4uKey is one of the most popular iPhone unlocking tools available. With 4uKey, you can remove your iPhone screen's passcode or the previous owner's iCloud account easily. There are many other tools available in the market for the same purpose. However, using them is not as easy as using 4uKey. This is one of the many reasons why 4uKey qualifies as a beginner-friendly tool. It makes the entire process of unlocking your iPhone's screen extremely effortless and hassle-free. So, if you are tired of entering your passcode many times and are still unable to open your iPhone screen, 4ukey is for you!
Review Of 4uKey Features
In this part of the 4uKey review, you will learn some of the most important characteristics of 4uKey. 4uKey comes with some of the most interesting and useful features. Let's have a look at some of them.
4ukey comes in handy in every situation. Whether you have forgotten your passcode or your passcode is disabled, 4uKey is an instant solution.
You can unlock a variety of screen locks with 4uKey, be it face ID or touch ID.
It helps you to remove numeric, alpha-numeric, 4-digit, 6-digit, and other variations of passcodes in minutes.
You don't have to worry about viruses or malware entering your iPhone. 4uKey is tested by experts and it's 100% safe to use.
More importantly, 4uKey is compatible with iPhone 6, 6s, 7, 8, X, and 11. Moreover, you can use it for your iPad too.
What's more? 4uKey comes with a free trial for a limited time.
Is 4uKey Free?
No, 4uKey is not free. You need to buy it in order to use it. However, it comes with a free limited trial. In the trial, you will get access to only some of the features of 4uKey. If you like those features, you can go ahead and make your purchase. You will require to purchase a license in order to use 4uKey. It comes with different license plans including 1 Month License, 1 Year License, a Lifetime License, and More Choice. All these plans have different features and prices. Let's have a look at them as a part of our 4uKey review.
1 Month License will cost you $35.95. This plan lets you use 4uKey on 5 devices and 1 PC.
1 Year plan is much better than the 1 Month license as it will give you 1-year validity by paying extra 4 dollars. It will cost you $39.95, and you can use it on up to 5 devices and 1 PC.
You can also go for a Lifetime License at $49.95. You can use this license on 1-5 devices and 1 PC.
The Lifetime License also comes with another plan that lets you use 4ukey on a maximum of 10 devices and 1 PC. It is priced at $59.95.
After knowing about the different license plans, you can choose the one that fits your requirement the best.
How To Use 4uKey?
It is important to tell you how to use 4uKey in our 4uKey review. The best part about 4uKey is its ease of use. You don't have to be an expert or know some unique skills to use 4uKey. It is very easy and convenient. Follow the below-given steps to start unlocking your iPhone.
Download and install 4ukey after you have purchased it.
You will see different options on the home screen including "unlock Apple ID", "unlock lock screen passcode", and "bypass MDM." In order to remove your screen passcode, select the "unlock lock screen passcode."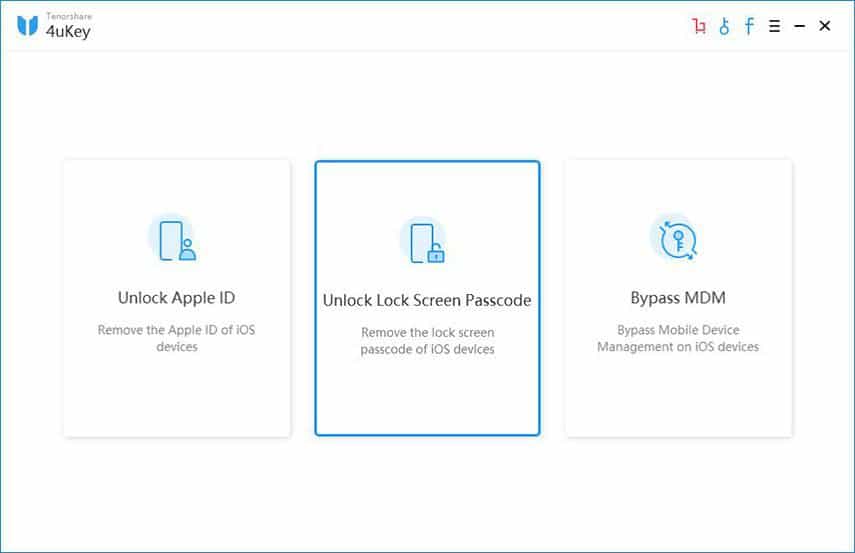 After that, you need to connect your locked iPhone to your computer and click on start. You can use it to resolve both forgotten passcode and disabled passcode issues.
Make sure you create a backup in advance, as your data will be lost after using 4uKey.
In some cases, it is possible that your device is not detected. In that case, you can put your device on DFU mode or recovery mode.
Once done, you will be asked to download a matching firmware package. Select the path where you want the downloaded package to appear and click on "download."
After that, click on "start unlocks" to remove the passcode.
Your passcode will be successfully removed. You can use a new passcode to protect your iPhone.
Isn't it easy to use 4uKey? Anyone can use it to unlock his or her iPhone without any great expertise. You just need to follow all the above-given steps, and your iPhone will be ready for use.
Pros And Cons of 4uKey
Discussing the advantages and disadvantages of the reviewed device/product/service is an important part of any review. Keeping this in mind, we have come up with some of the major pros and cons of 4uKey in our 4uKey review.
Pros of 4uKey
4ukey is extremely easy to use. You can follow the steps discussed earlier in the article to use it. Moreover, 4uKey comes with a step-by-step guide. You can consult it to unlock your iPhone.
You can use 4uKey if your passcode is disabled and also when you don't remember your passcode.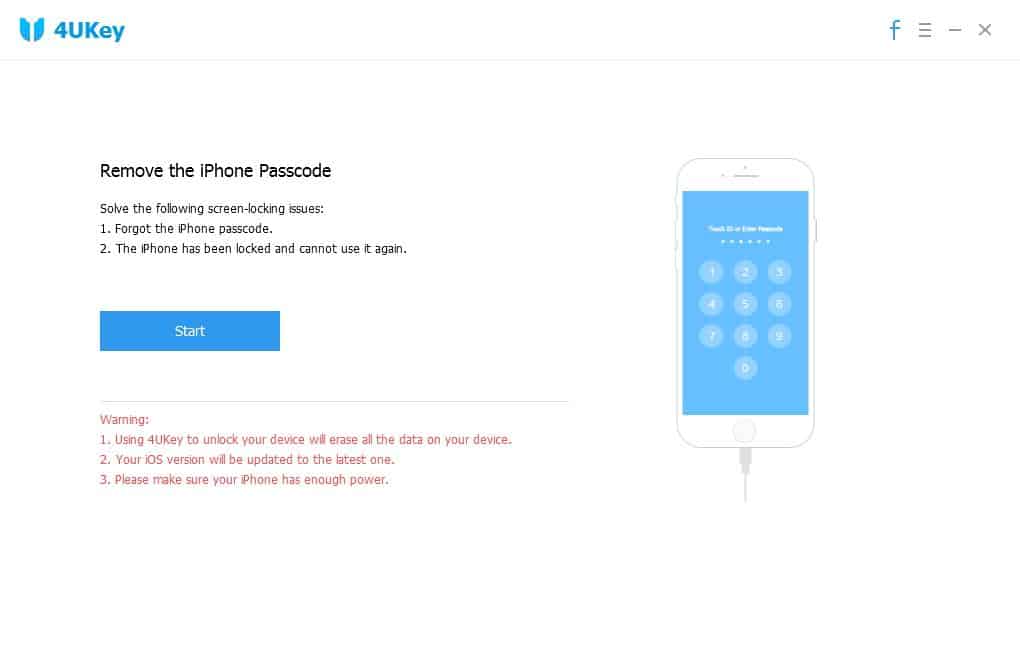 It is extremely safe to use. You don't have to worry about viruses entering your iPhone.
4uKey can be used to unlock both face and touch ID.
Cons of 4uKey
Using 4uKey will erase all your data.
Your iPhone will be automatically updated to the latest IOS version once your iPhone is unlocked.
As you can clearly see, 4uKey has more pros than cons. This comparison will help you in making a wise choice. 4uKey has a good rating and user reviews that make it even more reliable when unlocking your iPhone.
What's New in 4uKey Review 2023?
Unlock Screen Time Passcode is a new feature that has recently been introduced. The feature is highly valuable due to the fact that many individuals do not consider the task of remembering an additional passcode (screen time). It is possible that individuals tend to forget their screen time passcode frequently compared to their phone's main passcode. With Tenorshare 4uKey, one can effortlessly eliminate the passcode without encountering any data loss.
Quick Links:
Conclusion: 4uKey Review 2023
Forgetting your iPhone passcode can be problematic. It's difficult to manage without your phone, even for a single day. So, what to do if your iPhone is locked or your passcode is disabled? Or what to do in situations where you buy a second-hand iPhone with an iCloud-locked account? There are many tools available nowadays that can help you in unlocking your iPhone screen. However, how effective they are is still a question. To save your time and energy, you can rely on our 4uKey review. 4uKey is the most promising tool available to unlock your iPhone. It comes with great features and an easy-to-use interface. Moreover, you can use it to unlock both face ID and touch ID. No other tool offers such great flexibility. Having said that, we leave it completely up to you to decide whether to use 4uKey. You can thoroughly go through this review to make a sound decision.