Are you tired of sending emails one by one to different clients? Are you looking for a solution through which you can stay in touch with your customers? No, worries, in this article, we have featured Sendy Review with its proper insights, so let's get started.
Well, the Sendy email builder is the solution that you can opt for if you want to send frequent emails automatically. Many people know about this application, which is quite helpful in running and managing a business successfully.
Sendy is an auto-responder that works like WordPress and sends emails via Amazon SES SMTP servers. But it is quite different from WordPress in terms of functionalities. In the following Sendy review, we will go through detailed information about this application and how it helps you stay well-connected with your clients.
Overview Of Sendy Review
Sendy is one of the unique applications which is created for the automatic sending of email newsletters. It is possible to send frequent emails via Amazon SES based on MySQL and PHP. You need to install the application on your server directly, like different service providers.
It is similar to WordPress, which needs to be installed on your server. But it is not a free and open-source platform. It is necessary to manually upload and install all the files of this application on the server. In the Sendy review, we will discuss that the application sends emails via Amazon SES, and it will cost you $1, only 10,000 emails.
Amazon is not offering such an email service to its users with great features. Therefore, Sendy is helpful and can be integrated with Amazon SES for sending emails. There is a different rate if you pay all at once, i.e., $59. There is no requirement to pay for the package monthly. You will get all the features, support, and future updates through the technical team for a one-time fee.
Way Of Installing Sendy Application On The Server
After purchasing the Sendy download, you will get a package of files to upload to your server. Start the Sendy installation process by following the detailed guide that comes along with it. This guide helps in installing the script given in the folder on your server. You have to integrate your server with Amazon SES.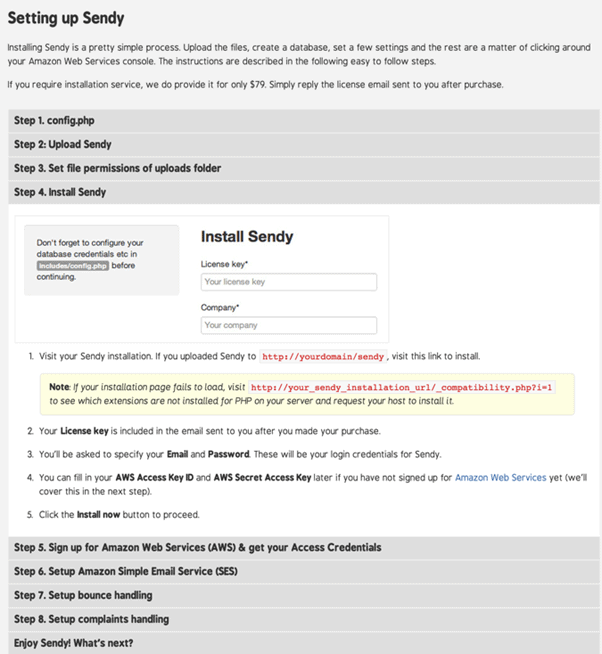 If you are confused and do not know what to do, you can easily hire a one-time service that will cost you $79. You can easily take help from the customer support team while installing Sendy. The installation procedure is relatively easy, but you can approach the support team if you find difficulty.
You have to fill in all the details in the same way that you do while installing a WordPress application on your server. The user interface is also simple, containing all the reports and features you require on your home page.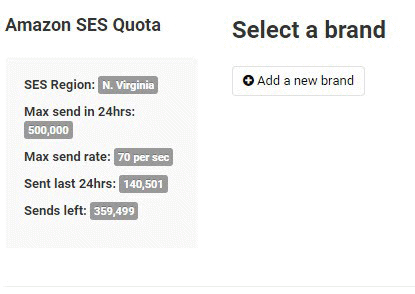 After login to the Sendy admin panel, you will see Amazon SES Quota get information regarding the email limit along with the maximum email sending limit every second. Initially, you have to create a brand that can easily manage different accounts simultaneously.
Now, you have to create a new campaign and send it by composing the message with WYSIWYG or HTML editor. Test its working by sending a small test email to one of your email addresses. If everything looks good, you can create a professional email campaign to send clients to your list.
There is a Reports section in which you can check the results of each email campaign. It will be represented in a graph that tells the campaign's entire performance, opened emails, clicked links, unsubscribed, bounce rates, etc.
Features of the Sendy Application
Sendy offers a lot of exciting features that are a must in an effective self-hosted email marketing tool. In this Sendy review, let us check out some of the fantastic features of this application.
Import and Export the Email Lists
List Segmentation
Create Different Campaigns Along with Email Scheduling
Built-in Templates
Autoresponders
Statistics and Reports
Handling of Complaints and Automatic Bounce Rate
Third-party App Integration with WordPress and Zapier
Single and Double Opt-in with GDPR
Sendy Review: Pricing Of This Application
If you want to make a one-time investment in Sendy software, it will cost you $59 for a lifetime. You can purchase the license through the official website.
You will get support and frequent updates with time. Renewing the license is also possible at a reasonable price. When you buy the license for $59, you are getting a domain for $10, and the cost of Sendy hosting will be $5 each month.
You have to pay Amazon SES to send emails, which costs you $0.1 for 1000 emails. If we compare Sendy pricing with Campaign Monitor and MailChimp, there is a significant difference. If you are using Sendy to send 10000 emails in a month, you have to pay $7 every month. But in the case of Campaign Monitor and MailChimp, you have to pay $105 and $200, which is quite expensive.
Pros Of Sendy Application
The best thing about Sendy is that you can purchase the application by paying $29 as a one-time cost. There is no fee for renewal, and you can use it for a lifetime.
You have to host it on your server to retain the data with the email service provider without sharing anything.
It is possible to automate the subscription settings and list building. After setup, you are ready to access everything effectively and send emails to your clients with ease.
Sendy autoresponder helps in automating email marketing and lets you stay in touch with your customers.
You can also create an email subscription box on your website and popularize the email list yourself.
Sendy can be integrated with Zapier's connectivity and other famous applications.
Cons Of Sendy Application
You need to set up the Sendy application manually, and it can be a difficult task for some people.
You might get some issues when it comes to the compatibility of the server. One can resolve them with the help of the Sendy support team, but you can initially face many difficulties.
Many advanced email automation features, like drip action, behavioral tagging, etc., are unavailable.
What's New In Sendy Review 2023?
Sendy is an email newsletter application that can be self-hosted, enabling you to send trackable emails using Amazon Simple Email Service (SES). This feature allows you to send bulk emails with authentication, ensuring high deliverability while maintaining an exceptionally low cost.
However, the email marketing tool has other cool features added. These include:
Supports ALL Amazon SES regions
GDPR features are only available in Sendy
Translation ready
Two Factor Authentication
Mass add, delete or unsubscribe users
Ready-to-use subscription form
Fast multi-threaded sending
Store templates
Google Analytics support
Google reCAPTCHA support
Import lists without re-confirmation
Send emails with attachments
Blacklists for emails and/or domains
Use any other SMTP services
Use personalization tags
Include or exclude lists to send
Single or double opt-in & opt-out
Adjust sending rate
FAQs Related To Sendy Review
Q1. Is There Any Requirement to Renew the License of the Sendy Every Year?
There is no requirement of renewing the license of Sendy each year. But you have to update its major features or versions for free.
Q2. What are the Requirements to Use Sendy Application?
If you are aiming for email marketing, you have to purchase Sendy's license and a domain name. Now, you need a VPS server for hosting it. You will be paying for the total emails that you are sending every month through Amazon SES.
Q3. Does Sendy Provide All the Features of Email Marketing?
You can access all the features of Sendy marketing of emails if you are using the Sendy application. Many other platforms work the same as Sendy and are relatively better in terms of email marketing. You have to consider the software price and your budget before purchasing it.
Quick Links:
The Bottom Line: Sendy Review 2023
Undoubtedly, Sendy is considered the best email autoresponder that helps you stay connected with your clients. In this Sendy review, we have found that there is no requirement to send a lot of emails one by one because this software can manage everything.
It is not quite popular in the market, but there is nothing wrong if you can buy a lifetime subscription for only $59.
It is possible to send 10000 emails per month for just $1. Investing your money in this software is a great deal, and one must consider it for growing their business.
It is necessary to stay connected with your clients to share exciting deals and campaigns with them. This strategy helps in increasing sales and allows you to earn more.