In this article, we have featured InstaBuilder Review. Many affiliate marketers struggle when it comes to creating appealing landing pages. This is one of the foremost reasons they lag behind their competitors in online marketing. The right landing page is crucial for brand marketing and advertising campaigns.
What Exactly Is a Landing Page?
A landing page, also known as a lead capture page, is a super-focused and standalone web page used solely for the purpose of online campaigns and digital marketing.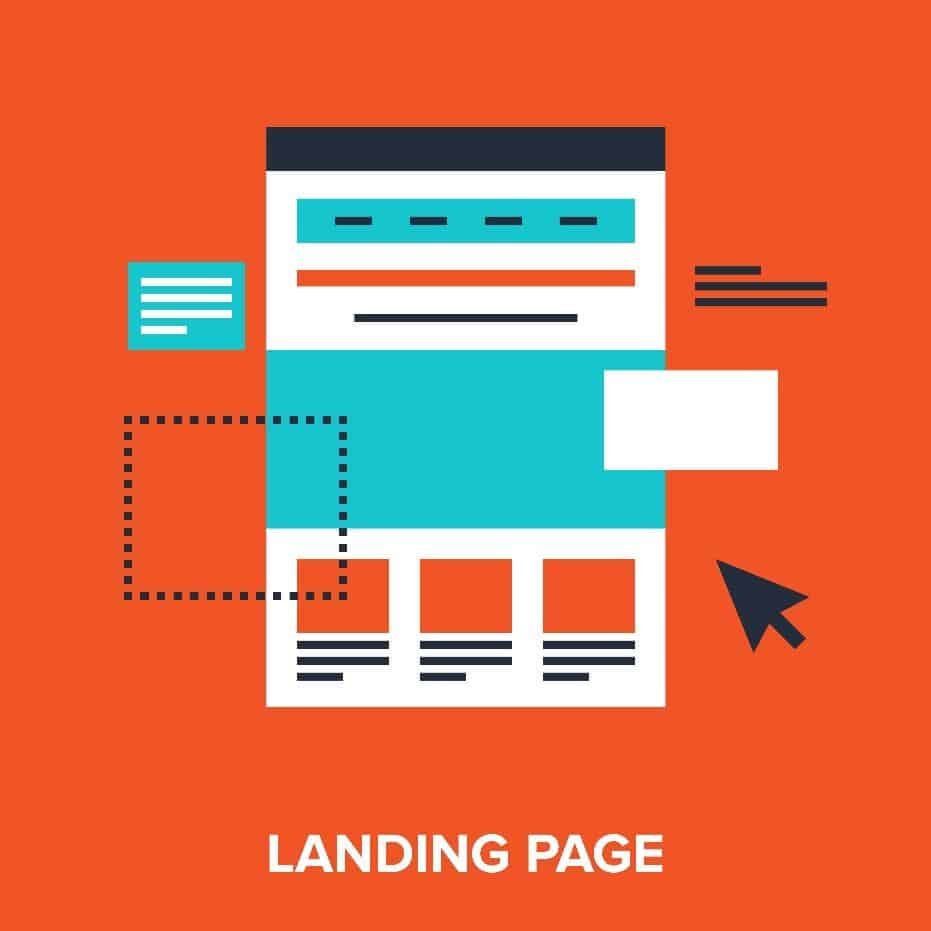 However, the question is how to create effective landing pages without much hassle?
It is where InstaBuilder comes into the picture. InstaBuilder lets you create innovative and attractive landing pages in minutes. You must be intrigued to know more about it. Aren't you?
To help many people like you, this article shares a detailed InstaBuilder review. From its unique feature to its pricing, this quick read will answer all your questions regarding InstaBuilder 2.0.
So, let's start!
What Is InstaBuilder 2.0?
Before heading on to the InstaBuilder review, it's necessary to know more about InstaBuilder.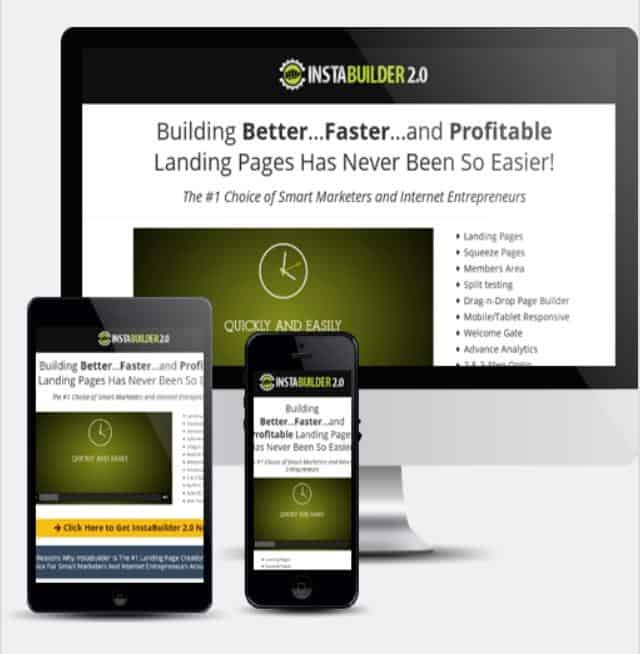 Building landing pages can take you hours if you are new to affiliate marketing. You need to figure out designing codes and other complicated steps before you can actually build a landing page.
Nonetheless, you can make the whole process of building landing pages super convenient with InstaBuilder.
Created by Suzanna Theresia, InstaBuilder 2.0 is an excellent WordPress plugin that helps you create skilled landing pages. It is better than most of the leading page builders available in the market.
In short, InstaBuilder 2.0 is a one-stop destination that helps you build, design, track, test, and create state-of-the-art sales funnels, including any type of lead capture page, sales and video pages, webinar registration pages, product launch pages, all with build-in split-testing.
The earlier version of InstaBuilder 2.0, known simply as InstaBuilder, lost its popularity with the coming of plugins such as OptimizePress 2.0 and LeadPages. Although InstaBuilder was also an easy-to-use sales page and opt-in page builder integrated with Facebook and WordPress, InstaBuilder 2.0 is far better than it.
Let's move on to the InstaBuilder review to know more about InstaBuilder 2.0 and its specifications.
What Type of Pages Can You Create with InstaBuilder 2.0?
What Are the Exciting Key Features of InstaBuilder 2.0?
InstaBuilder 2.0 is three times better than its previous version. It comes with many exciting and easy-to-use features that add to your comfort and convenience in using it. Let's look at some of the critical features of InstaBuilder 2.0 one by one.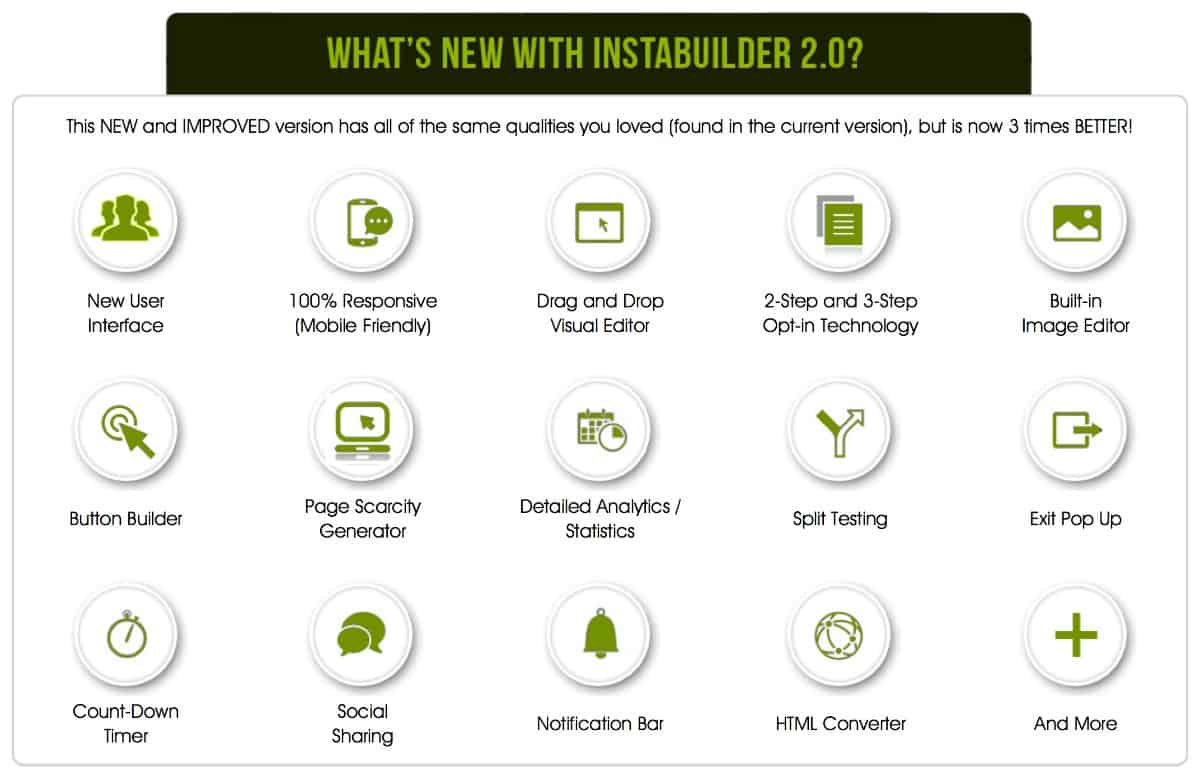 New User Interface: The best part about InstaBuilder 2.0 is its user-friendly interface. With the new user interface, you get quick access to everything. Moreover, it offers easy navigation and tight controls to give you ten times faster results.
Interestingly, its drop-and-drag feature is super convenient to work with. You don't need to have extensive knowledge about coding or using WordPress in order to work with InstaBuilder 2.0.
Mobile-Friendly: InstaBuilder 2.0 is 100% mobile-friendly or mobile-responsive. It means you can easily create mobile-friendly landing pages, compatible with both IOS and Android devices.
Since most people today access content on mobile phones, it's important to have mobile-friendly sites and landing pages to increase your reach. And this is one of the key features of Instabuilder 2.0.
100+ Customizable Templates: Instabuilder 2.0 comes with over 100 pre-built templates. You can use these pre-built landing page templates to create unique and beautiful landing pages for different purposes, including sales pages, video sales pages, membership pages, and so on. Furthermore, you can easily customize these templates as per your requirement to create your own landing pages variations.
Robust Marketing Technology: With InstaBuilder 2.0, you can generate leads and get conversions with a single click. Its powerful marketing technology is one of its best features. It comes with two steps opt-in technology, which is proven to be suitable for conversions compared to other page builders. You also get the feature of one-click integration, which helps to boost conversions with just one click.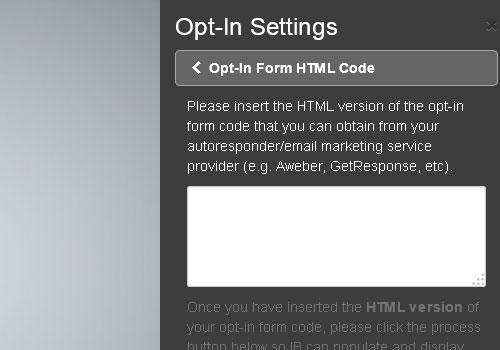 Flexible: InstaBuilder 2.0 is highly flexible when it comes to customization. InstaBuilder plugin lets you easily merge text, images, videos, navigation buttons, and other controls in your landing pages.
Lock Your Content: More often, people access your content without signing in. It doesn't help in generating leads. Nonetheless, with InstaBuilder 2.0, you can create more leads by locking your content. With this feature, you can deny access to your content to anyone who doesn't sign in. In this way, you can get more people who sign up for your pages.
Pre-Installed Marketing Graphics: You get tons of pre-built marketing graphics such as a call to action buttons, header images, page separators, sign-in buttons, etc., with InstaBuilder 2.0.
Countdown Timer: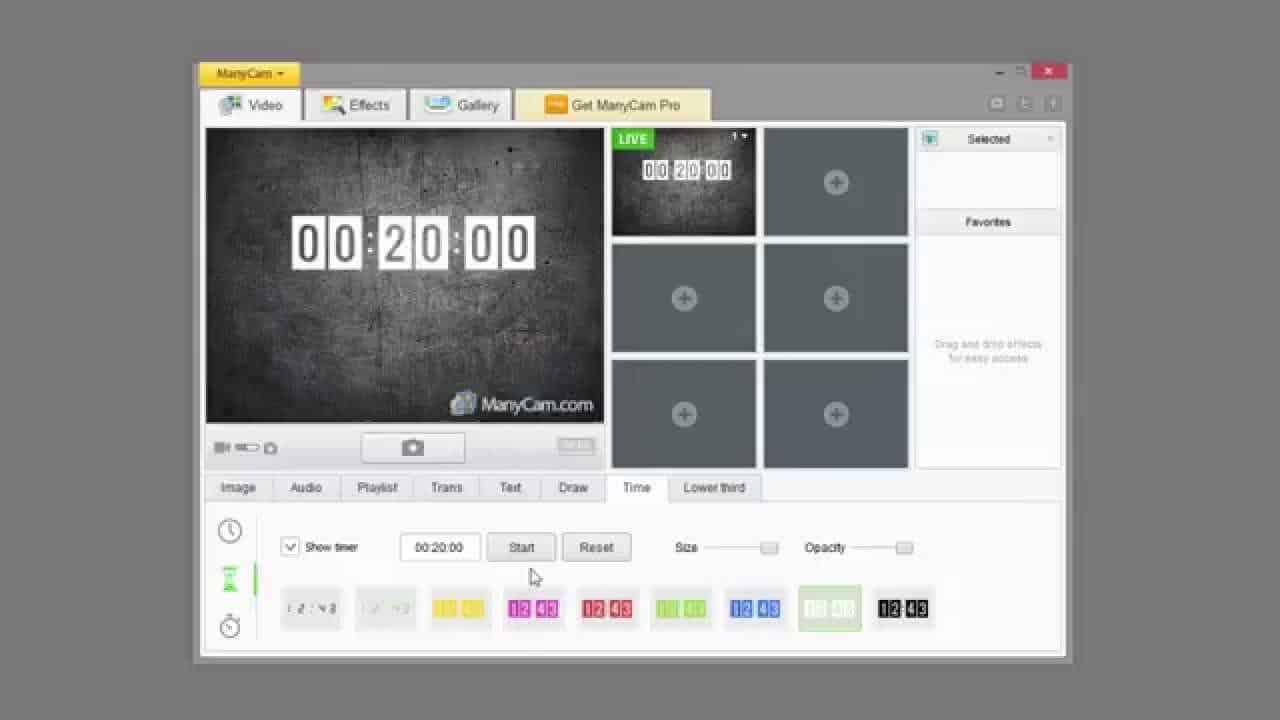 Do you know that having a countdown timer on your landing pages can increase sales? Yes, it's a proven fact. In order to improve sales, InstaBuilder 2.0 comes with a pre-build countdown timer. More interestingly, you can easily customize the countdown times as per your landing page theme and other details.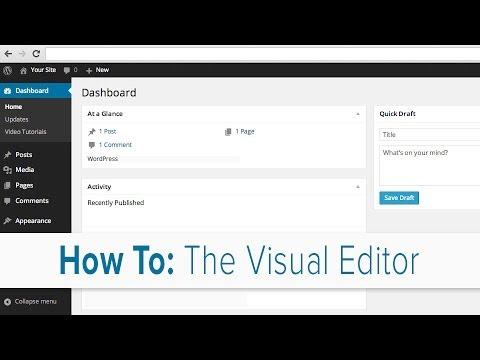 Powered by Adobe's Aviary SDK, InstaBuilder's visual editor allows you to add a number of effects to the images you use in your landing pages. It's one of its kind in-built image editor which is integrated with a landing page creator.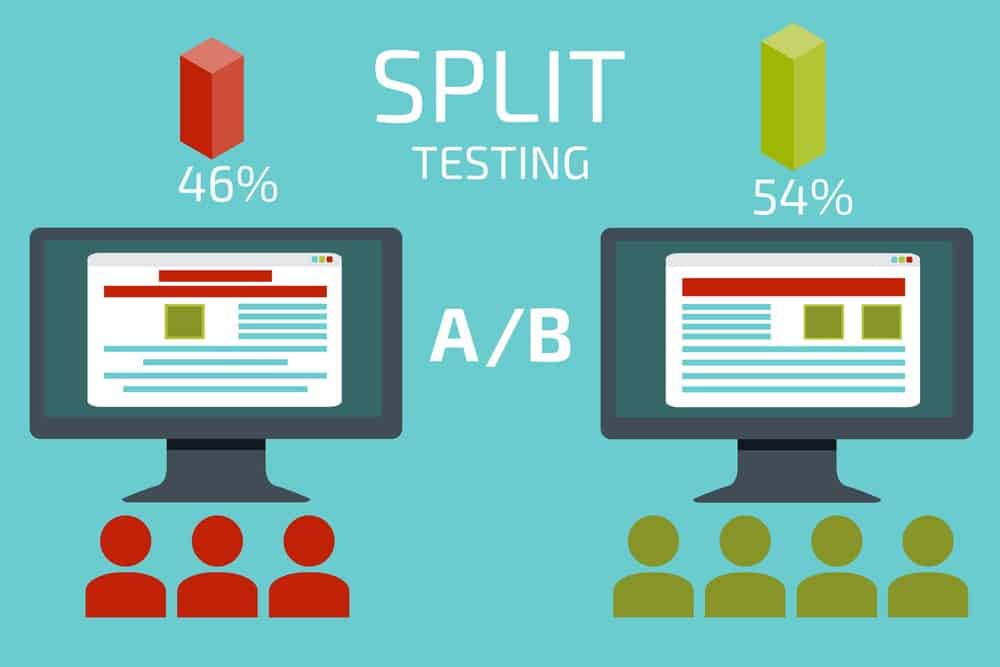 Undoubtedly, you can create multiple versions of your landing page with InstaBuilder. However, how to know which page has a better conversion rate? It is where you will require the split testing option of InstaBuilder 2.0. It will help you carry out a ground-level data test by running A/B testing before your landing pages go live.
At this point, I have discussed several influential and helpful features of InstaBuilder 2.0. These features will help you know how InstaBuilder 2.0 is better than InstaBuilder and understand the new version of InstaBuilder better.
Nevertheless, we have not yet looked at the pricing of InstaBuilder 2.0 in our InstaBuilder review. So, let's quickly take a look at the pricing.
Advanced Analytics
The advanced analytics allows you to monitor your landing page performance and reveals traffic sources and their location.
InstaBuilder offers a pack of useful tools to track your progress from a close range. It generates reports that help you make informed choices and rethink your current strategy.
Scarcity Builder
InstaBuilder 2.0 comes with Scarcity Builder to engage readers for your landing pages. It is a great way to lure your readers to sign up.
The single-click scarcity Builder initiates an urgent feeling among users by promoting special deals and releasing instant offers, resulting in a quick sales jump. You can even convert users for your landing page by offering lead creation & video sales.
With an InstaBuilder account, you can tweak page policies to your benefit with lead creation, video sales, and other related stuff. The options are fully customizable, and you can even set the precise data and sale duration.
You can also place the deals and lead popups at any converting spot of the page you wish. Also, you can run them with split testing to figure out ROI for every maneuver.
How InstaBuilder works
It is so fluid to work on an InstaBuilder. You need to install the WordPress plugin on your self-hosted website and activate the plugin. After that, you can use it on any custom page you wish.
The InstaBuilder design is simple to learn. To get started, you only need to pick up a template of your choice. You can even create your own template. Start by dragging and dropping the elements, see it in view mode, and then publish it once you are positive about it.
Autoresponder Support
Autoresponder support is pivotal to running your email marketing campaigns. It can instantly fill in basic answers like name, email & other related information on its own.
Insta 2.0 works with MailChimp, GetResponse, Aweber, and other autoresponders. You only need to embed the Autoresponder's HTML code to get it working.
Upgrade And Money Back
The basic question here is how to upgrade your existing license. Let me tell you the simple way to avail an easy upgrade.
Step 1: You need to login into your InstaBuilder account and submit your credentials in the members' area.
Step 2: Navigate to the upgrade page & upgrade your InstaBuilder license. You only need to bear the upgrade costs.
No extra charges.
InstaBuilder comes with a 60-day money-back guarantee if you wish to leave them. What you need to do is contact ClickBank and avail your money back with no further questions asked.
Self-build Templates
You can build any template of your choice from scratch. Instabuilder is so flexible to use with font and topography for text formatting.
The in-built elements can handle all your requirements, like the in-line, text block, font weight, etc.
All you need to do is apply drag and drop, insert pictures, and link media to get started. The easy-to-build templates can cut half of your business work and reduce it to a minute's affair.
What Is the Price of InstaBuilder 2.0?
InstaBuilder 2.0 comes with three different plans, including a 3-site license, developer license, and unlimited license. All three plans come with one-year support and updates.
The cheapest of all is the 3-site license plan. It is priced at $77. The next in the line is the unlimited license, priced at $97. And the final plan is the developer license, priced at $197. It is the most expensive plan among the three.
So, you must be wondering what's the difference between them and which plan to choose?
In the 3-site license, you can use the plugin on three sites simultaneously. Whereas, in the unlimited license, you can use the plugin on unlimited sites without any restrictions. However, both these licenses can be used only on the sites or domains you own. If you want to use InstaBuilder 2.0 for your client's website, you will need a developer's license. The developer's license plan can be used both on your sites and your client's sites.
Although the developer's license will cost you more, it will let you have unlimited access to use the plugins on your websites and your client's websites. Hence, it sounds like a good deal. However, if you need InstaBuilder for your personal use, choose any of the previous two plans, i.e., a 3-site or unlimited plan, as per your requirement.
Quick Links:
What's New in InstaBuilder Review 2023?
InstaBuilder 2.0, formerly "Instabuilder", had limited features. But, with its new upgradation, this WordPress plug-in tool have so much more to offer now.
The features are stated below:
Seamless built-in editor for all your projects and pages that might need a little touch-up
An easy user interface for no lagging and to get the work done quickly
Drag-and-drop option to save time and improve workflow
Powerful opt-in-technology to boost conversations in a single click
Grouping feature for separating pages to have easy access
Customization option for images, videos, texts, navigations, etc
A split-testing capability to cross-check the conversion rates on other pages
Latest features added to save as HTML files that reduces the dependency on WordPress
Countdown timer added to increase your sales directly from landing page
Advanced page analytics and statistics feature for simple and easy approach
Conclusion: InstaBuilder Review 2023
After reading the InstaBuilder review, you must be intrigued to give it a try. And why not?
InstaBuilder 2.0 is one of the most popular landing page builders available. It comes with many unique features, such as opt-in technology, a visual editor, 100+ templates, split testing, etc., that make your page-building experience worth it.
Besides that, the in-built marketing technologies help you generate leads and conversions with a few clicks. What's better than that? The primary purpose of landing pages, be they review pages or sales pages, is to gain customers or generate leads. And InstaBuilder 2.0 does it perfectly.
So, if you are into affiliate marketing and looking for an effective page builder, InstaBuilder 2.0 is what you should choose. With so many latest features and a user-friendly interface, InstaBuilder 2.0 tops the chart of the best landing page builders.