In this blog post, I'll make an honest comparison between the two widely used automated marketing tools – Convertkit vs Leadpages.
The main point of difference between these two is that Convertkit is a powerful email marketing automation tool, while Leadpages is a landing page creator and testing tool.
In this comparative post, I will have a brief coverage of Convertkit vs Leadpages based on the following aspects.
Features
Integrations
Language Support
Device Support
Technical Support
Suitability
Pricing model
User Satisfaction
Smart score
Clients
Alternatives
Much more
I hope that by the end of this Convertkit vs Leadpages comparison, you will be able to differentiate both and make the right choice for your marketing needs.
ConvertKit vs Leadpages -Typical Features
In this segment, let's find out some of the characteristic features of Convertkit and Leadpages that outweigh each other.
Where ConvertKit Has an Edge Over Leadpages?
1. Custom Designed Opt-in Forms – Custom designed opt-in forms divert email subscribers to preferred calls to action automatically that are relevant and personal.
2. Quick Snapshot/Reporting– The account holder's dashboard shows subscriber numbers and an opt-in form conversion percentage.
3. Automatically Set Visual Email Automations– The user can set up specific automation rules to make subscribers initiate their journeys through a series of distinct actions. Everything from actions to conditions in an automated system is created with a simple click, and consequent steps can be auto-set to guide subscribers through the funnel to an expected conversion. Each entry point, action, and condition tag shows a growing figure of subscribers completing that step and confirming their move to the next step.
4. Drag and Drop Email Sequences – New emails can be automatically added, personalized, and arranged with the use of drag-and-drop sequence builders, growing the subscriber list smoothly.
5. Custom Segments for Subscriber Management – Tagging or grouping subscribers and segmenting them based on their actions as well as interest enables users to manage and target customers from a single email list.
6. Broadcasts – ConvertKit users can automate email drafting and distribution of one-time messages and RSS feeds to a single or small group of subscribers on the list.
7. Email Editing – Quick editing of email content is possible for users with just a click on an icon in a workflow. Since all are plain-text emails they are more likely to penetrate spam filters while increasing the possibility of being seen and responded to.
Where Leadpages Has an Edge Over ConvertKit?
1. Split Testing (A/B Testing) – Split testing or A/B testing will let users tweak their marketing campaign by extracting precisely what it requires to persuade their audience to react and respond.
2. Integrations – Leadpages users can integrate their email, analytics, CRM, social media, payment, and other third-party apps for better and smarter marketing results.
3. Mobile Optimized Landing Pages – All landing pages made with Leadpages are mobile-friendly, adjusting involuntarily to the screen of the device for a perfect view.
4. Consistency in Content Tone & Mood – Leadpages allows users to keep their landing page's tone, mood, and message consistent for visitors.
5. Viral Loop – When one uses Leadpages along with any affiliate software for business referrals, it will create a viral loop bringing in more customers through a landing page or Lead Capture Pop-up.
6. Social Proof Widgets – Adding Social Proof messages or ads to the LeadPages website has never been easier. It will raise conversion and reliability by making the website look more human.
7. Countdown Timers – Users can use a drag & drop builder to use a personalized countdown timer, showing a greater sense of urgency to act for every prospect whoever lands on the lead page. It acts as a conversion booster.
I would clarify that an equal number of features but different are covered in this section of Convertkit and Leadpages. But you also need to remember that Leadpages has some deep customization features, robust pop-up forms, and built-in landing page conversion guidance that are all extra on the list while the comparison is going on.
Convertkit and Leadpages – A Thorough Comparison
 Let us have a one-on-one comparison of these two tools on all other aspects and find out which one does better in which segment.
Integrations
Both Convertkit and Leadpages can integrate well with a wide variety of email marketing tools, business applications (CRM), webinars, and live streaming platforms.
Also, with the help of API key and HTML integration you can easily connect them with Zapier, Twitter, FB, Google Analytics, and much more.
Both support native integrations but the biggest plus is Convertkit and Leadpages can integrate well with each other, adding value to conversion campaigns. So, either of them can be a nice addition to your software utilities.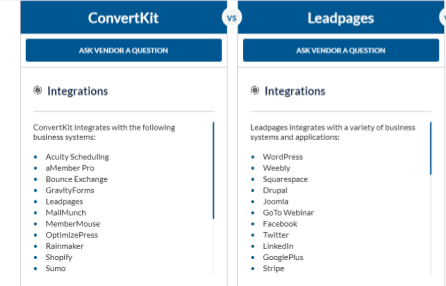 Language Support
If you ask us to make Convertkit vs Leadpages comparisons on language support, no one is going to go ahead or behind. Since both of them are written in English only, they will be at an equal level in this segment.
Whether it is ConvertKit or Leadpages, they are available in one language – English which means that they will have a wider reach to English-speaking users all over the world. Be mindful that no regional language support is available with any of them.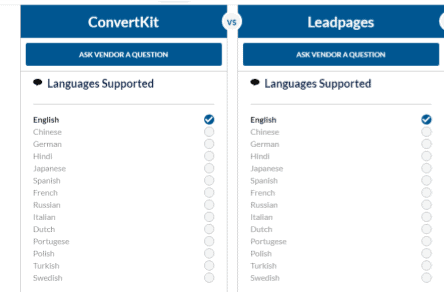 Device Support
You can't expect both ConvertKit and Leadpages to download and run on all kinds of portable devices. They have their limitations in this area.
When it comes to using ConvertKit, you will need web-based devices to access your account and view the features without any hassle. However, the use of Mac, Linux, Windows, or Android run devices might not give you proper view and access to ConvertKit, due to lack of compatibility. I would rather say, ConvertKit falls behind in this aspect.
In contrast, Leadpages is accessible on all kinds of devices except Linux and Windows run mobile devices.
Technical Support
You might be interested in knowing whether ConvertKit's technical support will be superior to LeadPages. All right!! Let me be very frank, Convertkit has a small yet expert team ensuring you contact via email/ticketing system and offering workshops to learn and grow.
On the other hand, LeadPages extends email support, live chat support, ticketing support, and phone support too. It does not have workshop facilities like Convertkit but the customer support is far better and quicker.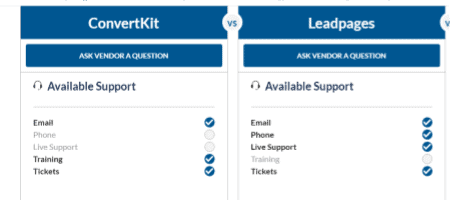 Suitability
You would like me to include the angle of suitability in ConvertKit vs Leadpages comparison if I am not wrong here. Your wish is my command.
ConvertKit is the most cost-efficient and time-efficient tool considered best for small businesses as well as freelancers. As you see these kinds of users want to reach more audiences while managing a personal level of conversation. And nothing is going to serve them like ConvertKit with not-so-advanced features.
Leadpages is certainly not a choice for freelancers but can cater to small businesses with its standard packages. It also has carefully planned offers exclusively with features required by both medium and large scale businesses. Whether it's a standard or advanced package, small to large scale businesses have their way with Leadpages.
Pricing model
You can have a ConvertKit unlimited pricing plan for $29, $49, and $79 for 0 to 1 K subscribers, 1K to 3K subscribers, and 3K to 5K subscribers respectively. All these are monthly pricing plans that will continue as long as you want. From emails and forms to landing pages and automation rules, everything will be unlimited in these offered pricings.
You can even have a custom quote for ConvertKit sign up for larger lists of subscribers who can't come under any of the above packages on offer.
There will be no one-time or annual-payment plans available for using ConvertKit. Based on the number of subscribers, you will have to pick a suitable ConvertKit package as of now.
Let's come to LeadPage's pricing offers. You have standard plans starting from as little as $25 per month. There are also two more pricing plans, namely a pro and an advanced starting at $49 and $199 per month respectively. All the 3 LeadPages plans come with a 30-day money-back offer.
If you are interested in enterprise plans, then LeadPages pro or advance will be what you need at the moment. Each of them will ensure you have a set of common features (standard/pro) along with a few exclusive ones all to itself. LeadPages does not give you one-time or quote-based pricing. So you need to be at ease with monthly or yearly subscription offers.
User Satisfaction
Based on users' feedback on and experience with Convertkit, surveys found user satisfaction rate to be 100% whereas no such data is available on the use as well as the performance of LeadPages.
Smart score
Now, it's the turn of smart score that can't be omitted from the comparison of Convertkit vs Leadpages – 8.9 and 8.5 as confirmed to be. There is not much difference in their overall score or rating.
Clients
The fact that Being Boss, Femtrepreneur and Copy Hackers are among the top clients of Convertkit may add to your confidence in choosing it at times.
LeadPages is not less either since Forbes, Fortune, TechCrunch, and The Huffington Post are on its reputed client list.
Alternatives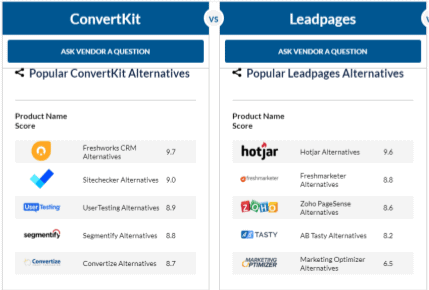 If you care to know some related and popular products as effective as Convertkit, then think about Hotjar, Smartlook, VWO, Site Checker, and Mixpanel as potential substitutes.
Similarly, Freshmarketer, DynamicYield, ZohoPageSense, Hotjar, and VWO can be seen as tools worth using in place of LeadPages.
Quick Links:
Conclusion: Convertkit vs Leadpages 2021
We have covered all the points in Convertkit vs Leadpages comparison. Let's end this topic with a final punch.
ConvertKit is a marketing tool that is great for automated email marketing and leads generating. Choose if you wish to run high-performing and converting email campaigns with personalized forms.
Leadpages, however, is excellent for landing pages and pop-up form creation/integration. Consider using it if you seriously want high-converting lead pages and forms.
ConvertKit is cost-effective and can play a significant role in reaching your marketing goal.
Leadpages offers standard and enterprise plans but can turn out to be a flexible platform for your conversion-oriented marketing. Both of them are worth your marketing investment.
Be sure to choose the one fit for your needs and enjoy getting more conversions!!